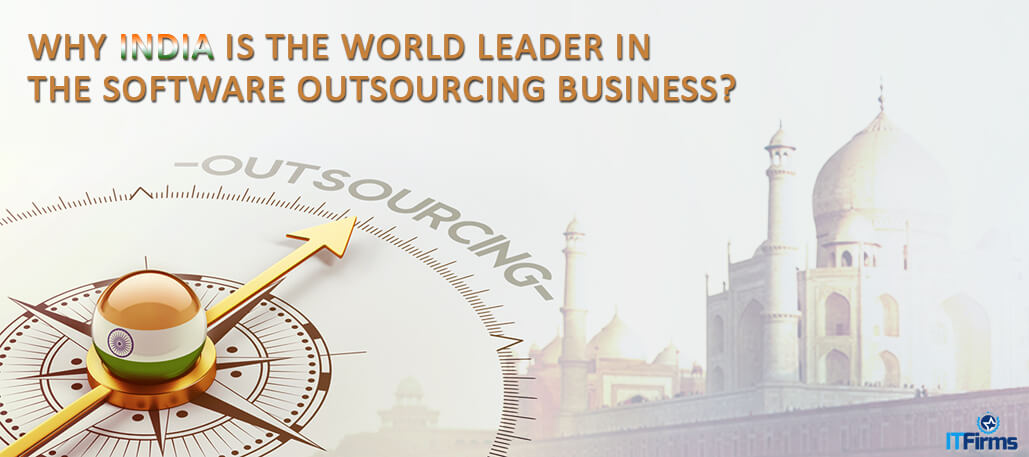 Why India is the World Leader in the Software Outsourcing Business
There's no doubt that India is among the top providing nations when it comes to building software solutions and has some of the renowned companies having production units established across the world. But what India is best at is the outsourcing business. This is primarily because India has a vast talent pool to work at different capacities which combines to deliver great value with the currency rate variance that it has against developed countries.
On the top of that India is considered among the few nations to outsource value-driven software development services to the world at cheapest price. These are the nations like Ukraine, Bulgaria, Czech Republic that are providing software outsourcing solutions, but they are not able to deliver enough value in an equation of cost and quality that India is capable of.
Well, this is probably because India has enough resources and better conditions that favor offshore software development facilities to deliver. Also, as they have developed the capacity to offer solutions that are value-oriented, timely and affordable over the period of time, they have that ability to deliver solutions better.
Key Facts and Figures about Indian software outsourcing:
> India is known to have widest talent pool in the domain of software development. It has the largest number of technology professionals compared to any other land in comparison. Also, the supporting skillset and peripheral facility are in abundance in the country which makes it a place that houses the most resourceful and prolific IT resources in the world.
> Indians are the most aggressive at adapting to changes. Though they lag behind while it comes to inventing new technologies, but they have professionals to learn and work on latest technologies as they come. This makes Indian professionals the most sought-after and they find place among the top software professionals, offering outsourcing services to the world.
> Indian government is also supporting the idea of software outsourcing and this shows in the way it promotes and supports IT companies and the industry at large. In 2017, around 110 billion U.S. dollars were spent by the government and associations on building networks and infrastructures to offer them better strength and opportunities.
> India is known to be a powerful combination of skills, manpower, cost-effectiveness, and intellect. This makes it offer the most resourceful options for offshore software development allowing businesses the solution at best equation of quality and cost. This makes India the top provider among other similar markets in terms of maturity, capability, reliability and other factors that are integral to the notion of software development outsourcing solutions.
> Another major study that indicates the progress of India as a software offshoring giant is the forecast done by Statista that reveals that the country is going to produce over 5.75 billion U.S. dollars in 2018, through software outsourcing services and this is going to further grow bigger in the years to follow. And this is going to get possible with the large number of start-ups and offshore development units and ranging competent skills the country boasts to have.
> Yet another fact that makes India lead the wagon of outsourcing in the space of software and automation is that it is quick at adopting new ideas, practices and technologies and keeping up with latest trends. If we talk about the latest skillset and competencies, it has covered it all from AI, IoT, Blockchain, Progressive web and Cloud, making it one of the most sought-after markets for contemporary solutions.
Comparing India with other Asia/Pacific countries
If you compare India with its neighboring countries or those which are a part of the Asia/Pacific region, you can depict and explain the standing of the country better. Referring to which, we have the countries like Vietnam, Sri Lanka, Philippines, China, and Malaysia that operate quite similarly in the offshore software development space. These countries have similar exposure to the world market and are acquainted with required resources and environment needed for software development. But, there are some major points that make India rule them out when it comes to delivering solutions. Here's how India leads the pack.
Labor Pool: India has an extensive pool of development professionals, which makes India tick faster and better when it comes to offer large and intricate solutions in time. It also helps the country to offer solutions in a ranging cost/value bracket that suits varying business needs and preferences.
Maturity: India is a land of wide-spread people and cultures who have a reputation to learn and imbibe diversely. They come from different knowledge pools and have great potential to adopt the new. This transmits into their ability and maturity to grasp and create more and better. Indian software developers are known for working on newest of technologies and most advanced solutions that are hard to train and apply.
Cost: The cost factor is the most decisive and competent of all and Indian developers are quite good at delivering economic solutions. This is because of the economies of scale Indian firms are able to achieve by working on optimized approaches and cost-effective models. This allows India to gain edge over other countries in comparison.
Reaching the right software development company in India
As you look around for some company to help you develop your software and allow a solution to your requirement, you would find a lot options to work with. Here, while you keep cost and quality at the top of everything, you need to follow a process of selection to reach the right outsourcing partner for your software development needs.
As you start with it, you need to first choose the company on the basis of the rank and order of offerings, performance and identity by looking at their relative position (based on quality and range of delivery along with the value created and offered) on different research charts and rating platforms. This will allow you to do the first set of filtrations and get your major choices and preferences skimmed out.
Moving further, you should check the shortlisted software development companies on the basis of their credibility and reliability. You can do this by checking out client reviews and testimonials for these companies. Once you have shortlisted it to lesser number based on the first two criteria, check them on the types of clients and solutions they have served and the process they have followed to deliver the solution. This should bring you to the last few suitable options, from which you can choose the development partner by interviewing them on relevance and communication front and by checking their eligibility for the project picking details.
Conclusion
These facts clearly define why India is leader in software outsourcing business and how Indian software development companies are best to go with when you are looking to enter into an offshore engagement for your software or web development project.
Here, everything is sorted if you have the clarity in mind related to your project goals and dispositions. Following that, all in the end you need to do is finding the best match out of all available options. Which you can easily do by differentiating between the companies based on your requirements and preferences of cost, quality, time and policies.