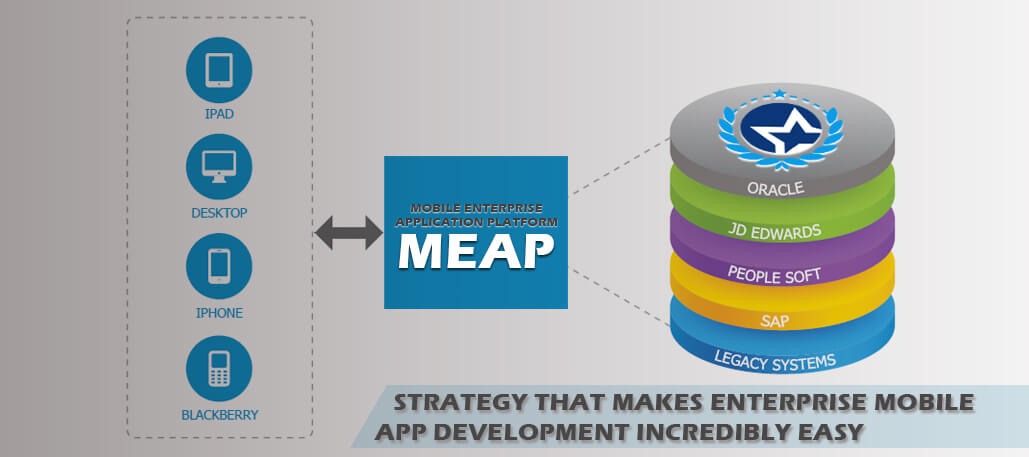 MEAP – Strategy That Makes Enterprise Mobile App Development Incredibly Easy
Enterprise mobile app development is growing bigger since the users have started to believe more in mobile driven solutions and rely more on connecting with businesses digitally. This is further intensified with the growth of internet and mobile users worldwide. As per an eMarketer report, the total number of mobile users till the end of 2017 were 4.55 Billion and people using internet were about 1.7 Billion.
In the U.S. alone the number of internet users to go online-exclusive with their buying tendencies and practices have reached a figure over 40 million. The growth of which is estimated to reach 52.3 Million by 2021.
This is the sign of pervasiveness and acceptance of mobile services and this directly impacts the growth of Enterprise mobile app as a modern age solution for contemporary businesses. Which applies for both internal as well as external operations. And to its significance, this has already been recognized and accepted by businesses worldwide.
So, if you own a business and want to tap this opportunity it can have many references to go with and build on. As many businesses and ideas have already entered the realm of enterprise mobile apps.
But this only pays you well if you think, act and apply things wisely in building your piece of enterprise solutions like most successful businesses have done. And it is possible by adopting the proven MEAP (Mobile Enterprise Application Platform) approach, that helps you achieve the right action and execution plan for developing your enterprise app. As it goes wide and far in helping you connect with your working networks and bring together the functional system to collaborate, optimize in all functional and operational directions to help you create more value and serve better.
Here's how you can draft your success story most easily, going with enterprise mobile application development with the help of MEAP development cycle for your business.
Analyze your service and product matrices
As you start applying MEAP, the first thing you do is the research over the market potential. Define your business value proposition, play around with market numbers, learn about the customer behavior and try to visualize and analyze matrices to spot the possible response to your product.
To reach the right information you need to create process funnel to effectively analyze your service and product matrices. Following which you need to extract user stats and pull together and churn all the data to help you reach important details about enterprise app development in reference to your business. Look into the fact that how your users look to consume your services and what modes and practices are involved in the entire process.
Develop a baseline standard
As you gain the basic understanding of your enterprise mobile app and are done with the initial planning, you must spot the core requirements and think about the initial approaches you need to put up with. For this you need to create a baseline standard for the app development process.
These standards should include everything around how your ideas should be implemented, what communication protocols you should be following and what resources and which methodologies would be applied in different conditions and what would be the overall quality objective towards achieving all that. This would act like a guiding plan and application agenda looking to get the best results from your enterprise app development efforts.
Build a roadmap for the project
The way you would proceed with the development is of vital importance. In order to make sure that your project leads in the right direction and in time, it is important to develop an end-to-end roadmap for it. This includes identifying the path through which your practices and ideas would flow taking the right shape by applying the right resources and methods and deciding on where and when to apply them in the process.
This should be done by designing a comprehensive scheme that defines each job with corresponding resource and task and puts them in an order to achieve optimum value applying them in an algorithmically designed process. This should help you have a great control on how prolific and smooth the whole effort turns out to be.
Seek feedback
When you are done with the development and lab-level quality assessment and your app is all prepared to be used, put it across to Beta users who would be detecting it for validity, authenticity, entirety and quality. This will help you come out in a more committed, confident and sound shape with your enterprise app. As, with feedbacks you will be able to visualize and plan the next additions and ramifications with great accuracy.
Alternatively, even when you have tested it and it is doing well with the users, you should be always open to user feedbacks. This helps you in raising and upgrading your app better as you grow bigger and advanced as an enterprise mobile app.
End Notes
When you are looking to get your Enterprise Mobile App developed for your business you can make it come out better and easy adopting the MEAP strategy as what most of the successful businesses do. All you need to do to get it right is contacting our experts at [email protected]. We will help you connect with most suitable IT Firm to take care of your requirement.