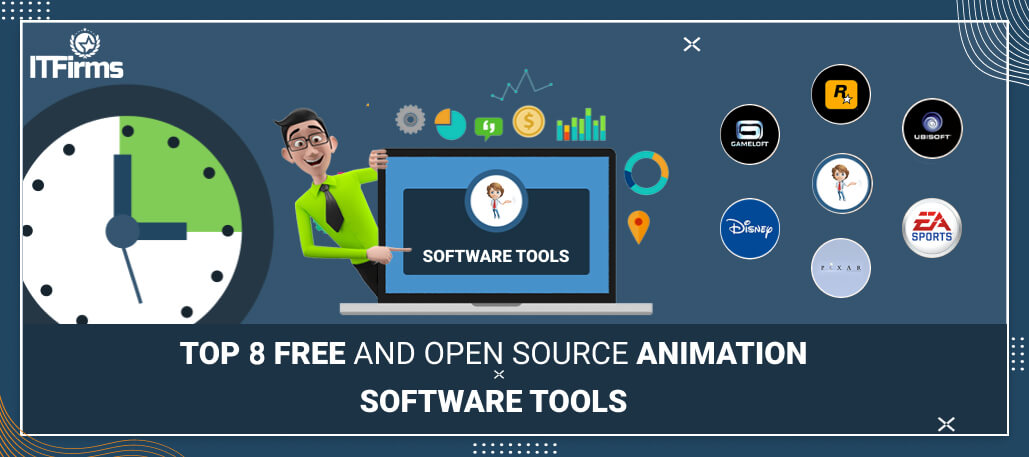 8 Best Open Source Animation Software Tools
Animated videos are a core part of content marketing, let alone the free open-source animation software tools help bestir the marketing and promotion, the passage reads as follows!
Animated videos come in an easy-to-digest format, much as a reliever from the overabundance of textual information available online. Most of the consumers always want to see more video content from big brands or the businesses they support. But putting out video content in there has its repercussions. Some handy free tools do help you save up some time, increase organic traffic, with marked growth in revenue, and increase landing page conversions. Video content can be Brand/Culture Videos, Video Blogs (VBlogs), Instructional Videos, Webinars. Nevertheless, human brain processes video 60,000 times faster than text. They enhance the emotional connection with viewers. But there are equal chances that you could be developing some sort of addictions that could hurt your brain.
Free Open-Source Animation Software Tools help create motion videos from cartoon structures or inanimate objects. These allow adding multiple effects like stop motion, motion capture, augmented reality, tweening, rotoscoping, VFX and Simulation. Animations involve two dimensions (2D) three dimensions (3D), Clay Mation, Cel Animation and Paint-On-Glass Animation.
Here is a list of best animation software tools (open-source) – in no particular order:
Blender
Synfig Studio
Pencil 2D
OpenToonz
Maefloresta Tupitube
GIMP
Krita
Adobe Animate
It features Rendering, Modelling, Animation, VFX, Simulation, Pipeline, Game Creation, Video Editing, Scripting and Customization. It is an advanced animation software tool, completely free to use. It can be used to create an array of animations and simulations for movies/games.
It features Vector Tweening, Layers and Filters, Bones, Animation, Bitmap Artwork and Advanced Controls. It is best used to animate cartoons and comics. It is two-dimensional animation software but can as well enable minor 3D aesthetic to the animation. While it focuses on Tweening, and Bitmap Art frame, it enables minor tweaking of colour bits. It's a complete package for 2D animators.
It features Minimal Design, Raster and Vector workflows, Cross-platforms, Hand Drawn Animation and Bitmap Artwork. It is useful for creating intricate animation and hand-drawn animations and then animate it frame by frame along with adding real vectors to it.
It features Powerful Drawing Tools, Indexed Colour Palettes, Effects and Compositing, Frame-by-frame Animation, Motion Tweening and Tracking, Scripting and Particle Systems. It helps in scaling and modelling of animation features. It can efficiently handle frame-by-frame animation along with tweening, tracking and scripting. It also has particle systems that help in a minute and intricate animation tweaks.
It features Rotoscoping, Stop Motion, Frame-by-frame Animation, Cut-out Animation, Hand-Drawn Animation and Virtual Assist. This tool is popular among kids, students, teachers and is good enough for creating simplistic design and UI, cut-out animation, rotoscoping and stop-motion animation.
It features Image Manipulation Program, 2D Animation, Frame-by-frame animation, Simplistic UI, Hand-drawn animation and Basic Animation Program. GNU Image Manipulation Program works like Adobe Photoshop and is used to animate hand-drawn 2D figures and drawings. It also provides frame-by-frame editing and composition.
It features Compact UI, Brush Stabilizers, Brush Engines, Resource Manager, Pop-up palette, Wrap-around mode, Drawing assistant, Mirroring tools and OpenGL Enhanced. It is an open-source painting software, fully OpenGL enhanced which helps in drafting graphics for bigger projects.
It is a free animation software that helps design interactive vector and bitmap animations. It supports export to HTML5 Canvas, Flash/Adobe WebGL, SVG, and AIR. It has powerful toolset for animation that lets users create apps, multimedia content, and ads. It can be used to build game environments, integrate audio, and design start screens and interfaces. It has a simple frame-by-frame animation, and users can code right inside the projects. It features Asset Sculpting, Layer Control, Auto Lip-Sync, VR Authoring and Publishing. It saves Animate documents (FLAs and XFLs) incrementally. It comes with a quick auto-recovery mode. It helps to export images with the right resolution. It enhances asset warping. It optimizes text atlas outputs, generates multiple bitmaps and retains the audio effects when you split the audio, which is imported. This tool can also be used to create secure AMP-based ads and blend modes applied at the layer or frame level.
Selecting Best Open Source Animation Software
Watching a video can be pleasurable, as it does not require active participation, so it doesn't take up as much energy for the brain to process. It is best for sharing personal stories about your company, history and brand; to form an emotional connection with the viewer and to show how to do something. The animation is as well treated as a primary element in content creation in the modern world. The animation tools discussed here are free open-source animation software and widely used to create VFX animations.