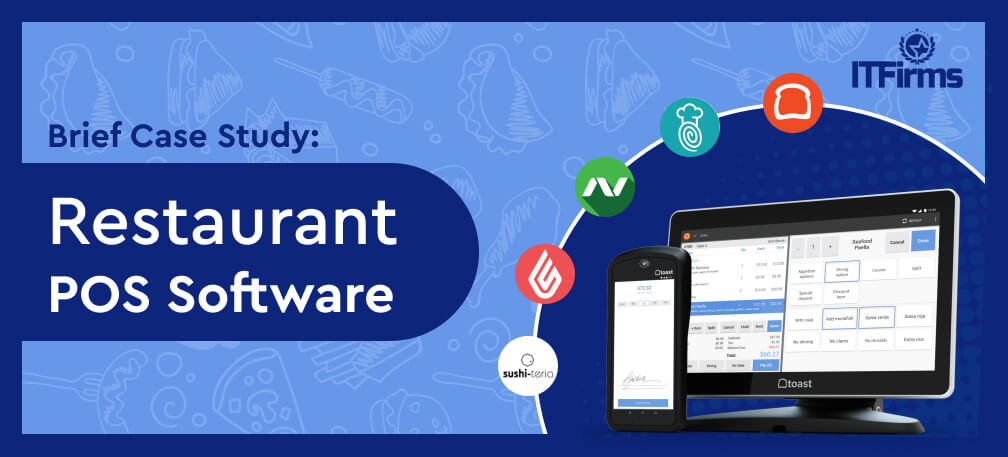 Briefcase Study: Restaurant POS Software
A gist on POS systems – what is it, what does it feature? What is the need? How it evolved? What are the popular ones? what are their benefits? How does it changing the restaurant industry!
With scarce or intermittent seating, restaurants are still recovering from a tough 2020. With the lifting of restrictions, there are signs of recovery with social distancing norms in order. Technology has been rippling the restaurant and food processing industry to wade the traditional way of taking orders in writing customers' – on a piece of paper and then communicating the order to the kitchen. But it often resulted in missing the special instructions by the customers and the probability of mixing the orders. Now, Restaurant Point of Sale Software has completely digitalized taking orders directly from a tablet or mobile.
What is POS software for restaurants?
A restaurant point of sale terminal is a desktop application that tracks sales, cash flows, and food inventory. It helps business owners in managing their business by simplifying the underlying processes. The use of 'point-of-sale' terminals does not affect various restaurant attendants or staff members. It removes the complications from the process of handling a large number of orders or a tapering inventory. Some such free POS software can track repeated visits by the customers to multiple branches.
Features in Restaurant POS Software
Split a check
Modify items
Create customized menus
Offers loyalty points, gift cards, punch cards, loyalty stamps
Tracks customer engagement
Customizable menu
Customer management
Staff performance tracking
Reports
Inventory management
Sales reports and tracking
Employee clocking
Tablet compatibility
Receipt printing
Menu building
Accounting integration
Easy to use
Credit card processing
What does a POS Solution should have?
You require a cloud-based solution. Cloud-based POS systems upgrade to keep up with technological advancements.
A POS terminal tracks sales and financial data. The input of the cloud platform assists in 'key' reports and sales performance.
It allows the guests to order and pay at the table. Thus, it lowers labour costs, guest-server interactions and streamlines the whole operation.
It seamlessly integrates online ordering and delivery platforms – to enable sales with zero commission and own guest relationship.
How Point of Sale terminals evolves over five eras?
IBM first introduced Point-of-Sale Systems in the '70s. These were desirable with the need of automating the process. Businesses didn't want to rely on separate systems to handle sales, inventory, and other functions.
Point of sale systems became common when 'systems' started integrating loyalty programs, time clock tracking, vendor ordering, happy hour discounting, customer profiles, integration with kitchen display systems, and more.
Migrating to the cloud changed the world of POS forever. There was a time when the 'point-of-sale software' had to be installed locally on the machine that would run it. Now it can be accessed on-demand through internet-enabled devices.
Handheld POS systems assist restaurateurs in exploring and scaling their restaurant experience, improve guest touch-points, increase 'revenue' and employee satisfaction.
The future of POS systems holds integration of credit and debit card processing, gift card, loyalty, table management, and mobile-friendliness.
List of Popular Restaurant POS Systems
POS Systems
Best For
Platform
Solutions For
Price
Toast POS
Small, Medium, & Large businesses
Windows, Mac, Linux
Fine Dining, Bar & Nightclub, Cafe & Bakery, Casual Dining, Fast Casual, & Enterprises.
Software: $79/ terminal Installation: Starts at $499.
Payments: Simple flat rate.
Hardware: 0% financing.
Lightspeed
Small, Medium, & Large businesses
Windows, Mac, Linux
Quick Service, Bar/Nightclub, Cafe/Bakery, Hotel restaurant.
It starts at $103.18 per month.
Touch Bistro
Small Businesses
Windows, Mac, Linux
Restaurant, Pub & Nightclub, Quick Service, Food Truck, & Brewery.
Solo: $64 per month, Group: $58.78 per month, Team: $52.25 per month.
Nobly
Small Business
Windows and MAC
Cafe, Bar, Barbershop, Restaurant, QSR, & Retail.
$51 per month for the first register plus $32.7 per month for extra.
POS Application Using by Restaurant Chain
Sushi Teria: Enhance and streamline customer experience and business operations relating to sales – cash flow – food inventory – order management – table reservations – bookkeeping – food costing – marketing via outreach campaigns for food and beverage businesses – cafes – food trucks – bars through classic Restaurant POS Systems.
More examples include Floreant, TastyIgniter, UniCenta, SambaPOS, Point of Success, eHopper, Square, Linga rOS, and eZee Optimus.
Benefits of Point of Sale Terminals
The advancements in restaurant POS helps in generating more accurate reports.
It enables upgrading menus and frequently upgrading without any printing costs, and in splitting the checks;
POS could show more than just the taxes. It showed total credit card transactions, cash transactions, and overall restaurant sales.
Cloud-based 'Point of sale' software is also known as 'Software-as-a-Service'; It stores data on remote servers and makes information accessible online 24/7.
Cloud technology ensures no data loss due to a technical, human-made, or natural calamity.
It assists the restaurateurs in making better guest 'experiences' and builds efficient work environments.
Tableside POS tablets enable customers to consult the menu on an 'iPad' and place an order, saving time on the server.
Customers can leave their feedback/opinions at the end of their meal.
POS software saves time by reducing server trips to the terminal (guests want to erase their credit card details.
It integrates with the inventory in real-time. It helps restaurateurs track and manage their raw 'material' and stock in the kitchen instead of spending countless hours on manual calculations.
POS also helps know the shelf life of the products and how long the current stock will last, allowing setting reminders to order when it gets depleted, know top selling items on the menu, and helps reduce wastage.
It reduces the risk of pilferage by assigning permissions to access the inventory.
A POS-enabled inventory management system helps if a restaurant operates from more than one location. It helps in centralized supervision.
Integration of customer resource management (CRM) helps restaurateurs with customer data in email marketing and influences loyalty programs and online ordering. It does not require the restaurant owner to be physically present to ensure that his restaurant runs smoothly. They need to log on to the cloud software to keep an eye on their business. They can check – (1) employee check-ins, (2) payroll, (3) footfall, (4) sales, (5) status of food supplies with just a few clicks.
How the Modern POS is changing the restaurant industry
Restaurant POS has traversed along from only billing to complete restaurant management systems. It includes stock, inventory management, detailed reporting, customer relationship management and a new-age cloud restaurant system to provide complete automation of the restaurant operations. Changes in the technologies bring about innovations in the foodservice industry – Online ordering, online payment integration, increased customer engagement, and chain management. Modern 'Point of sale terminals' are helpful to the restaurant industry in two ways:
As restaurants focus on stellar guest 'experiences' and a streamlined approach, POS systems enable the employees on the floor (rather than running back and forth with every order placement).
Deployment of POS systems has resulted in low labour operations, which drives 'performance' and customer experience.
In Conclusion
Point of sale terminals has become a necessity for (1) large restaurant chains, (2) big businesses, (3) small, (4) mid-sized companies, (5) restaurants as well. These machines are cost-prohibitive for some businesses, which could not justify the expense of a machine that could cost thousands of dollars.
POS was a transactional tool for processing and tracking sales. However, the wealth of management technologies, reporting capabilities, and business intelligence that POS systems now offer is increasingly rendering these systems as critical resources;
Also, top custom software development companies create handheld or Kiosk based free POS software merges with cloud computing to add a layer of ease – it remembers debit/credit card details for convenience. It provides complete control over their restaurants from anywhere. It is helpful if your restaurant ticket times are running 'slow' if voids are too 'high' – if sales are too low – if the restaurant owner is away. We hope you find it insightful helps; follow us for more!
Please share your suggestions at [email protected]