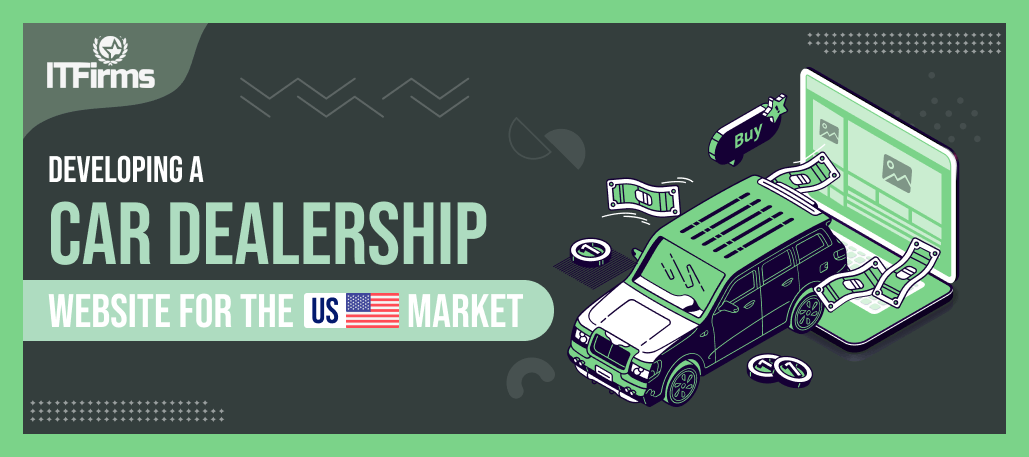 Developing a Car Dealership Website for the US Market
An online car dealer marketplace depends upon customer's buying capacity, country culture and market size. Here're some staples on rendering it!
The market size of the New Car Dealers industry in the US in 2021 can go up to $978.7 billion in 2021. Although it is slower than the retail trade sector overall, this industry has grown by 0.4% per year (average between 2016 and 2021); the market size can increase by 5% by the end of 2021. It ranks 1st amongst the retail trade industry by the market size and the 5th largest in the US. (Data Source: ibisworld)
Why do you require a car dealership website?
Advances in digital technologies have significantly altered car research and buying habits.
According to a survey by Auto Trader, approximately 71% of used car buyers visit a dealer's website before making a purchase. For this sake, a car dealership website should be mobile and user-friendly to enable consumer interactions across. Consumers seek –
Checking stock of the vehicle that they seek
Checking if the colour, price, model of the car they seek is available
Compare various options within the similar price range
How should a good dealership website look?
Dealers look upon manufacturers for the ability to build cars online. This level of interactivity makes searches intuitive. It allows customers to find the vehicle they want in the first place. It includes the following essentials:
User-friendly finance calculators
Option to click-and-collect
Live chat
Booking Service and test drive
Financial aftercare choices
Regularly updated multimedia content
Compatible with Phones and tablets
Flexible and intelligent search
A simple – interactive homepage should be complemented with an online presence to ensure scalability. It is also essential to capture prospective buyers.
How can digital technology raise your sales team?
An interactive car dealership website lets you learn about customer's preferences, vehicle features, availability, prices, similar cars available in that price range, better financial deals, car insurance and many more things. All these details help dealers and customers to sail through.
Word-of-mouth reviews from the customers help elicit and leverage the essential features without a showroom visit.
Dealerships can pamper their sales team with research data on customers that help bring together the online and offline experiences to create a coherent purchasing journey. It also facilitates website searches to customization interactions and enquiries to finance preferences.
Dealers can equip their customers with iPads, and in-dealership screens to communicate with customers by sending car details to their mobile phones. They also encourage them to research leads online through social media and LinkedIn. Dealers and salespeople can bang on and facilitate a sale if they dig into the enquirer's profile.
iPad-based technology allows sales staff to access details of customers' website activity, including searches, via tablets.
Online Dealership forums offer customers the option of being guided through a car configurator, finance application, or 'guides' the dealers via an on-screen chat with a trained operator.
Live chat options help improvise click rates. One of the three people who click on the chat option will visit the dealership for a test drive.
How do car dealership websites earn?
You can facilitate your website to charge via charging individual sellers and dealers with a fixed percentage of each deal or a monthly fee for placing offers.
Also, you may charge via premium features for sellers and buyers. A premium subscription prioritizes search results, extends payment methods.
Additionally, paid listings are a convenient option for posting a vehicle as a one-time fee.
How much does it cost to create a car marketplace website?
The cost to make a vehicle marketplace website comes close to $55,000. It depends upon varied factors like design, development, budget, market demand, technology input, and complexity of features. (Data Source: The Mind Studios)
Frequently Asked Questions
How competition brings opportunities for the Car Dealer Industry in the US?
This industry faces high competition. It also has a high consumer confidence index. As the quality of the vehicles has risen, it leads it to last longer. The average fleet age and the age of vehicles rely on – (1) a rise in disposable 'income' and (2) demand for affordable, (3) fuel-efficient vehicles. The average fleet age of vehicles can predict future vehicle purchases.
How do car dealerships work?
Dealers have to pay 2 – 3% of the invoice price of the car upfront, rebated every quarter once they sell the car, and simultaneously earn a profit on the difference.
How do car dealers make their money?
A chunk of profit comes through arranging car loans, selling add-ons, and making money on their trade-in. Dealers make around $3000 via financing. They low-ball their trade-in and then turn around and sell it for a nice profit.
How much do dealerships markup use cars?
They do it for around 10-15%, or anywhere from $1,500 – $3,500 for an "average" used car.
In Conclusion
A car dealer website requires a customer-focused approach. It should ultimately assist in-absence-of actual dealers and an in-person visit to the showroom. It requires a robust chat functionality to allow customers to book a trial ride, finance and quote options. Also, additional blogs, multimedia offerings, fresh content, online car valuation can help it survive the competition. Web development companies offer an online finance calculator that can help customers categorize monthly/annual payments effectively. Moreover, video content can complement the live chats and available content on the website.
Please share your suggestions at [email protected]