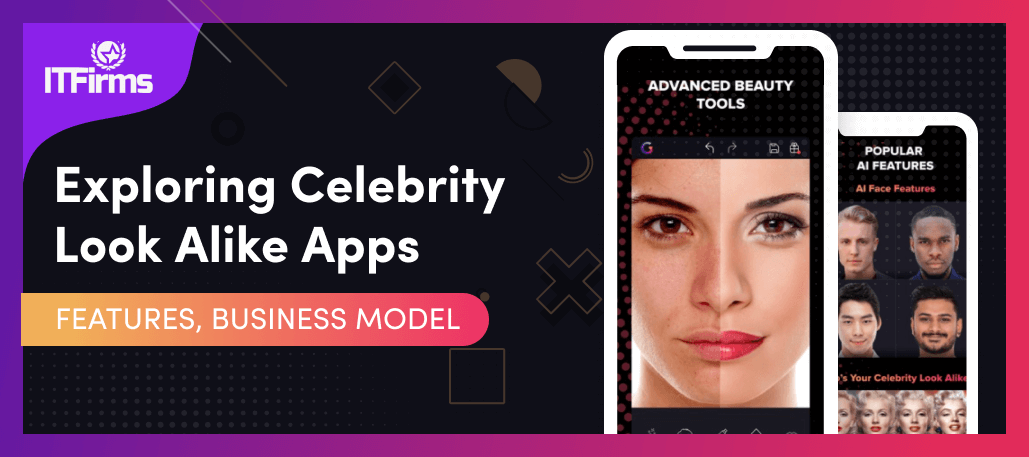 Exploring Celebrity Look Alike Apps – Features, Business Model
Now wooing and imitating your favourite celebrities is easy; find your celebrity look-alike with these fun, fast celebrity look alike generator apps!
Celebrities have a dramatic influence on the hearts and emotions of people. Accounting for this fact, brands seek to leverage this audience with influencer marketing. As celebs bring a sense of believability to a brand offering, celebrity look alike app users experience a shift in thinking, completely ignoring the risks that align that can be potentially devastating.
Why do people follow celebrities?
People follow celebrities based on an admiration for their – (1) talent, (2) looks, (3) work they do through traditional forms of entertainment like movies, sports, or music. They may or may not be influencers, but they are there for a purpose, and interested audiences follow them.
What is the purpose behind celebrity look alike apps?
If you create an app to drive engagement, awareness, consideration, intent, or purchase, associating it with a brand or identity for rankings and lists accrues something to the effect of popularity points and instant gratification. The more a celebrity earns, the greater is their influence.
How do companies benefit from a celebrity – hype?
Consumers, who try imitating their favourite celebrities, try "authentic" celebrity look-alike applications to know with which celebrity they resemble and to what extent?
How do celebrity look alike apps work?
Platforms like – (1) Who Do I Look Like, (2) Celebrity Look-alike, (3) LookALike Celebrity Look Alike, (4) My Replica, (5) Looky, (6) Face Idea, (7) Y-Star – are making it easy for anyone to join their favourite celebrities by creating real magic with such creative app.
Such fast, fun, and free apps help you find what celebrities look like, how much you resemble them, and find your best match.
Such "celebrity look-alike apps" have a massive database from which it extracts and matches the celebrity that looks similar to you.
Such apps have a feature-rich user interface that lets lick pictures quickly and generates results in an instant.
Such apps have in-app purchases and advertisements that can sometimes clutter the UI and distract the user.
Such apps advise their users to upload clear, sharp images to get optimum results and require an internet connection.
Which celebrity look alike apps feature on top of search results?
Facer App

It is an AI-based facial recognition app that produces super accurate results. Users get a percentage of similarity based on neural networks. Facer has a massive database of pictures of -(1) sportspersons, (2) actors, (3) politicians, and (4) musicians.
Gradient App
This "celebrity look-alike application" offers photo editing and safeguards user data. Users can upload their images and get a preview of the best "celebrity look-alike" instantly. It is AI-based, and users get a percentage of similarity upon matching. It contains in-app purchases, filters, textures that enhance your pictures. It lets users take AI portraits and estimate their beauty scores. It comes with an in-built doppelganger feature. It is loaded with handcrafted filters and textures to transform the picture. It develops astonishing AI portraits. It makes it easy to share with friends and family. It contains mind-blowing hair collages.
Celebs App
It is another doppelganger app/"celebrity look-alike app" designed for users' entertainment. Based on machine learning, it leverages emotions and expressions in a picture. It contains in-app purchases. Users can also check with which animal they resemble. It makes it easy for the users to identify the best star faces. It identifies twin faces with face recognition technology. It is 100% free to use. It also identifies animals look alike.
Star by Face App
It is yet another AI-based facial features recognition app that showcases accurate results. Users can upload their photos to the app and analyze user's patterns to identify the best celebrity match. It has a massive database and generates high-resolution pictures. It contains in-app purchases. It is user-friendly and free to download and use.
Y-Star App

This facial recognition app scans the facial features of users, contains in-app advertisements. It does not differentiate genders. It focuses on facial features to determine the best celebrity look alike. It supports high-definition pictures.
My Replica App
It is another celebrity facial feature recognition app containing filters, redo features, retouches, cropping functionality. It has in-app purchases. The database is massive, and the results are accurate. It is easy to find celebrity twins, edit pictures with accuracy.
Looky App
It is a celebrity historical doppelganger app that enables them to share and save the photo within the app. It generates the "best celebrity look-alike" results. It also offers a "Try Again" feature to help users get results. Users can click a selfie in the application directly or select it from the gallery of their smartphone; The server searches and displays the results of matches with celebrities; If you aren't happy with the result, try again to find your counterpart. A second attempt may be more successful; Share your search results on your favourite social network. It is simple and popular.
Frequently Asked Questions
How do "celebrity look-alike apps" earn money?
Here are some of the most basic ways through which your app can earn money:
Monthly or Annual Subscription: Provide highly informative content during a limited free usage time, and display the monthly/annual subscription charges.
In-App Ads: It may include affiliate marketing and third-party links. Every time a user clicks, you earn money.
In-App Purchases: This feature will facilitate selling virtual items directly from the developer. "Celebrity look-alike apps" involve digital money and charges for 'special' celebrities and high-end features of the app.
What should you consider while developing a "celebrity look-alike app"?
Consider the following measures if you are planning to develop a "celebrity look-alike app":
Businesses can give their users the liberty to try and test their voice instead of facial features for look-alike apps.
Businesses can provide a "cartoon look alike app" for kids. They integrate more features for kids like sharing their photos, adding fun elements, quizzes related to their favourite characters.
Try finding a suitable mobile app development company with relevant years of experience in developing face double apps.
Jot down your requirements and understand the app development lifecycle with the technology stack.
Communicate all the bridging details to the app developer based on your ideas, requirements, and other points.
How much does it cost to develop a "celebrity look-alike app" like Starbyface?
A "celebrity look-alike app" such as Starbyface should cost between $30,000 – $80,000.