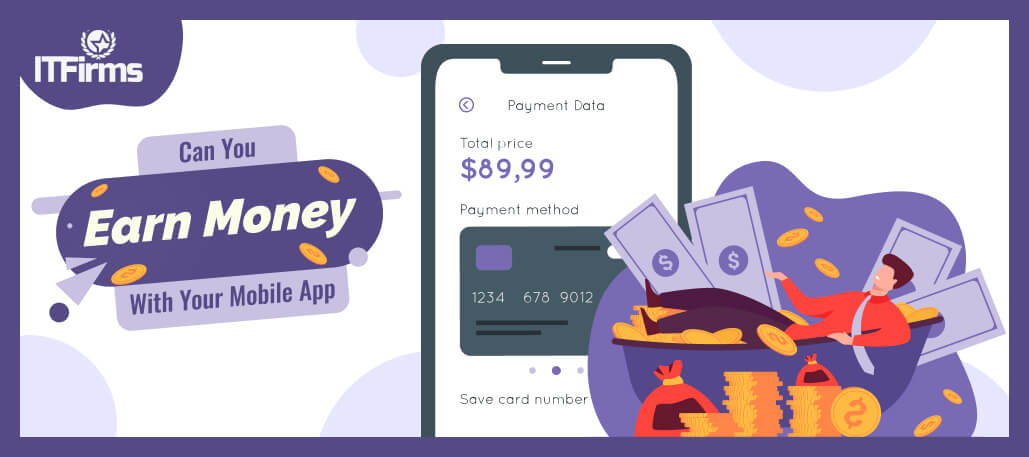 Can You Earn Money With Your Mobile App?
Let's find out how to make your app engagements fruitful?
Businesses wish to build an app that fetches them decent revenue. Open up the play store or app store, and you will be overwhelmed with the available choice. The gamut of millions of applications clutters the online space, making it impossible to select what to download and what to install.
There are plenty in the market already, all almost similar. Although, every app appears with a specific purpose and offers similar functionality! It can therefore be perplexing to select one that suits your business. And if you are inclined to create one of your own – do you have a unique idea that could trigger the entire space or the niche audience you wish to target?
Before selling the same thing in a different packet, businesses should ensure that their mobile apps cut through all that noise. Getting noticed and reaching millions of downloads with positive reviews is equally important. Do you dream of earning with your mobile app? If yes, there are plenty of ways by which you can monetize your work. From selling advertising space to implementing micro-transactions – businesses need to follow a sequence of steps to ensure that their mobile app is sturdy and stands out in the crowd.
First Thing – Ensure that there is a market that caters to your idea. Before you plunge right in, collect the opinion of locals, potentials and tailor your needs accordingly. Market research is the heart of the matter. It helps surface the wildest ideas that can propel success. Small tips that you gather on the way like – (1) identifying demographics for your application, (2) conducting market research, (3) working with growth investors – business specialists – UI/UX experts – go a long way in streamlining the functionality of the mobile application. Brands can get a better notion of whether their data can accomplish the distance in terms of profitability.
Second Thing – Create a fanbase or following around your feasible idea. Create customer lists that you can expand as you market your app. Start with your family – friends – fans and as the lists grow, segment those lists. Target your marketing efforts to each group – it goes like – keeping a separate app or sending a different message to family and friends and a different one to new users or industry contacts. There should be a different app to share personal moments and a different one to share business tips. No one wants their bosses to read about your day off or baby spamming your single friends. There should be no adverts or promoted posts, and the space where you share formal emails – messages should be an uncluttered interface.You must leave it to your users to select an application for their business dealings. And also for sharing the moments of their choice. The app should allow new users to test drive the app before offering them additional features along with paid plans. If you're targeting a social media platform, try offering some parts or some days free or for the first 1 million users before monetizing it.
Third Thing – Listen to what your audience has to say. Before even launching your app, can you overhear what your potential customers have in their minds? Will they take your app in good stead? Can you imagine your users having their app functionality in their back-mind? Can you expect them to portray their expectations of you?
Fourth Thing – Build your followers. It can be a great way to segment and target the ones who need your message.
Fifth Thing – Use simple technologies or simplify them to make your users understand. The user interface and experience go hand in hand and are essential for a new user to stick around until the end. Ensure that your app adds value – takes less time – blends up with the culture and market demand, and brings some reward options. If you're clear with what you wish to achieve, off you go!
Sixth Thing – Keep an eye on the data that you're acquiring – it must be agreeable to all parties, must be unique and accurate.
In Conclusion
App usage fluctuates with time and market conditions. A lot of effort goes into making a mobile app, and all of it can be futile if the user compares and find a better option. It is therefore pertinent to engage and retain users. Keep surprising them with better and regular version upgrades.
Please share your suggestions at [email protected]