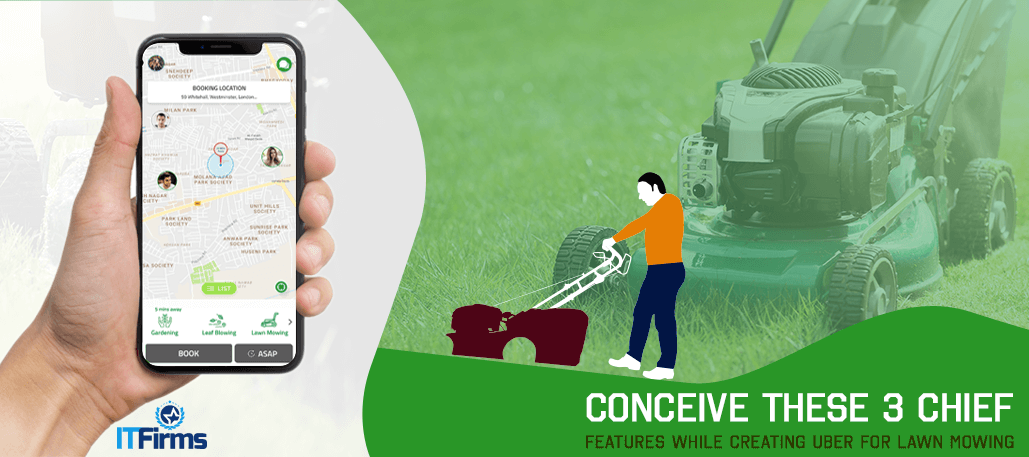 Conceive These 3 Chief Features While Creating Uber for Lawn Mowing App like Mows and Plows
Every lawn grows in a different pattern. This necessitates a need to have a customized mowing service that adapts to the emerging needs.
This article is for Startups and Enterprises who are looking to have their own app for lawn mowing and plowing. Mowing, yard clean up, aeration and seeding are four essential services in addition to three essential features (discussed below) that must be considered while creating an app like mows and plows.
Lawn Mowing
Lawn mowing and plowing services can be difficult to find and can turn out to be really expensive. Services include one-time cuts and recurring service and include mowing, string trimming, clearing grass clipping from hard surfaces, job updates and location tracking, picture receipt and outstanding customer service.
Average Price lies within $35.23
Typical Price Range in between $28 – $45
Factors that determine the cost of this service: Size of lawn, length of grass, frequency
Yard Clean Up
Cleanups during spring and fall are important for the overall look and health of the lawn. Cleaning up of dried leaves, debris is important for the health of the lawn. Air, light, and water are all that is required to keep the lawn happy and healthy.
Average Price lies within $328
Typical Price Range in between $174-$487
Factors that determine the cost of this service: Size of lawn, Number of garden beds, Number of trees, Haul Away Debris or Curbside Pickup
Seeding
Patchy areas can occur over lawns by stepping on, run over and chopping down. Seeding with grass seeds in spring or fall can be effective to make the lawn grow and glow.
Average Price lies within $829
Typical Price Range in between $378-$1280
Factors that determine the cost of this service: Size of lawn, type of seed
Aeration
Circulation of air, water, and nutrition in the small holes is important for the roots to grow and develop and is a great way to maintain the lawn.
Average Price lies within $123
Typical Price Range in between $74-$193
Factors that determine the cost of this service: Size of lawn
Build App Like Uber For Lawn-Mowing
The Uber for lawn mowing app allows the users to have on-demand services for their lawn. Such services include aeration; mowing, plowing, seeding and yard clean up. These services often get extending to snow plowing, leaf and debris removal in particular. If developers build an app like Uber for lawn mowing, this enables users to have such services more frequently.
This market has seen an exceeding rise in demand in the current scenario and is expected to take an upward trend in coming times. It is particularly important for those who are short on time but also wish to have a sprawling green lawn. One needs to finalize the features that have to be made a part of this on-demand lawn care app:
1. Schedule On-demand Lawn Maintenance Service For Later: Users must get the option of selecting and scheduling lawn maintenance service from multiple chores like mowing, cleaning, seeding, aeration or snow plowing etc. An on-demand home chores service app must be fast, efficient, user-friendly and cost-effective. Users must also get an option to schedule the services for future according to their convenience. Booking an on-demand lawn care service must be simple and easy to use.
2. Real-Time Updates And Push Notifications: The app like Uber for lawn mowing must have push notifications and must get updates in real time. This is particularly helpful to those who often tend to forget shoveling and mowing their lawns owing to their busy schedules. This app also helps the user to get real-time updates when the job is done.
3. Chatting Live: What can be more helpful than chatting live with the contractor while your work is being done? Giving live instructions or having a video call can put the things in perspective. Also, it makes it convenient for the users to clarify all doubts before going for this service.
Concision
The 3 distinct features can have your app glisten from amongst the bunch of similar apps. Find best Indian app developers for lawn care services near you. This will enable users to find and choose from various yard work or snow plowing services near their locations.
Sounds like too much work? In case you are looking to build an app like Uber for lawn-mowing that includes snow shoveling and general yard work services, contact the right app development company for your on-demand lawn care software solution.