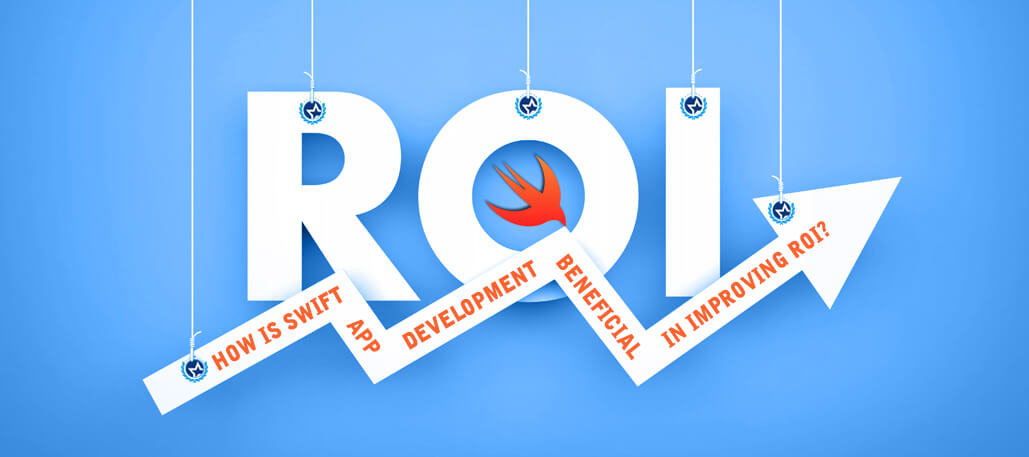 How is SWIFT App Development Beneficial in Improving ROI?
Capturing the best audience, high ROI, high business impact, more security, and increasing in-app purchases – all implies intensified iOS app development!
Advertising is all about a clever slogan, 30-second spot, and a catchy jingle. It is a paid form of promoting one's ideas, emotions intended to inform or influence people. But throwing money at advertising without understanding the big picture of marketing, but does that necessarily mean more business? Marketing is essential for growth, but advertising must not be confused with it. Spending too little or too much amount on marketing is as well not advisable. Uh-oh! Changing by reversal, having said this, it might sometimes happen that spending money on marketing becomes your return on investment (ROI)!
According to John Wanamaker, almost half of the money spent on advertising gets wasted but organizations and marketers are not able to make out which half. While the mission of marketing and advertising is still based on 5 M's – Money, Mission, Media, Message, and Measurement, organizations direct their efforts towards attracting the right people, converting them into leads, closing the sale and delighting the customer is about setting objectives, designing strategies and implementing measurable techniques that help maximize profitability, goodwill, revenue, and sales.
All this and more is all achieved by very intelligent and extremely cost-effective modern website technologies, the convergence of inbound and outbound marketing and social media.
What are the five steps that make your app development investment a success?
The five steps that help an app development process succeed:
Create a measurement plan : know which API's are to be measured in dollars?
Calculate CLV (Customer Lifetime Value)
Know all the costs : App development, infrastructure, marketing, retention, customer service, maintenance etc.
Every customer is unique
Make an actionable metrics : It is the estimate of your chances and stands in the market. Where the app ranks, what are current and future targets, who are the target audience, what niche you want to cover. Mobile app development is an iterative process as needs of the customer are subject to change along with market trends and technologies. A clear, precise and transparent measurement strategy ensures that all KPI's can be evaluated and determined for further improvement.
So is it Android or iOS App Development that gains more ROI?
Entire mobile app development primarily relies on two platforms – Apple's iOS and Google's Android. Both of these have their merits and demerits. Some points need to be considered while considering a platform for app development:
Revenue -> IOS
People are more likely to get indulged in in-app purchases in IOS apps than Android ones, due to better functionality and features. The major sources of revenue for apps are either from direct store purchase (in case of paid apps) or from in-app purchases and in many cases even both. Consider approaching iPhone app development companies for iOS app development in case revenue generation is the criteria.
Customer base -> Android
The Android customer base is greater than iOS as they target more premium users and niche income groups only. Therefore if the customer base is checked than Android platform must be considered.
ROI -> iOS
Cost of app development is almost the same in case of Android and iOS both. Drawing value from your investment becomes imperative in order to justify the cost to the business. Here, it is iOS that comes through for you as ROI is greater than Android. Indian mobile app developers consider iOS app development in case they want returns on income in short term.
e-Retail/e-Commerce -> Android
Android app development comes in handy in case you are looking to launch an e-commerce app for your business. Although iOS caters to higher income group and most of the in-app purchases still overall revenue generated is higher in Android as compared to iOS. Therefore in case of the e-retail industry, Android app development must be considered.
Preciser
Mobile app ROI gives direction to your mobile strategy. Questions like – "What is ROI of my mobile app? Is your investment in app development successful?" can be answered by having a clear demarcation between marketing and advertising as both are ways to attract new customers.  Marketing is how you're perceived by your customers, and advertising is only one option to improve that perception.
Something in favor of iOS App Development With Swift – Swift applications are easy to code, they develop fast, reduces the workload of programmers and improves the overall quality of the program. It maximizes the efficiency of the programmers and saving money. Further, it allows you to create an iOS app in a relatively short span of time. In this way, it is a big return on investment.