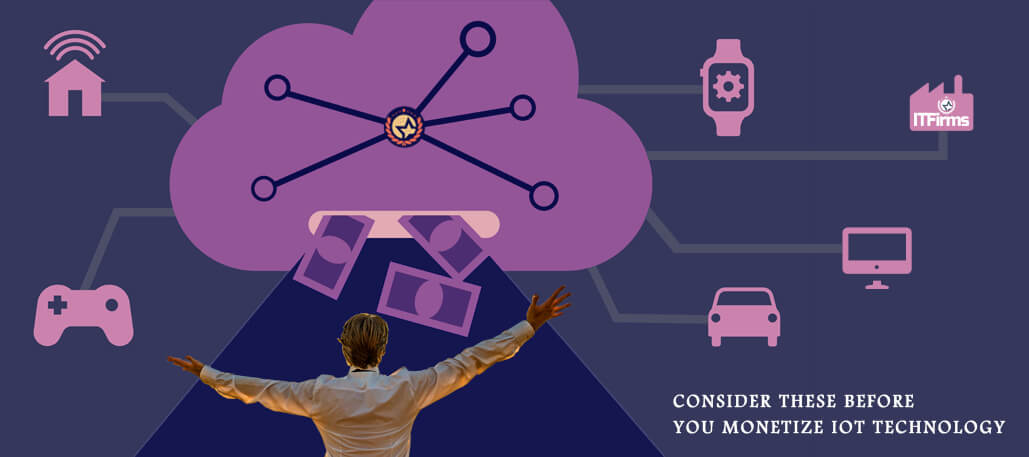 Consider These Before You Monetize IoT Technology
Today, there are only 30% of businesses that are leveraging IoT to grow their revenues and offer top-notch services to their customers around the globe. Further, according to a Capgemini report, by 2020, 96% of businesses will be using IoT technology to build on their brand image and shoot their revenues to new heights.
Hence, IoT app developers will have a huge role to play in assisting businesses to accomplish their IoT goals. They'll be deploying techniques, administering operations and using their skills to produce desired results. Once, everything is up and running then will be the time to make money. For which you'd need to consider the following facets.
Data helps you lead
Consider any business model, data remains the most vital aspect of it when we talk about growth opportunities and hacking the upcoming years for the betterment of the business. Data will become more powerful, and it is predicted that by 2020 that about 1.7 megabytes of new information will be generated by an individual, every second.
The data explosion is bound to happen and it is up to businesses that how they plan to accumulate it, analyze it and eventually put to use for their vested interests.
App experiences are crucial
IoT apps are useless if they don't add substantial business value. Imagine a machine initiating a recovery or a repair process before it fails completely or a washing machine that notifies you of low water or detergent levels. Won't it be helpful?
It provides you with an edge over your competitors and sets you apart. However, the forefront of the technology is still the IoT app developers who make it a reality. IoT monetization is what comes thereafter. Make sure you have on board the best app developers who transform the IoT concept into actual business scenarios for the intended results.
Focus on making money
The only possible way to make money through IoT applications is that you produce apps that are in demand or are likely to be in the future. Innovating off-shoot applications, devices and services won't help you make money- surely not in the near future. These apps only add to development costs and open doors of expansion. Nonetheless, the focus should be on the initial product and how it can be scaled to shoot up the revenues.
Monetization models
There are plenty of ways to monetize your app, services or IoT devices. To extract most out of it, you need to put your hands on the right model. This could be a subscription model that will generate a recurring income year after year or it could be a one-time sale model for the IoT devices you plan to sell or pay-as-you-go options where customers are required to pay on the usage basis. Decide a revenue-generation model wisely after researching your business expenses, customers' paying capacity, your operation areas and more.
Final words
IoT is more than just connectivity or a hub of connected mobile devices. It is greater than you can imagine. It not only offers conveniences for businesses and consumers but also carries the potential to multifold business revenues.
Still, in its early years, Internet of Things will eventually see more entrepreneurs and traditional companies joining in. Times have changed and methodologies have evolved. Money-making schemes for IoT businesses will also see new horizons in the coming months. If you have expert IoT app developers in your team then revenue-generation won't be difficult because they set up the link between you and IoT money-making scheme by producing IoT devices for businesses worldwide.