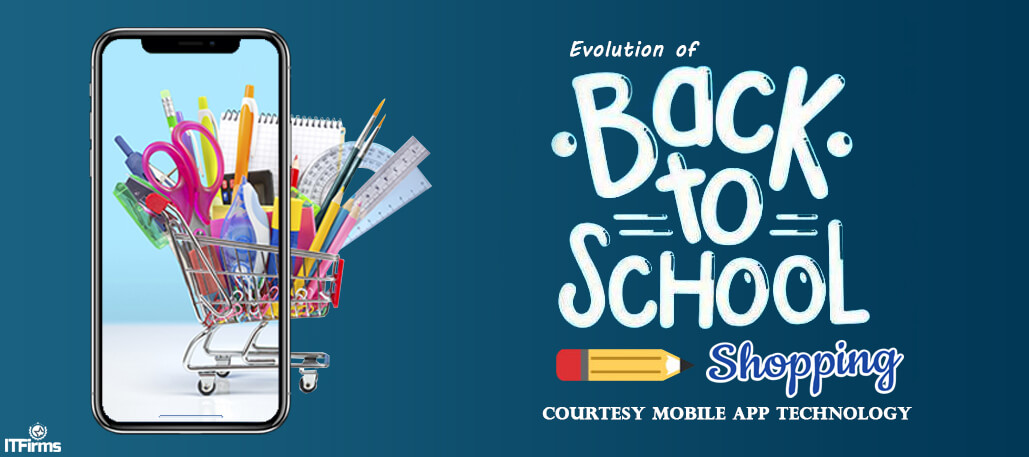 Evolution of Back-to-School Shopping – Courtesy Mobile App Technology
The shopping experience offered by mobile apps is sublime and it isn't a secret anymore. Most of us have smartphones and we use it for buying stuff online like books, apparels, shoes, beauty products, gadgets, order on-demand services and what not.
Back-to-school shopping is also witnessing a steep inclination towards mobility. According to Rubicon Project, 60% of consumers plan to use smartphones to research and shop their back-to-school stuff, which was 33% half a decade ago. Clearly, the inclination of parents of millennials and others is towards mobile for discovering the back-to-school spending.
Another interesting stat that hints at prospering mobile usage during back-to-school shopping season is that there is a 70% jump in the viewing videos about back-to-school ideas on YouTube.
With tremendous opportunities during the shopping season, app marketers and brands gear themselves to claim a big of the pie. But above everything else what can be done to attract back-to-school shoppers? Let's discover.
Offer stress-free apps
Back-to-school shopping has always been stressful. Mobile apps addressing the issue add a certain amount of ease in the lives of consumers by offering solutions at a screen tap. Usually, the main focus of best mobile app developers is on millennials and their parents who have explored the mobile inside out. They know how to look out for their desired product range and when to opt out. It has been studied that around 60% of users leave mCommerce apps or sites due to lazy-loading issues, inconsistent UI and poor navigation. You have to offer the best experience in order to win their hearts and increase sales.
Make social media your preferred marketing medium
Millennials are active on social platforms like Snapchat and Instagram; hence, it is important to pay extra attention to these platforms in order to market and reach out to your prime consumers. Creating value-added content with a personal touch will do the trick for you. Produce content that is relatable and connects to the audience from the word go.
Connect with right people for promotions
Discover platforms where your target audience is. This can be a routine manager app, a parenting app or a social networking app that connects parents on diverse topics. Try partnering with such companies and make connections that matter to your business. By doing this, you can reach out to millions of users offering them deals and discounts ontheir favorite devices.
Embed convenient and reliable payment options
The mobile app users are smart. They examine payment gateways ahead of sharing their account or debit/credit card details. It won't take more than a minute for them to abandon your app if they sense risk in sharing their personal details. As a result, you'll lose your customers and suffer a decline in revenues. Apple Pay or Android Pay would be good choices to opt for this functionality.
Final words
With figures stated above and surveys conducted, it is evident that shoppers who visited brick-and-mortar stores for back-to-school shopping are switching to mobile. It is up to the brands, the app marketers and app development companies to acquire them in those months when the demand for school stuff is at its peak. You got to have creative minds on board for devising effective strategies that convert visitors into shoppers. It's all about targeting the right audience at the right time and through right mediums.