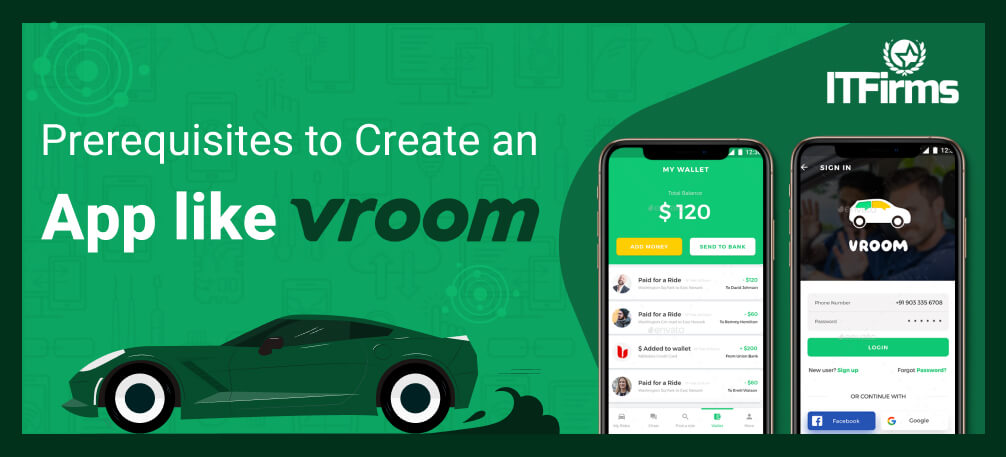 Prerequisites to Create an App like Vroom
Vroom is the most preferable online car sales platform across the U.S; find out more important reasons to create an app like Vroom!
Online car-buying platforms swarm in with their offers. Evolving newbies compete with the reticent ones, offering what their elder counterparts were not able to provide. Transportation and police guidelines assist in making car purchases faster, letting you skip multiple layers of interrogation, crosschecking, and verifying documents.
The primary objective of every car dealership platform is to provide as many avenues to prospective customers as possible, to generate interest and convert them into their customers.
What is Vroom?
Vroom is an online platform to buy and sell used cars. It has limited its operations to the U.S currently. It specializes in low-mileage, pre-owned cars similar to certified pre-owned vehicles. Vroom vehicles undergo several inspections to ensure they are safe and ready to sell. Every Vroom vehicle comes with a limited warranty and 24-hours roadside assistance for one year.
How does Vroom work?
Vroom offers fixed prices on cars so that buyers do not have to wrangle around. Vroom does not have to deal with the costs associated with traditional stores, it can pass more savings down to the customers. Customers search, compare and place an order after ensuring all the features, prices, delivery timeline, and post-sale maintenance. Customers can shop and set up financing entirely online. They have a pay a $500 deposit to hold the vehicle while they finalize their contract. Vroom delivers the car to their door within 15 days, once the purchase is done. It should already have temporary tags, and customers get seven days or 250 miles (whichever comes first) to ensure they like it.
Is Vroom legit?
Vroom is legitimate, but it also has some negative reviews due to delivery delays and other problems. It offers competitive prices, but its customer service does not necessarily fit everyone's needs for an online car-buying platform.
Vroom Policies
It is essential to understand Vroom's policies before purchasing a car:
Returns: Customers can return a car within seven days of purchase or within 250 miles of delivery, whichever comes first. The car is picked up for free, but the original shipping fee is not refundable. Customers also need to pay a $599 restocking fee.
Trade-ins: Vroom accepts trade-ins. Customers can receive an offer, by filling out some basic information. They need to accept it within 10 days or 250 miles.
Warranty: Vroom vehicles include a 90 day/6000 miles limited warranty and roadside assistance for one year. They also come with trip interruption coverage, rental car reimbursement, and towing reimbursement.
Vroom Car Qualifications: Vroom vehicles come with clean accident history, and meets rigorous testing standards to ensure it is fit for sale.
Online Car Dealer Website Features
Online platform for car dealers must have:
Advanced Search: Selecting a car is the most difficult task with the presence of varied options – features, colour, fuel capacity, engine capacity, torque, doors, seats, and luggage space. This helps customers to focus on their search results to exactly what they want, which helps them make a better choice with ease. Here, customers are free to take their decisions, irrespective of the offerings and availability.
Full Vehicle Details: There can be more than one choice within a price range. Customers always go for the best available option with significant features. They look for wholesome descriptions, sound-light-driver-aid details to make car-buying decisions.
High-quality car photos: If a customer sees a car or its picture for the very first time, they go with one that suits them according to their preference – whether it is the seating capacity, colour, space, engine or fuel capacity, endurance, shape, Driving Style, price of the car, Registration Process, and Car Insurance.
Hot Deals: Customers are always attracted to the best offers, eye-catching flash deals, on-road performance and price, and competitive advantage.
Loan Calculator: Most buyers like clearing all discussions related to finances, and banks to avoid last-minute hassles.
Compare Vehicles: The feature to compare vehicles:
Dimension (Length, width, height, wheelbase, ground clearance, kerb weight, boot capacity)
Engine Motor (Fuel type propulsion, engine installation, engine displacement, engine type, motor type, max engine power, max engine torque, max engine power CNG, max engine torque CNG, max engine power LPG, max engine torque LPG, max motor power, max motor torque, combined max power, combined max torque)
Transmission (Drive layout, gearbox type, Number of gears, selectable differential lock, sport mode automatic gearbox, manual shifts via gear level automatic gearbox, Paddle shifters automatic gearbox)
Fuel economy range (Fuel tank capacity, Cng Lpg tank capacity, battery capacity, official fuel economy, City fuel economy tested, Highway fuel economy, Claimed range, Charging time, Auto start-stop)
The suspension (Front suspension type, front springs, rear suspension type, rear springs, damper control, Ride height adjust)
Steering (type of power assist, steering adjust, steering adjust type, turning radius)
Wheels and tyres (Wheels, wheel size, front tyre size, rear tyre size, spare wheel)
Brakes (front brakes, rear brakes)
Performance as tested (Performance 0 to 100 kph, performance 20 to 80 kph third gear kick down, performance 40 to 100 kph fourth gear kick down)
Safety (Crash test rating, airbags, anti-lock brakes abs, electronic brakeforce distribution EBD, brake assist ba, electronic parking brake, traction control, electronic stability control, hill start assist, hill descent control, anti-pinch power windows, central locking, speed sensing auto door locks, child safety lock, Isofix child seat mounts, automatic headlamps, automatic wipers, rear washer wiper, rear defogger, day-night interior mirror, parking sensors, parking camera, tyre pressure monitoring system, blind-spot monitor, adaptive cruise control)
Exterior (Body-coloured bumpers, projector headlamps, headlight type, daytime running lights, front fog lamps)
Seats and upholstery (Seats, leather-wrapped steering wheel, leather-wrapped gear knob, driver's seat height adjust, electric adjust for driver's seat, driver's seat memory, front passenger seat memory, adjustable front headrests, ventilated seats, heated seats, massage seats, front-seat armrest, a rear-seat armrest, adjustable rear headrests, individual chairs at the rear, rear seat backrest recline, rear seat backrest fold, rear seat backrest split, third-row seats, third-row seats fold, third-row seats split)
Infotainment (Audio system, CD player, USB input, Aux Input, Bluetooth Audio Streaming, Bluetooth telephone function, steering audio controls, steering phone controls, wireless phone charging, display, android auto, apple car play, mirrorlink, web browser, video player, satellite navigation, voice commands, gesture controls, touchpad, rear entertainment screens)
Comfort and convenience (Power windows, power windows with one touchdown, power windows with one touch up, exterior mirrors electric adjust, exterior mirrors electric fold, remote lockup, Keyless entry, push-button start, climate control, rear Ac Vents, Third-row Ac Vents, front passenger seat adjust from the rear, rear window sunshades, rear windscreen sun shades, a rear power outlet, sunroof, configurable ambient lighting, driving modes, cruise control, auto parking, launch control, dead pedal, hands-free boot opening)
Instrumentation (Speedometer, tachometer, trip meter, average fuel consumption, average speed, distance to empty, low fuel level warning, instantaneous consumption, gear indicator, shift indicator, head-up display)
Easy contact with a dealer: Add a Google form for customer's convenience with detailed contact details, address of dealership, phone numbers, email addresses, physical addresses)
Dealership details: Car dealers have to build rapport with their customers. Adding a few photos, details to their profile, history, 'key' people, accomplishments can help potential customers to research and decide.
Mobile-Friendly: Like every website, an online dealership website should be user-friendly, must be properly optimized for a smaller screen, must not contain overlapping elements or features, and must be optimized for a wide range of devices, browsers, and screens sizes.
Frequently Ask Questions Regarding Vroom:
Where is Vroom located?
Headquarters in New York City and corporate offices in Houston and Detroit.
How does Vroom make money?
Vroom offers the best cars/used cars at the lowest prices. It does not have the overhead costs of traditional dealerships. It turns a profit by selling them to consumers without over-charging.
Does Vroom take trade-ins?
Vroom users can trade in cars before or after shopping for a new vehicle. They prefer their users to appraise the trade-in first, as the old vehicle car's value may affect financing.
Does Vroom negotiate?
No, they have fixed prices to avoid any confusion.
Is Vroom better than Carvana?
They are almost similar, but Carvana has a high overall rating.
How long does it take Vroom to deliver?
Vroom typically delivers in 14-15 days.
Does Vroom charge sales tax?
They do not include sales tax in their pricing. But customers will have to calculate the sales tax in your state of residence to set an accurate budget.
Does Vroom do a hard credit check?
Yes, Vroom performs a credit check (hard credit check) when customers apply for financing, which can affect your credit score.
Conclusion: 'Key' Points to Consider While Buying a Car
A brand new car hardly requires any maintenance. But you need to keep it in that shape and condition with regular check-ups. Buying a car from Vroom enables customers across the U.S. to buy the cars according to their budget and overall suitability. If you're a top website development company, follow us for such relevant updates!
Please share your suggestions at [email protected]