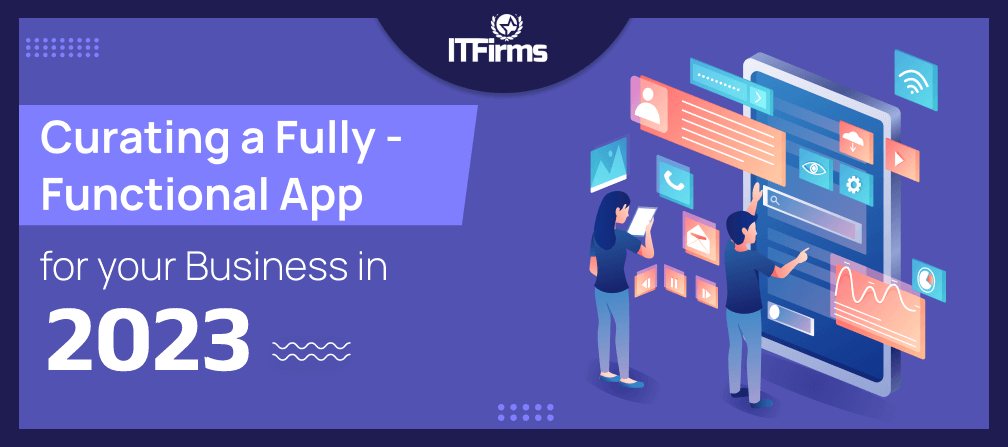 Curating A Fully – Functional App for Your Business In 2023
To transform your start-up idea into a product idea, follow prominent stages right from inception, design, development, stabilization, deployment, and maintenance!
Having an incredible idea to create an app is one thing. But the process and steps you need to follow will traverse you through to succeeding at a business. Innovative features, outstanding technologies, immaculate designs, astonishing functionality, how do you want your mobile app to go about?
For a mobile application to be applicable, it should be simple, comprehensive, highly performant, must have good image resolution, must be flexible, secure, must have many search options, must have bright and bold colour schemes, push notifications, user feedback, and updates.
Researchers predict that only 1% of the mobile app start-ups succeed in getting their idea across to their target audience. How can you do better?
Fix a starting point of your research by identifying your target audience based on demographics – age, profession, and location. Select a platform to code – Android or iOS. You will have to align your technologies/tools/programming languages/API's/Frameworks accordingly. Set a plan of action after deciding upon a budget and client requirements/market demand (if any).
None of us thinks the same way and thinking out of the box might not be feasible for all.
The entire app development process has to be smooth and efficient, commixing user interface and experience designs, with an eye on marketing strategy.
Testing your app to the core, starting with Unit Tests, regression tests, integration tests, system tests, smoke tests, user acceptance tests, alpha-beta tests to complete the deployment process.
What do big mobile app development companies do?
Trusted mobile application development companies have earned a special understanding of mobile app development methodologies across security, data management, resource optimization, UX after delivering many projects across the industries.
Mobile App Development companies in India aim to deliver mobile apps to their partners that bring high efficiency to their business and generate brand awareness of their offerings. You might require a hybrid app or native mobile app, Android or iOS app. Follow us for more relevant updates on how we can equip your business with the most user-friendly applications.
Identify Your Target Audience: As you identify your potential clients, have an intrusive look into their demographics, psychographic characteristics of the target market, check on the type of applications they use to solve a problem, and most importantly is your target audience looking for a solution?
Fix a Budget: Next you need to consider your budget to decide if you want your app to be developed In-house, or want to fetch help from App Development Agencies.
Hiring an App Development Agency: Consider hiring app developers or hiring app development agencies according to your requirements. Hiring an app development agency is affordable, and convenient as it is easier to scan through app developer listings by top research and review firms and find the one that is best suitable for your business. Such listings incorporate all the groundwork like checking upon their portfolio, past projects, client communication, client testimonials, estimated time of delivery, adaptability with the latest technologies in demand, and adeptness with changing market scenarios. Additionally, App Development Agencies have expert developers, designers, project managers, creative teams, and data scientists.
Find an Investor: You'll have to acquire investors to chant for your mobile app besides the money. Create an MVP with enough features to engage your audience. Price it judiciously because a fully functional app stuffed with sufficient features also takes hours to be built.
A Bit of Marketing: Focus on creating curiosity amongst your target audience even before you launch it. And it will all work out if you know your job well.
Mobile App Development Lifecycle
Requirement gathering/Analyst: Rough Draft, wireframes, scope document
Design: UI Design, functional design
Development: Waterfall/Agile development, functional development, Unit Testing
Testing: UI Testing, UX Testing, UAT Testing
Launch/Maintenance: Launch, Load Testing, Maintenance
In Conclusion
You do not always require to be highly innovative to make your mobile app successful. Plus you need not be extremely crazy to get your message across. Marketing and promotion always work, but a bit of creme, and sophistication always go a long way, in making their brand stand out. If you can solve a business problem effectively, see right through the target audience, understand the technology stack, align the development challenges with the client's demand, and assemble business and technical aspects. Stay with us for more!
Please share your suggestions at [email protected]