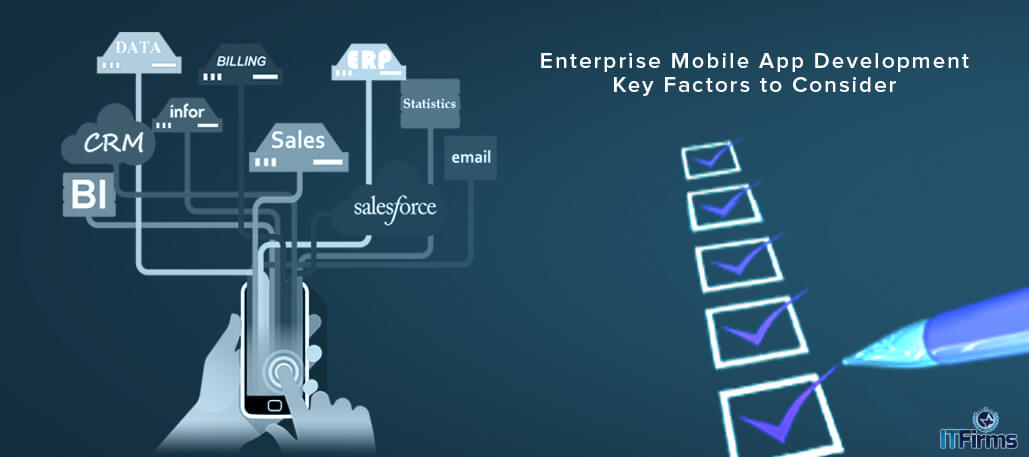 Enterprise Mobile App Development – Key Factors to Consider
Enterprise apps have witnessed a spike lately. Businesses are open to change. The prime reason for the same is the growing trend of BYOD (Bring Your Own Device) at work followed by inconsistencies in management and administration. Every day, businesses have to overcome several challenges ranging from declining client satisfaction rate to increasing app development to management woes and more.
Along the same lines, employees were stressed due to increased work load and pressure to accomplish tasks in time. This made way for enterprise mobile app development, to facilitate prevalent troubles.
Enterprise apps make it easy to manage and track for the employer while it adds convenience for employees. A win-win situation for both. No wonder, why enterprise app development is on the rise. However, in order to relish the perks of an enterprise app, even the top enterprise app developers need to work their fingers to the bone.
To make the process a little easy, we have a curated list of considerations that'll help you to cross the line with ease.
Unsecured data transfer
According to a study, more than 33% of the companies don't have encryption methods in place while they exchange files or documents within departments. The transfer of information is done via insecure mediums. It is the sole responsibility of the enterprise app development company to incorporate advanced security means to prevent a state of adversity and deliver a fully secured solution to the client.
Multi-tier authentication
Passwords are outdated as they do no good in preventing unauthorized access. Intruders are competent to crack the password and abscond with the desired information. Therefore, it is necessary for your application to have multi-tier authentication where, along with the password, the user needs to enter a random code generated in real-time by the app that's sent to the registered mobile number or email address. Without this code, access will be denied even if the password entered was correct.
Data Caching
Cached data is the first thing that hackers prey on. It is a cakewalk for them to get hold of the cached data. Companies need to address this issue right from the start and limit the caching of data. Also, rules need to be applied that can automatically erase the cached data after a period, probably a month or every time a smartphone/device restarts.
Security is still a concern
Whether you build an Android app or an iOS app, security is one aspect that'll continue to give you sleepless nights, time and again. Even if you have the best security procedures in place or have firewalls installed, hackers would come up with a new evil way- leaving you and your business in ruins. iOS was regarded as the safest platform, which was hard to break or the apps are free from malware. But the scenario has changed. No operating system is secure and you, as a business owner, need to have multiple layers of security instated.
Final words
Data security needs to top the list of your priorities, no matter what type of application you build. When it comes to enterprise apps, the level of security and privacy needs to be raised a little more, primarily due to the exchange of sensitive information, files and documents. Get associated with the best enterprise app development company in the business to make things work in the desired fashion.