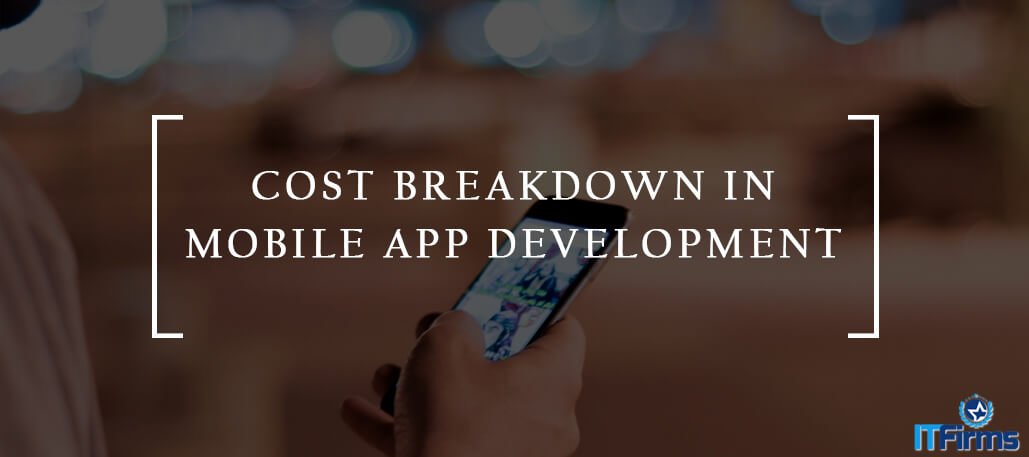 Cost Breakdown in Mobile App Development
The biggest concern that every startup, enterprise and big brand express when they reach out to us for mobile app development is the cost of development. Sometimes, the project quote leaves the clients wondering as to why there is such a huge cost involved in building the app.  This is precisely where cost breakdown matters and allows the clients to know the actual factors that affect the cost of development.
Whether it's Android or iOS or hybrid, every business owner wants to gain maximum output within a set budget they have in hand. App development cost is indeed unsteady. Often, there are additions and subtractions that keep happening to the cost estimated at the start to build the app. Only a few mobile app development companies, who have relevant and vast experience in developing cutting-edge, modern mobile apps have the acumen to estimate the right cost and deliver the project as promised.
Consulting with our mobile app developers, we've here broken down the cost of building a mobile app into various parameters stated below.
Mobile App Development cost breakdown- how is the cost calculated?
The size of the app:
The size of the app directly relates to the features that are included in the app. An extra good design with 3-d animations and API integrations result in feature-rich apps. The more features an app includes, the longer it takes to build. A more complex app is high on budget because it calls for a completely customizable design, style kits, advanced tools, multilingual support, localization and more.
Simple and common shopping apps, ticket booking apps, inquiry apps are low-budget.
The number of hours needed to build the app:
The second most important parameter that defines the cost of the mobile app is the number of hours invested. And this time is calculated right after the project agreement and submission of time estimate going up to the final build performed- everything that comes under project development.
In this case, usually a dedicated project model that requires a flat rate based on the company's estimate is suitable because the hourly model may result in extra costs if the project timelines go beyond the estimate. However, an extended timeline may also befall in the dedicated project model due to various possible reasons like scope change, new features and functionality added or a complete design change.
Unique topographies and custom features:
That's obvious- any unique creation needs more time and cost than an ordinary one. For any run-of-the-mill app,the cost may be less, generally as expected or the average range decided by the company for the various types of apps. On the contrary, an exquisitely unique solution tailor-made in each phase will vary the cost. It may also require expensive technology bundle and hardware.
For instance, gaming apps like Pokémon Go, iBeacon apps that require a beacon to be installed, IoT apps and apps like WhatsApp, Uber are costlier because along with including the common elements of any similar app, they require creating proprietary technology.
The effort and time required in testing:
Though each app requires attention-to-detail when it comes to testing but the ones with unique features need extensive testing like open/closed beta testing plus the usual QA testing. No wonder, testing significantly contributes to the time and budget estimate as provided by the developers as it may demand back-to-back operations and real-time bug tracking as per user's feedback.
Mobile platforms and devices supported:
The choice between native and hybrid app brings a substantial cost difference. A native iOS and native Android app are costlier and take more time to build when compared with the cross-platform app development. Native apps are typically better-performing than cross-platform apps. However, with the introduction of new tools like NativeScript and React Native, you can ensure a native-like experience in your hybrid app.
Additionally, the number of devices is also a major concern when you want your app to run the same across all Android or iOS devices. Each platform is different- you will be surprised to know that there are 18,000 different screen sizes and devices in Android. And to ensure your app works well on all of them, you need to give in extra time, which incurs more cost.
Use of Phone Hardware
A location-based app like Uber requires developers to integrate the app with the smart features of your smartphone. To pull features like phone's GPS, accelerometer, gyroscope, camera, there may be cost insinuations.
Consequently, all the above factors lead to the type of apps we build. Entertainment apps like YouTube, Instagram, Snapchat and complex apps like Amazon are highly interactive and have tons of various innovative features, API integration, using much of phone's hardware and thus, they are more expensive.
Over to you
We hope that you, as a business owner, must have gained a better understanding of how the cost of the mobile app is fragmented and on what basis app development companies quote their prices.
One smart move that can help you reduce this cost without compromising the quality is outsourcing the work to Indian app development companies– they are relatively cost-effective than western development companies yet offering the most engaging and profitable app products.