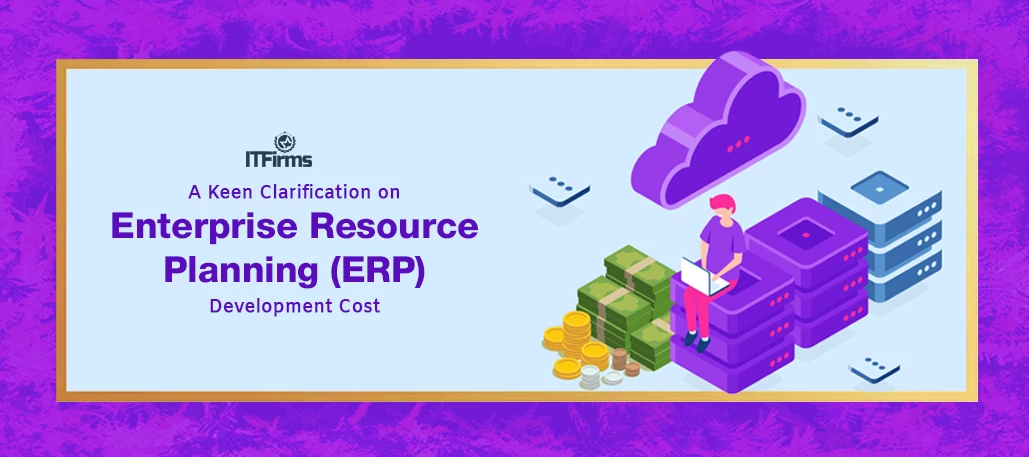 A Keen Clarification on ERP Development Cost
From enhancing productivity, reducing costs to streamlining various organizational processes, ERP exhibits the roadmap to better implementation of business processes!
Organizations are constantly on a lookout to boost productivity, reduce costs, make smarter decisions, manage growth and achieve a competitive advantage. Modern ERP solutions address these challenges by streamlining business processes, proactively managing performance, provide real-time visibility for decision making.
Let's Understand: What is ERP Software?
A typical enterprise has many departments. They work in close coordination within the departments, as well as associated third parties like vendors, outsourcers and customers. Communication and exchange of data is the key to the success of any organization.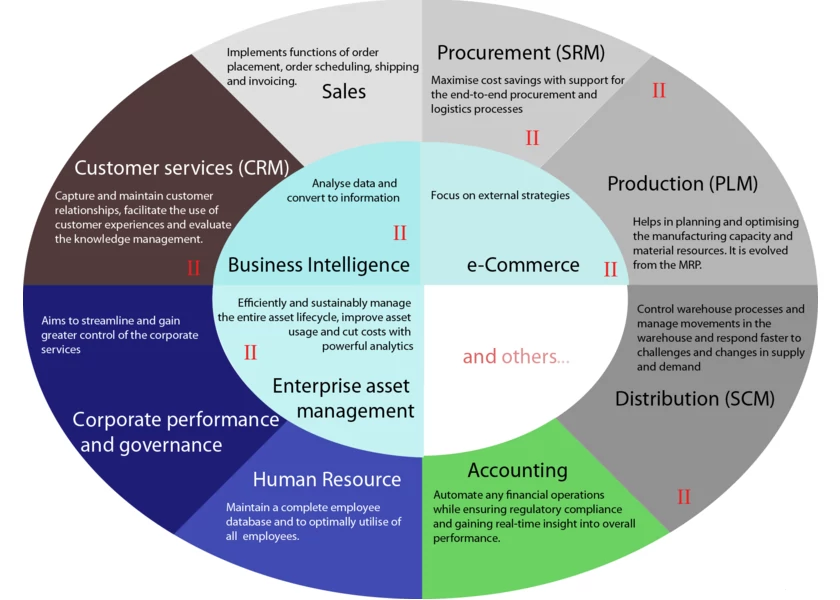 Image Source: wikimedia
[P.S.: This figure is suggestive only. This might be excluded if a better option is available or is not required]
To understand this, let's assume a Typical Business Process Scenario
A client approaches a sales team to buy a particular product, sales team approaches the inventory department, to check the availability of the product, and in this case, the product is out of stock. The sales team approaches the production planning department to manufacture the product. The production planning team checks with the inventory department for availability of raw material. If the raw material is not available with the inventory department then the production planning team buys the raw material from vendors. Production planning (PP) department brings these to shop floor execution (SFE) for actual production. The SFE sends the finished products to the sales team for internal delivery to clients. The sales team updates the finance department with revenue generated by the sale of the product. The Production planning (PP) department updates the finance department for payments to be made to the vendors. All the departments' approach HR for any human resource-related issues. That is the typical business process.
Classifying Enterprise Software Systems
Enterprise software systems can be broadly classified as decentralized or centralized (ERP) systems. In decentralized systems, data is managed locally within a department. They do not have access to data from other departments. This calls for problems in real-time.
Revising the Business Process Scenario Discussed Earlier
Now, let's consider the same business process one more time. This time around, the client approaches the sales team to buy a particular product. The sales team approaches the inventory on an urgent basis. This process takes time, which eventually leads to customer dissatisfaction and loss of revenue. Now the sales team approaches the production planning team to manufacture that product for future use. The PP team checks the availability of raw materials. Information of the raw material is separately stored by both inventory and PP departments, which causes the data maintenance costs to go up. If particular raw material required to manufacture the product is available in the inventory but according to the PP the raw material is out of stock. So they go ahead and buy the raw material. Thus material, as well as inventory costs, go up. Once the raw material is available, the shop floor execution (SFE) department realizes that they are short of workers. They approach HR who in turn hire temporary employees, at higher rates than the market. Therefore the cost of labor goes up. The PP department fails to update the finance department on the materials that they have purchased. The finance department defaults the payment deadline set by the vendors which might cause them to face legal action and the company loses its reputation.
Approach to Modern Enterprise Resource Planning (ERP)
The drawbacks of decentralized systems, discussed above costs both time and money and need to be rectified. ERP comes to rescue. Here are eight ways in which modern Enterprise Resource Planning (ERP) solutions can help you gain competitive advantage:
By Applying Business Intelligence: With integrated business intelligence you can now proactively manage your business performance with real-time analytics, reports, alerts, and key performance indicators. Get a snapshot of cash flow, inventory, customer insight, and profitability and make better decisions.
By Integrating CRM: With integrated customer relationship management you have customer data at your fingertips. You can instantly get answers about your customers. You can attract and retain customers, improve customer relationship and discover new revenue opportunities.
Implementing Mobility: Your mobile executives and employees demand access to corporate systems from their smartphones and tablets. Modern ERP solutions deliver mobility to eliminate redundancy.
Being Global: Today's modern business is global and so are modern ERP solutions. You no longer need localized solutions for each country. You can make use of a single global system to meet local management needs and accurately report across locations and borders.
With Collaboration: Improve productivity and responsiveness with open lines of communication. Modern ERP solutions connect everyone, across the organization with common information, supporting collaboration and accuracy. You can now share documents, data, online notes, attachments and social media feed across your company and with customers.
Use of Sophisticated ERP: You no longer need to choose a system that is flexible and features rich and is also easy to install and use. Get the best of both worlds. Sophisticated ERP solutions are now simple for end-users and productive for IT.
Full Compliance: The right ERP solutions simplify governance, risk and compliance management. They can automatically enforce financial management standards and deliver audit trails and compliance reporting.
High ROI and low total cost of ownership: Today's modern ERP solutions deliver a high return on investment and a low total cost of ownership. Advanced architecture and web interface save time and money by making ERP solutions easy to install, implement, integrate and upgrade.
Is your organization ready for ERP?
Analyze if you are facing any one of these three points mentioned below:
Check if you have more questions than answers to key business information?
When there is a growth in customer complaints but the sales are still stagnant!
If the business is growing aimlessly – ERP brings inventory, sales, operations, and accounting into the same frame.
The available software options can be deluging. The key to implementing any solution is to spend some time and research and consider small steps towards building an entire system that can fit into needs of business.
How much do the ERP solutions cost?
The cost of implementing an ERP solution depends upon the type, size and location(s) and size of the organization. The prices might vary for small-medium-large scale businesses. Additional costs that can be included are the cost of managing the databases, cost of infrastructure, implementation services from your VAR or CSP and recurrent costs.
Honestly, determining the cost of an ERP solution is not that easy, as no two implementations are same. The determining factors for cost of ERP solutions are the type of the system, size of the organization, required functionality in the ERP solution, user access levels and few more.
Some general guidelines that can help determine the cost of the best ERP software:
Cost of developing a ERP system for small businesses comes around – $10,000 -> $1,50,000.
Cost of developing a ERP system for medium-sized businesses comes around -> $1,50,000 – $500,000
Cost of developing a ERP system for large businesses comes around -> $1 million – $10+ million
(Source: Clientsfirst)
The actual cost of ERP software development is only a fraction of the implementation. Human resource takes up the majority of costs.
Human resources cost: 40% to 60%
Software costs: 15% to 30%
Infrastructure costs: 10% to 20%
Database management system costs: 5% to 10%
Additionally, there are some annual recurrent fees to be paid that are not included in the initial implementation. Recurrent fees must always be considered as they play a significant role in determining the total cost of ERP solutions.
Conclusive
The total cost of an ERP Software Development (irrespective of price model defined by vendors) depends upon the number of users, industry or organization for which the solution is to be built, number of locations in which the organization has its centers, the database management system to be used (licensed or open-source); databases are often priced based on the number of users or/and number of servers (CPU). The cost of hardware required to run the ERP solution, including the backups, storage, desktop computers, and server infrastructure, etc. A major part of the any ERP implementation is occupied with the human resources – this also includes the consultation cost, recurrent cost (Implementation, Training, and Development for Customization, Process Redesign, Maintenance, Upgrades, and Support).
Moreover, top software development companies should discuss any additional charges/cost might be consulted with the vendor as they might become staunch; they can eventually affect the bottom-line if not closely monitored or/and if not included in the initial purchase.