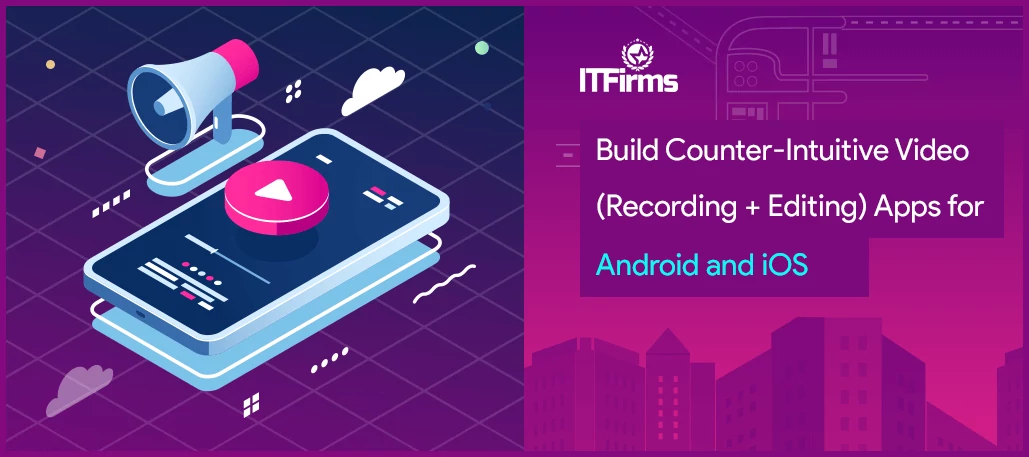 Build Counter-Intuitive Video (Recording + Editing) Apps for Android and iOS
Scan through the features that transform a simple video recording and editing app into an indelible legacy!
When was the last time you really required a camcorder for your vacation? Smartphones have been acting as a canopic solution for making calls, clicking pictures, shooting videos, sending messages, setting alarms, scheduling meetings, sending emails, making presentations and myriad other features.
How capable are mobile phones vs. camcorders?
Smartphones are made up of (Note*) the most basic features that make it much more useful than camcorders (that are defined for just one purpose). (Note*) Messaging, and Dictionary, Web browser, Voice-based features, Multi-touch, Multitasking, TV recording, Video calling, Multiple language support, Accessibility, Connectivity, Bluetooth, Tethering, Streaming media support, Media support and External storage, etc.
Major tech companies have introduced or are in the process of launching smartphones with special functions powered by AI. Mobile smartphones like Apple's iPhone X feature artificial intelligence which allows it to focus on imaging and animation. The smartphone includes a dedicated "neural engine" chip, which processes certain functions on the iPhone X without taking power from other, more standard processes on the device.
Many advanced features like FaceID facial recognition system based on neural engine, "True Depth" front-facing camera is able to create a 3D map of a person's face and use that to identify the person, which is used to log into the device and authenticate apps and services like Apple Pay. Apple as well created "Animoji's" or animated avatars, which mimic a person's motions and voice as a firm demonstration of what AI can do.
And as there is no shortage of options while we think of filming the best moments, camcorders are still preferred due to their quality, simplicity, resolution, customizability, playback, filming position, storage, wi-fi and sharing on social media. But when it comes to portability and convenience, mobile smartphones are an undeterred choice. But in case you wish to cast your mobile screen on television, or post it online or play a video on TV, the vertical alignment is not accurate. High Definition camcorders record horizontally by default. In this case, editing a video before playing it on projectors or television for vertical filming is required.  But not every camcorder have Wi-Fi and sharing a pic as soon as you capture is not always easy.
There are no universal differences in case of storage options in smartphones and camcorders. Memory cards vary in compatibility and storage capabilities. Therefore, if all the differences and similarities are considered, smartphone cameras still come on top. 
Tips To Improve Your Video Recording
Orientation: Make use of landscape orientation this will make the video more aesthetically pleasing and enjoyable to watch.
Frames: When orientation is in place, the frames must be adjusted. Putting the focus slightly off center, playing around with the scene to make it visually more interesting will completely fill the frame with the subject.
Flash: While flash can turn out to be the best culprit in all those videos where the subject has yellow skin and red devilish eyes combined with super dark backgrounds. You'll have to find another light source in order to grab a photo in night. Video can simultaneously come out to be poorly lit in the end. It is suggested to mix creativity and come up with neon light options.
Zoom: Zooming must be done attentively, without losing the crisp and pixilation, it should be made a practice to get as close as possible, especially for tight shots on faces (to clearly visualize those freckles, fine lines, and cheek fuzz).
Filters: Give Snapchat like special effects with the help of lens and filters. These are augmented reality enabled, giving the picture a rainbow puking/doodle scribbled/dog with tongue effect. Moreover, colored filters with the current time, local weather, speed overlays, and geo-filters can be added to the video.
Background Backlit Effect: Your smartphone can often halo a dark figure when people's faces are backlit. In this case, there are no visible features. In this case, a basic light setup should be done. Slightly moving to a side, to improve a backlit situation.
Time Manipulation Photography: Practicing time-lapse photography in which the frequency of capturing film frames is much lower than that used to view the sequence. Replaying this sequence gives an effect of moving and lapsing thus giving an effect of time manipulation. It captures objects and moments at a speed that is beyond imagination and can then be portrayed gradually.
Gif's: Create your own small video clips (Gif's) with the help of some apps on your camera-enabled smartphone device that can easily be shared.
Additional Accessories: Although smartphone cameras are not as good as powerhouses provided by Canon/Nikon or Sony, as they lack fine controls without a doubt. But in case you wish to fine tune your smartphone camera and carry your video-recording skills to the next level, without having to buy a pricey DSLR, you might want to buy some accessories (which might include tripod mounting systems and creative lens add-ons, etc.) that reveal your camera's true potential.
Video Editing: Some intense editing with the help of smartphone specific apps for your footage to go from fine to good to excellent. When a basic trimming on move is required to add transitions, titles and effects for both iOS and Android mobile devices, simple video editing apps can streamline the process.
Prevalent Video Editing Apps in 2019
Trending ones:
Adobe Premiere Rush (cross-platform)
LumaFusion (iOS)
KineMaster Pro (Android)
iMovie (iOS)
FilmoraGo (Android)
Adobe Premiere Clip (iOS and Android)
Apple Clips (iOS)
Filmmaker Pro (iOS)
Power Director (Android)
Splice (iOS)
Apple's iMovie app for iPhone and iPad includes titles, transitions that supports making theatrical trailers on the go. Other features include picture-in-picture, split screen, and slow-motion effects. Apps like LumaFusion, Videon, Magisto, Adobe's Premiere Rush does the trick.
Prevalent Video Recording Apps in 2019
Trending ones:
Filmic Pro
MAVIS
Movie Pro
Cinema FV-5
Open Camera
Camera MX
iPhocus
ProMovie Recorder
Kinomatic
Videoshop Video Editor
Points To Consider Before Creating Video Recording and Editing Apps
Out of the many important points, few essential ones that are must-haves in any video editing and recording app are:
It is important to understand the need and time to display advertisements.
There must be a match between the personality and purpose of the application.
An outlet to share videos within the social circle must be there.
Include These Features in Your Own Video Recording and Editing App
There is no fixed number of features that should be included in a video recording app. Top mobile app development companies keep on altering these according to customer requirements. To start with filters, frames, fragments, stickers, social media log in, sound effects, recording and video calling are fundamental but more complex ones can further be added based upon the comprehensiveness, budget, and hardware at disposal.
Tools and Techniques within a Video Editing Software for iOS and Android
Method to develop a video app must be chosen based upon the purpose, features to be included, client's requirements, budget and time constraints. Major ones include:
Native Instruments (Open CV, FF MPEG framework, VCamera SDK, API Animato)
Cross-platform tools (by using HTML5 or C)
External video processing (it involves uploading of a video to a cloud, further processing and downloading it back on a device)
How to Attract and Retain Customers via Video Editing App
Creating an app, adding features and required functionality into it, designing it to be interactive, testing to clear all the bugs and deploying it at customers end – is the normal app development process followed by Android and iOS app development companies. But adding value to it according to target audience, making it looks attractive, purposeful and relevant with right mix of tools and technologies, making it unique with filters, stickers and frames and all sorts of editing features and easy to use interface to motivate users to use it, are some of the best practices followed by Best Android Developers, which are important in gaining traction.