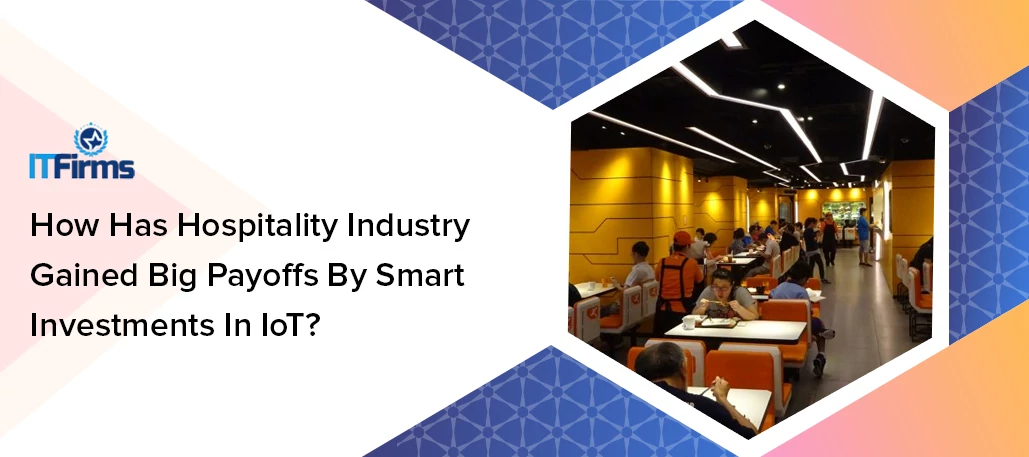 How has hospitality industry gained big payoffs by smart investments in IoT?
When restaurateurs perceive value using the IoT devices and applications, the trend will quickly create a new market!
Since its inception in 1999, IoT has kicked up a storm, creating business opportunities and privacy minefields across the sectors. Those were the times when magnetic-stripe room key cards were still obligatory in hotels, the first Blackberry device was being introduced to the world, and Alexa was a popular baby girl name. Here we focus on how hospitality industry (especially hotels and restaurants) embrace the benefits, and how they lead with it!
Alexa as First Voice of IoT
Amazon launched Alexa for hospitality which is a virtual voice assistant technology that allows guests to access services and amenities from the comfort of their room using nothing more than vocal commands such as "Alexa, call the room service!" or "Alexa, play some music" or "Alexa, switch on the AC" etc. This system allows hoteliers to customize their services accordingly and also measure guest engagement through analytics and reporting.
Technology that has powered the IoT has revolutionized traditional businesses including hospitality, where it spells reduced costs for the property and an optimized guest experience, coupled with customized and connected stay. IoT eventually helps hoteliers and restaurateurs to harness valuable guest data (from sources such as purchase histories, marketing engagement and loyalty programs) and glean actionable insights that help them to provide customized reservations based on stay experiences of visitors in past. This ultimately ramps up the guest feel good factor on each occasion.
How guests want to be treated?
Guests wish to interact with the hotel staff (of the hotel that they wish to book) in the same way as they do at their home and they expect familiar comforts such as an automatic Wi-Fi connection as soon as they walk through the door. It is important to embrace IoT by making use of cutting-edge services and connected devices to replicate the smart home experience, increase customer satisfaction by understanding what they require in advance and get ahead of the competition. Customer always lure for authenticity in services, customization, socio-emotional connection, convenience (especially if they are travelling with their families or friends), control (value for money) and timely services.
What should be done to automate?
Besides Alexa, digital voice assistant, hotels make use of smart mirrors (offering customized content and media on a touch-screen display), daylight harvesting (adjusting indoor lighting based on the natural light coming in), robotic lobby concierges (to provide information relevant to location). Top mobile application development companies create IoT apps that allows accumulating and analyzing quantitative and qualitative user data.
Some next-generation features of IoT include robotic porters (rechargeable luggage trolleys), Android concierges, a robotic cloak room attendant (a giant mechanical arm in a glass case), wardrobes that can remove odours and wrinkles from clothes and facial recognition door openers and many more things beyond imagination!
Other smart IoT features include: Smart dispenser, smart toilets, kitchen touchscreen, self-cleaning litter box, automated guest rooms, predictive maintenance, mobile engagement, hyper-personalization (remembering their TV channel choice, temperature and light control to help them the next time they visit same hotel etc.).
How the guests feel powered by IoT?
As the guests arrive hotel, their smart car (connected with internet) will share their details with hotel services. They will personalize their services according to guest's preferences. He will access his room with his wearable device (without requiring magnetic-stripe card key). Alarm clock will be set according to guest's personal settings and calendar updates. As soon as guest wakes up in morning window blinds will open automatically, humidifier/AC will adjust room temperature accordingly, coffee maker will start automatically and television is auto tuned to guest's favorite channels. IOT trend is preferable for mainstream consumers opening up a new market for those who choose convenience over the concerns about privacy.
Definitive
This was just a vague indication of how can IoT power hotel industry. Trusted mobile developers India have propelled Hospitality business in creating value with increasing use of IoT products and services. Right from reinventing business operations and processes to personalize services, best IoT app developers have brought even more important use cases like on-demand delivery, monitor systems using smartphones, corresponding with customers (tailor made presentations), hyper-customized ordering frameworks, better stock management, and experiencing IoT in already existing hotel rooms, with minimal construction or infrastructure changes, sensor-activated thermostats, digital room keys, and in-room streaming/casting services, control their room's lighting, HVAC [heating, ventilation, and air conditioning], and entertainment options, including pre-loaded and streaming content and likewise. Thus, IOT is preferred where the loyalty tie-in is critical and longer-term investment look lucrative than working with partners, which requires that various technology pieces talk to each other (stay connected)!