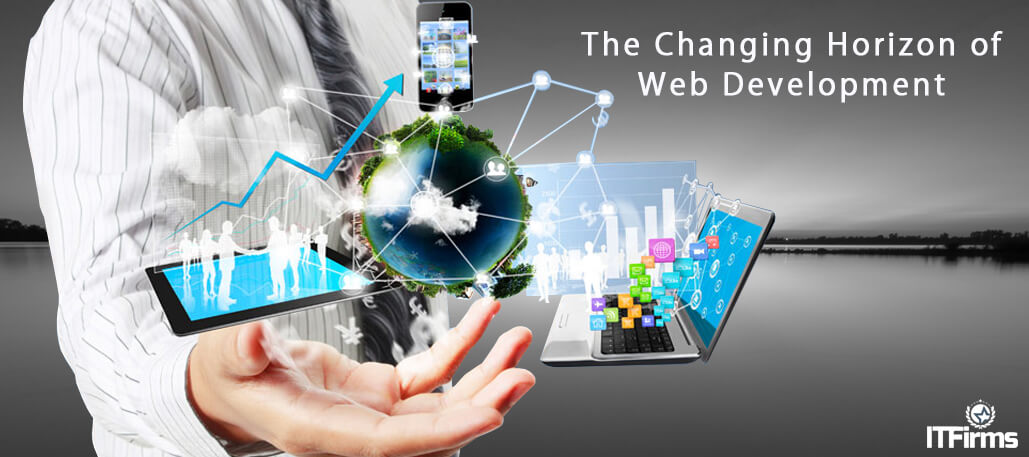 The Changing Horizon of Web Development
Just like any other industry, web development is undergoing a phenomenal evolution. While most of us are only focusing on mobile app development, we really can't shut our eyes to web development.
Of course, after the fruition of mobile app market, the traditional web has suffered a decline in the number of everyday users and market share. What's important to note here is that only the 'traditional web' has witnessed a fall-off as websites and web apps have seen a transition to a much-modern landscape but not the web industry as a whole.
The technology has gone far beyond the typical eCommerce websites to the more-advanced AI-powered personalized shopping stores by online businesses. It is a paradigm shift in the way websites run on your desktops/laptops/mobile browsers. And these latest developments in the web industry are a result of changing desires and usage patterns of the users/customers. The once-static websites are now run by a bot to give customers a personalized, live support every time they are on the portal- B2B or B2C.
The IoT Will Change the Web Development Process
Five years down the line, most smartphone users and businesses will be seen mastering the concept of Internet of Things. This superb combination of wireless and sensor technology will positively change the future of web development. It will completely personalize the buying experience of customers from the online marketplaces. Websites, with complex coding, will be able to communicate with the back-end databases that store the personalized data of customers using IoT devices, in each home.
Though Internet of Things is not very new, its implementation is yet not known to many businesses, enterprises and users.  Thus, top web developers and web application development companies will be required to give in added expertise and efforts to integrate the business websites with the upcoming IoT devices. A lot of web developers still do not recognize the IoT devices that display web content. They have to learn how to use small screens of these devices to display web pages and local dashboard style web displays.
JavaScript Frameworks are Taking the Toll
One major transformation brought by the mobile app development is the change in user's behavior and their desires. They expect a more personalized and to-the-point user experience while they are interacting with the web on desktop or mobile. As a result, there has been a shift towards client-side development, using the main source as JavaScript. For a more responsive web application, top web developers are using more JavaScript frameworks like AngularJS, React JS, NodeJS that can replace the traditional development methods.
The Shift Towards Progressive Web Apps (PWAs)
The world of retail is seeing a massive shift towards Progressive Web Apps (PWAs). PWAs are the next-gen apps that are fast and robust and are using the modern web capabilities to deliver a much like native app experience. Just like native apps, these progressive web apps can be seen on your mobile's home screen and can be accessed directly from the mobile's web browser like when you open a website. The best is that these PWAs are not required to be downloaded unlike mobile apps.
For online businesses, PWAs can take a vital role in marketing by sending personalized push notifications to re-engage customers. Further, the business owner does not need to pay separately for creating different apps for different mobile platforms. As a result, it reduces the overall development effort of the web developers, which further cuts down the development cost and time driving a much early deploy.
Visual Web Development
With the change in web development, web designing is progressing constantly to provide more dynamic, more engaging websites. Artificial intelligence is driving the web design. The gap between web designers and web developers has been bridged by visual development. Using the true drag-and-drop system, new building blocks are introduced that build the code in the background. CMS and visual tools actually do the work for creating landing pages and functionality. In the next 10 years, the majority of web and software applications will be built without any hard-core coding but entirely visually.
For years, businesses have forked out large amounts of cash on building websites the traditional way through coding and traditional platforms. The user experience is carrying over to web application, causing the top web development companies to transform their methods and technologies to the latest and more communicating UI/UX design.
If you would like to see what top web developers are bringing to this changing landscape, check out our list of top web development companies from around the world.