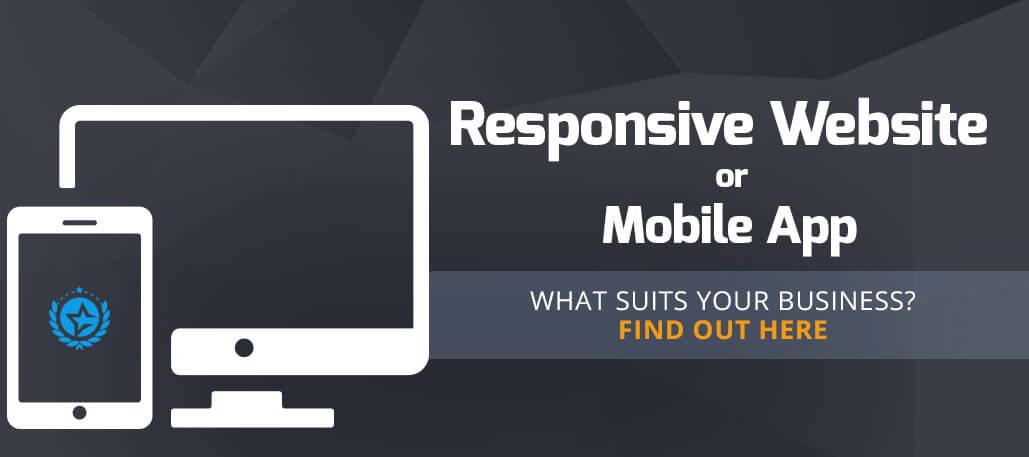 What Suits Your Business : Responsive Website or Mobile App?
Apps are trending and there is no denying the fact that they'll rule the digital domain in the coming years. Smartphone users are multiplying day after day asking the fraternity to switch to a mobile or at least a responsive website.
Mobile-friendly websites are preferred by search engines and results are ranked on a search engine page as per their friendliness. Hence, it's somewhat a necessary factor to have a responsive website at least if not an app.
Companies have lately invested in mobile friendly websites as well as in developing mobile apps from the best app development firms around the globe. But, do you know what's the need of the hour? Is it the mobile app or a responsive website? The question is certainly a tricky one to answer not only for you but for the whole fraternity.
Operating in today's mobile era, you must have come across the notions stating that if you don't own a mobile app then your business would soon come to an end and your competitors having an app would crush you. But does this the case? Probably not. Sometimes as a business owner all you need is a device independent or simply put a responsive website to rule the market.
Don't create an app for the sake of owning one rather gain knowledge what suits your business the best, a mobile app or a responsive website.
Here's when mobile app fits the bill
Smartphones have penetrated in our daily lives. People like to do things while they are on the go. Apps come in handy here offering end users an amazing platform to do the needful. Consider the example of a cab service provider, Uber where people are required to act as swiftly as possible irrespective of place and time. Users are likely to need the service often than other businesses. This is where an app is more feasible than a responsive website.
Offline access to services
Apps are a perfect fit where services can be availed without an Internet connection. If you offer services like e-book reader or notes or wallet, which don't require a wireless connection every time for users to get engaged, then apps solve the purpose nicely.
If you offer services that satisfy the urge of a large audience at once like bill payment, reminders, calendar synchronization, schedules and more then you require an app. Apps give you an easy, fast and convenient way to serve large groups of people. People are already surrounded with a variety of problems. They no longer want basic utilities to create more of it.
Apps grant people an easy medium to pay bills, book tickets eradicating those long queues, which saves a lot of time and effort. Try and build flawless applications that can serve the purpose.
Interaction with wearables
If you have built something that requires a connection with an external hardware or device, then an app is a requisite and mobile website won't be a feasible option. Whether it's a beacon or IoT, an app is required. There are multiple products available in the market including fitness bands, health wearables and more which require an app to sync the recorded data, which later can easily be accessed by the user.
If services offered by you require users to visit you on a regular basis, then app suits your business instead of a responsive website. People like to do things on the go and when they have a reliable, secure and stable option in form of an app, they'll have it loaded on their smartphone. Coupon app is something, which has regular visitors both, new and old. In such a case, an app is the most preferred option as a flawless, trouble-free experience is desired by users.
Data gathering and analysis
Another important aspect which keeps a mobile app above responsive website is the nature of your business. If your business demands, you to collect important user's information based on which you can plan your marketing campaign then you'd like to have an app rather than a responsive website.
Data gathering is way too easier and smarter in case of application than from a mobile website. You, as a business owner, get a complete picture of what your customer wants or seeks over the Internet. You can extract useful data related to his/her behavior, interests, favorite portals and history, which can prove gold while you plan and strategize your future mobile marketing campaigns.
Applications have drastically changed the way shoppers buy products online. The whole process has become seamlessly easy, free of complexities and quick. If the user knows what to buy, then it just demands three steps before a purchase can be completed.
Apps have made checkout process simpler, which is still a task for a responsive website. Users can shop from their favorite brands in a hassle-free manner. They can even store their card details that make the checkout process even easier and quicker. Safety and security of user's bank details are kept intact so without any worries, he/she can load in details.
Although the responsive website can handle the process with ease too but having a dedicated shopping mobile app allows you to take advantage of smartphone features like push notifications, better customer interaction and more. Hence, in this customer-centric business era, it is advised to own a shopping app rather than relying on a responsive website for the same.
Alert – After discussing the factors that keep an app above device-friendly website, I would like to bring to your notice one of the most crucial aspects that is the cost of developing a mobile app.
Don't consider developing an app if you don't have a healthy budget. App development isn't easy and definitely not cheap. You require a handsome amount to build an app from renowned and well-established mobile app development company, which should be your preferred choice. You don't want an immature team to work on your project. Or do you?
So, the answer is clear whether you should go for a mobile app or a responsive website. Hope you make right decisions helping your business to prosper in the years to come.
Guest Post By – Konstant Infosolutions