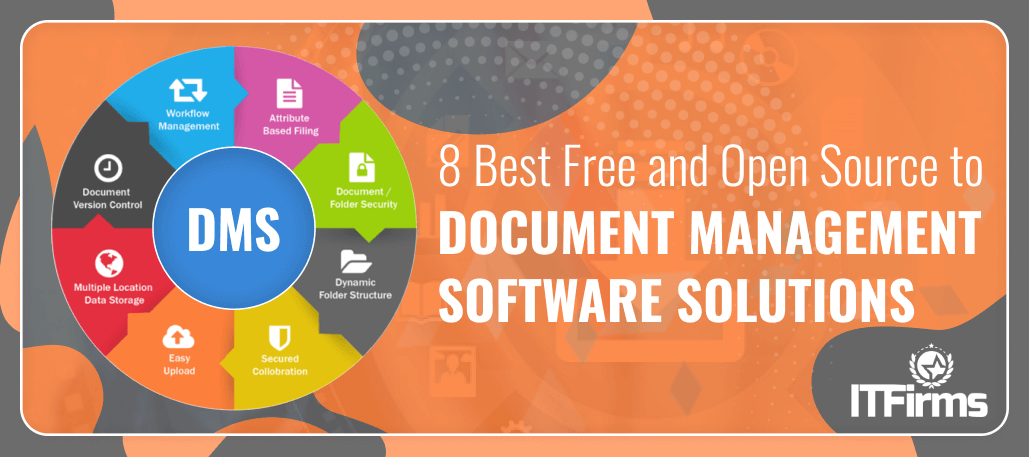 8 Best Free and Open Source Document Management Software Solutions
The ability to automate and customize the system as per your requirements makes Free Document Management System as must-have for the companies who wish to work on the go!
The ability to automate and customize the system as per your requirements makes Free Document Management System as must-have for the companies who wish to work on the go!
Here is an option to create smart workplaces, keep your data organized, and ensure that the right person accesses it at just the right time. Managing documents is a key pain point and a priority for most organizations, irrespective of the industry they belong to. Although the organizations have the physical storage repositories and cloud servers as secondary storage to manage files, the inability to find the content and poor mobility are cited as the biggest challenge. The cloud servers are being deployed for just 20% but 80% of the documents are still being saved on-premises. And this baggage keeps piling up as the data grows; in their effort to consolidate the number of storage repositories, they often rely on enterprise file sharing vendors like Box, DropBox, Egnyte and ShareFile.
Why is it important to structure data?
Senior management though still fumble with the document management across multiple repositories as a primary concern. Out of the many suggested approached to de-escalate the repository types, the best solution is indeed a document management fabric that sits on top of distributed file storage. Documents at the workplace including resumes, marketing brochures, project proposals, technical documents, HR guidelines, training material, sales documents, legal documents are indispensable. But the more we rely on paperwork, the more we need to find a proper place to store, manage and retrieve their documents. This postulates the need to have a document management system.
Why is DMS important?
Document Management Systems automates the traditional idea of storing and retrieval of the files.
As the digital data grows exponentially with the increasing business operations, increasing workforce, there has been an incremental increase in the business data and related content. Companies have to create and maintain massive amounts of business documents, contracts, proposals, sales decks, marketing material, blog posts, HR guidelines, training manuals, onboarding material etc. Plus, there is a persistent need to organize these documents, for a faster retrieval at a later stage.
The most effective options seem to be the files stored in cloud apps like Dropbox, Google Drive, OneDrive, Box, files stored on your desktop, email attachments and so on.
Saving files at various locations can be precarious and are often difficult to locate in times of immediate need.
Document Management relieves you from the hectic browsing through the hundreds of folders, searching in your disorganized and massively populated inbox, searching through your cloud files, etc., which all seems like a monstrous search mission which is impossible to crack in limited time.
Free Document Management Software makes it pretty easy and fast to clean up the digital mess, to reduce the reliance on paper, to improve the overall office efficiency, easy access to information, secure + safe, scalable, quickly searchable, for better accuracy, Reduced Storage & Supply Costs and provides a Competitive Advantage.
Which Document Management System to Choose?
An efficient document management system should have the following essential features:
It brings all digital content together to one single place.
It should always be scalable to accommodate ample documentation
It should enable employees within a team to set up their accounts and access/manage documents according to need and assigned permission.
It should enable advanced searching.
It should have a way to protect the information stored in the system from outsiders without proper consent to access that information.
It should have a pretty quick content management system to store all of the company's files and document PDFs, excel sheets, guides, training documents and videos and images etc.
It should be responsive and must be accessible under load without leaks.
It should help the teams to collaborate, share, track and manage all the company documents, files, and other content in one place.
It must allow you to create workplace documents like – project proposals, sales decks, training documents, how-to guides, company policies, media kits, process documentation, fact sheets, competitive research, e-books, case studies etc. and provides a safe and robust place to store these documents.
DMS must give the chance to the team to simultaneously collaborate and create smart documents in real-time.
It must have a content library that automatically saves the images, files and digital content you add to your documents (or workspaces) so that you can access and reuse them easily.
Features of Open-Source Document Management System
Document Searching – Safe and Powerful search, Document content and metadata search, Advanced search on all document attributes and Scalable Document Search Engine
Document Indexing – Indexing of all documents, Custom Automatic Document Numbering, Content recognition and indexing, Indexing Meta Data, Indexing all revisions, OCR in different languages (Vienna Advantage DMS currently covers 27 languages), Supports innumerable formats, and Extendable metadata fields
Document Processing – Create Documents using Templates, Link Document to records in System, Link to ERP/ CRM system, Forward, Move, Share Documents, Email Documents, Revise Documents, Inbuilt Document Editors for various file types and Check-In and Check-out documents
Document Input – Scanner, Email, Manual Upload, Bulk Upload, Automated Process for Mass Uploading, Mobile Applications and Web Services
Workflow Automation – Rule-based processing on incoming documents, Setup individual rules and document actions, Automatic and Manual workflow, Document Routing, Business Process Modelling with Customized Windows, Reports, Configure multi-level approvals, Automatic creation of records based on documents and Update records based on documents
Document Security – Audit Trail, User and Roles, Advanced Access rights, Encrypted Documents on the file system, Indexing all revisions, Supports SSL and Modify Ownership
User Dashboard – Workflow Inbox, Document inbox, Alerts and Notifications, Reporting Dashboard, Follow-ups and Chat, Inbuilt Calendar, Email, SMS, Customization, Guest Access and Document Tracking, Create customized Windows and Records, Generate Custom Fields and Reports, Add custom Document Attributes, Describe custom workflow and Create Custom Dashboard Reports.
More Features that can be incorporated in a DMS and go beyond the basic ones:
Inbuilt Word Processor
Supports multiple languages
Multi Tenants
Collaboration Portal
Deploy on-premises or on cloud
OCR in 27 languages
Supports SSL
Modify Ownership
List of Document Management Systems:
It is a free and open source document management system transcript in PHP to help the organizations in sorting out their document management issues.
Main Features of OpenDocMan:
It has options for E-mail notification
It helps in creating customized document properties
It assists in Powerful Document Management Workflow
Automated document review
It has automated file expiration process
Category wise quick search
Secure URL feature to make necessary changes to the URL parameters
Controlled user access control for each file
It has facility to approve or reject a new document
Access control for three user types: User, Admin, and Super-Admin
Document Preview In-Browser
No limit on the number of users that can connect
Users can get both email and phone support from the company
Workflow Approval is customized
This software supports Multiple Language including; Chinese, English, Dutch, Portuguese, German, Croatian, Spanish and Turkish
It has full audit trail reporting facility
Files can be uploaded in batches
It works as a content management software for enterprises and is used to store, manage and track all the information that is required to be stored. It assists in adequate distribution of electronic documents, yielding greater effectiveness and the ability to reuse information and to control the flow of the documents. This facilitates knowledge creation and improves business decision making, thus boosting workgroups and enterprise productivity through shared practices, better customer relations, improved product time-to-market, faster sales cycles and better informed decision making.
Main Features of OpenKM:
It helps manage enterprise content
It can acquire information from any digital source.
It facilitates organizations to locate the documents in time.
Facility to upload the documents in bulk
Folders can be uploaded and downloaded as ZIP files
Documents can be locked and unlocked with easy Passwords
Managing the favourites
Every user can manage their personal documents
There is a Recycle Bin for each user
Users are notified by Emails
It has facilities to message and chat
Management of Metadata
Unique document identifier
Document templates are available
Item categories can be categorized and catalogued
Multiple files can be managed
It has a text to speech converter
It has user-tags that can be used for multiple tasks
It is based on PHP and MYSQL/SQLite and can run on multiple platforms linux, MacOS and Windows. This is a powerful solution to manage document for an enterprise. It is also compatible with its predecessor LetoDMS.
Main Features of SeedDMS:
It is completely based on the web-based UI
It can access the web
It involves multiple user management
It has the facility to preserve all former document versions
Managing Groups is Easy
It allows for external authentication
Any updates or changes are notified
Workflow for document review and approval
It provides control lists access
It supports multiple languages
This software also features Full-text search
It is an enterprise level commercial open source ERP/CRM that works intelligently for safe retrieval and storage of the documents so that they can be accessed on time with proper authentication. They are into productivity costing, marketing and sales, warehouse management, manufacturing, financial management, time and expenses, human resource (HRM), project management, service requests and order management.
Main Features of VIENNA Advantage:
This app has Intuitive interface
It features secure encryption
It works on an Enterprise-level workflow
It is comprehensive and accommodates many features
It works on Multi-tenants
This app works on Built-in Business process management
It has Built-in Workflow automation
Its Built-in word processor gives it extra advantage
It re-routes the documents automatically
It lineates role-based alerts
It supports multiple languages
It involves document input, search, indexing & processing
It is scalable and secure
Generating Reports and analytics
This document management software helps in easing administrative tasks, sparing enough time for customer interaction.
Main Features of Krystal DMS:
It has multilingual support
Facility to tag with metadata
Simple and easy access
Folders are cleanly structured
Instant search and retrieval of documents
Access defined using ACL templates
The workflow is automated
Text is indexed
There is an option to rate the document
The discussion board enables team forums
It analyses and published detailed audit reports
Bulk uploads are possible
It provides access to the latest version
It also facilitates document sharing facility
It has built in facility for scanning, capturing and storing the documents easily
This applications helps users with advanced search and categorization capabilities to enable efficient storage and retrieval of files when required. The files can be authenticated while storage via role based access control. This platform is web based, free and open-source and application on multiple platforms. It does not require any initial investment and the cost of ownership is very low.
Main Features of Mayan EDMS:
It is built upon responsive design
It facilitates document versioning
It has efficient permission system
Retention policies to set compliance with the existing company laws and policies
Facility to restore documents moved to trash
It provides the permission of controlled panel
This software also provides automatic rule-based links & easy reference
It is easy to manage document workflows effectively with this software
It is an open source software to management documents, assisting the digital workflow and help in efficient storage, modification, tracking and withdrawal of documents.
Main Features of Kimios:
It facilitates quick and easy search
There is facility to access documents from any browsers
It is possible to create, edit, collaborate and upload from anywhere with remote access
It helps in efficient document Indexing
It supports all types of content
Managing metadata is easy
Integration with Microsoft Office
It can easily connect to any storage infrastructure
It can be plugged to any 3rd party software
It is secure, has custom document versions and facilitates document trash management
Nuxeo application helps create simple content applications to uplift customer experiences, improve decision making and accelerate the products to market.
Main Features of Nuxeo:
It has extensible API
It has advanced metadata tools, Native workflow, Effective analytics, Office365 Integration, Content Federation, New Adobe CC Connector and is User-centric
It works on elastic search – the new search technology
It works on enhanced Annotation Capabilities
It also has a strengthened AI Framework
This software has Pluggable Accelerated Transfer for Upload Services
Conclusive: Importance of Document Management System
Now we know that a document management system can help in structuring the digital mess, making it available to the employees, clients, partners or other stakeholders, which is not easy. These can essentially help in reducing the storage space, enhanced security, improved regulatory compliance, easier retrieval, better collaboration, better backup, and disaster recovery. Overall, open-source document management software is a great way to manage projects, create proposals, create client-facing material, share meeting agendas, brainstorm, and most importantly share and manage information and knowledge.