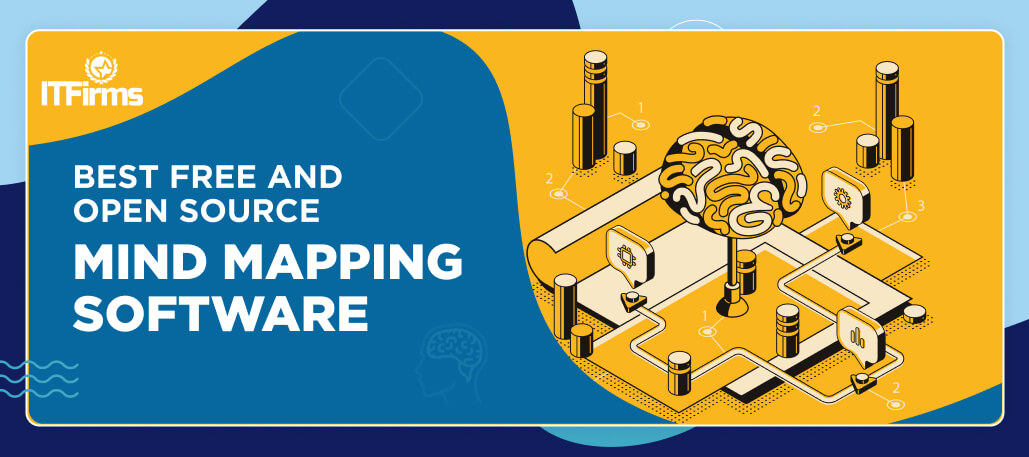 Top Free/Open-Source Tools to Accomplish Mind Mapping
Here's a quickie on the best free mind map software!
Mind Mapping Software is a tool to brainstorm and convert your ideas into visual diagrams. The output is called an idea map, a conceptual map that essentially illustrates the connections and hierarchy between various ideas. Mind-mapping tools can range from simple to complex depending upon the need to visualize and diagram the situation.
What are the various ways in which Free Mind Mapping Software can be useful?
Idea into a Visual Sketch: They can help brainstorm and sketch out a solution by converting an idea into a visual design.
Engineering + Software Development And Design: Mind Mapping tools also help create engineering diagrams, wireframes, and project timelines, and architectural plans/drawings, site-map diagrams.
Business Intelligence: Mind-Mapping tools can be used to import and visualize live data from business applications in form of charts/diagrams etc.
Simple Steps to Make a Mind Map
The elements like the map's central idea, branches, colours, keywords, images must be considered while creating a Mind Map. These work as binary or tertiary trees and grow proportionally. The basic steps to create these are as follows:
Think of a main theme/category/idea around which you wish to create your application (e.g. Let's assume that it is food)
Then think of all sub-themes/sub-modules/all the factors concerned with this main idea (e.g. Types of food like bakery, dairy, cooked, raw)
Make use of single words or very short phrases
Add suitable images to complete your idea and understand it better
Try to figure out two sub-points for each sub-category
Various mind-mapping software are available to accomplish this in less amount of time, with accuracy and relevant details.
Let's have a look at the best free mind mapping software:
This tool provides a flexible visual interface to manage the connections between ideas and information. Ideas can be converted into wireframes by adopting a certain methodology to support structured working. Compendium works well for projects of all sizes. Compendium helps in dragging and dropping the documents and websites onto a map. It enables freedom to arrange icons, tag keywords, map and label the connections between concepts to illustrate links, create dialogue maps to display links between the group projects, create argument maps collaboratively, editing each other's writing.
Pricing: Free
It is a free and open-source application to a mind map that analyzes the information, creates the script, applies formulas and structures out the node format. It features: Simple script invocation, Simple Hotkey Assignment, Add-ons (packaged scripts), Format Panel, Formulas, Node formats, Attributes Panel.
Pricing: Subscription
Wisemapping comes along with features like Flexible Deployment, Open Source Software, Full-Featured Mapping, Private & Public Workspaces, Security Integration, Drag-and-Drop Function, Text and Style Formatting, Icons, Notes, HTTP Links, Zoom In & Out, Autosave, History Recovery, Personal Workspace, Collaborative Workspace and Maps Import & Export etc. It is open-source, web-based compatible with all modern browsers and vector graphics animation technology.
Pricing: Free/Subscription-based
Semantik is a mind-mapping application for KDE to create documents, reports, presentations. It can be used to edit flat trees, tables, text, pictures and convert into flat documents like presentations or reports. The interface is easy to use. This tool allows adding text/attachments for each item, add diagrams, support pictures, generate several documents – LaTex reports, LaTex slides, OpenOffice.org documents, HTML and plain text.
Pricing: Free
It features a centralized image that radiates branches comprising key images or key words on associated lines. These are referred to as 'Twigs' and form a connected nodal structure.
Pricing: $39.99/6 months, $59.99/year
It is an online tool to create and share mind maps and flow charts. It comes with an initial price per annum and is a browser-based application for taking notes, brainstorm, plan, document, research; report an idea or any other undertaking. Coggle also features Brainstorming, Publishing/Sharing, Flowchart, Project Planning and Templates.
Pricing: Pricing starts at $50.00 per year. But there is a free version as well. It also comes along with 3 free private diagrams, upgrade for unlimited private & advanced features.
This mind-mapping tool includes everything from quick keyboard shortcuts to the ability to embed live videos inside the application. It comes along with some collaboration features to add members to the mind map, upvote, downvote the ideas and leave comments. It is widely used by businesses, academic institutions and creative consumers. It features: Activity/Newsfeed, Idea ranking, Mind Map, Workflow, Collaboration, Ideation, Status Tracking, Brainstorming, Presentation Tools, Publishing/Sharing, Project Planning, Templates.
Pricing: Its pricing starts at $4.99 per month, per user; however a free version is also available.
Conclusive: How to choose amongst the best Stats software?
Custom software development companies use mind mapping to reframe the ideas and get information that can be creative + logical. Every mind map makes use of lines, symbols, words, colour, and images and put them into brain-friendly concepts. These convert the idea of observation into pen and paper, giving it a colourful, memorable, and highly organized diagrammatic representation in a natural way. It can be compared to creating a city map where the city centre or city hub is connected to various roads and various landmarks like parks, schools, hospitals, cafes, hotels, playgrounds, museums are represented by picture icons or thumbnails.