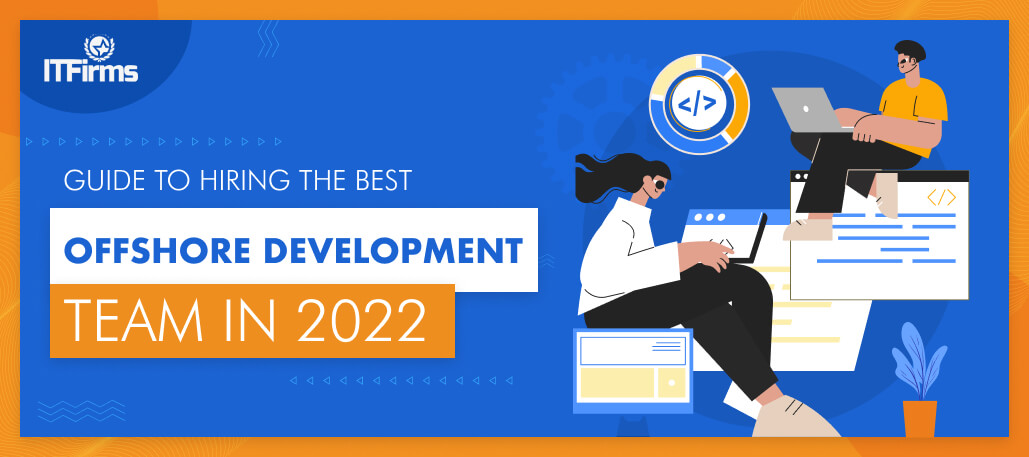 Guide To Hiring the Best Offshore Development Team
All you need to know: Why, where, and when to hire a dedicated offshore software development team for your business?
Globally, outsourcing for IT Projects with software development, is unprecedented. Many companies, particularly SMEs, are pushing it, and many business leaders are already improving their knowledge on hiring offshore software developers. Why hire offshore developers for your startup? The offshoring model of outsourcing is associated with various risks such as time zone and cultural differences hamper communication. However, the focus of this article is to show you how to hire an offshore development team and make offshoring work for you. But before that, we must explore the example, value, and benefits associated with offshoring.
Offshore Software Development Process vs Outsourcing
Outsourcing is when a company sends in-house tasks to be performed by another company. Offshoring is when a company hires developers to perform their tasks along with their in-house development teams.
How valuable is the offshore development team?
If you want to succeed in software development, your software teams need to be resilient and your hiring strategy needs to be robust.
Software companies also need to manage a large client base, and large amounts of databases, with numerous employees who can handle their respective tasks efficiently.
An on-site team might face stagnant growth and eventually drain the project's allocated budget. It, therefore, becomes essential to look for an efficient and scalable way to migrate from in-house to an outsourcing model.
It helps clients to hire experts who are certified and qualified and access all the enterprise data in one place seamlessly, between cloud providers, predict and optimize spending and scale their services on-demand.
How can you benefit from Offshoring Software Development?
Offshoring is still better than outsourcing where we are in control of our internal business activities, specializing in certain activities.
Offshoring increases return on investment and reduces time to market.
Offshore Software Development Companies save up to 58% on project costs by hiring offshore development teams.
US Bureau of Labour Statistics predicts a 20% – 30% growth in the ambit of software development, with more developers, test engineers, analysts, business development executives, project managers, and digital marketing executives.
Offshoring (and outsourcing) is a solution to the internal talent shortage within the organization and makes the global talent pool accessible.
Prominent Software Companies outsource offshore developers for flexibility. It is easy to onboard or move out the developers.
It helps your in-house teams to focus on routine tasks like keeping up with network issues, maintenance, cyber security, and so on.
It reduces the cost to acquire hardware, and thus reduces cost.
It makes in-house teams access additional skilled developers on-demand.
It makes software quick to market.
It makes businesses reach newer overseas markets.
It brings improved control of operations.
Offshore Development Models
They are project-based outsourcing and specialist models. Software development begins by identifying which model is perfect for your project. It works around four business models: (1) Direct offshore outsourcing, (2) Third-party offshore outsourcing, (3) Joint venture offshore outsourcing, and (4) Wholly owned subsidiary. These business processes highlight the heterogeneous behaviour of the offshore outsourcing phenomenon.
How to hire software developers?
Asia and Europe are some of the most popular destinations for outsourcing offshore developers. Asian developers charge less, but that can mean a lower work quality too.
Define your needs and goals
What kind of application do you need to build?
What type of developers would you need?
What skills must they have?
What infrastructure does the project require?
What's the expected time to market?
What are the benchmarks for quality?
How do you test the product?
What is your budget?
Do your developer's payment rates match your budget?
Where to find an offshore development team?
Referrals and Recommendations
Networking via social events – conferences, meetups, and hackathons
Searching for developers at freelance portals, LinkedIn, and Recruitment Agencies
What process should you follow to hire offshore experts?
Define your requirements – What do you want them to do, for how long will they be associated with, non-disclosure agreements, security and privacy policies? Are they dedicated or are allowed to work simultaneously to their current or previous allocations?
Create a detailed job description
Find out if the developer or outsourced team has a proven track record. Make sure that you have access to the latest code
Ask the outsourcing development company about their workflow
Reject the cheapest quotes
Check if the remote team agrees with everything you offer or would prefer to argue
Find a good project management tool
Insist on frequent deployment
Follow a structured interview process – with questions, to-do tasks, video conference, panel discussion, and written assignments.
Conduct Strict Technical Tests inclusive of:
Frontend: HTML, CSS, DOM, and JavaScript
Backend: Server-side languages (Ruby, Python, Java, PHP, Node.js, etc.), databases (i.e., MySQL, MongoDB), and API (JSON, AJAX, SOAP).
Full Stack, DevOps, and Quality Assurance
Look for cultural compatibility
Make it a time-efficient hiring process
Give your candidates a reason to work for you
How would you reach out to preferred developers?
Which location do you want to outsource to?
Do remote vendors fit into your project requirements?
If they are an agency, visit their portfolio to find out about the past projects that they have handled.
For individual freelancers, request their resumes and portfolios.
Evaluate the Skillset – Assess them
Establish Work Conditions and Do Not Ignore the Legal Agreements
Winding Up: Did you find your best offshore experts?
Digital transformation is a costly process that requires an organization to focus on its software teams in its entirety.
Some businesses are not able to hire offshore developers for the sake of the challenges that it carries. But leading companies like Lebara, Fluke, Apple, IBM and many more have remote teams that use offshoring and outsourcing to extend their in-house teams and meet the ever-changing needs of their clients.
So if you are in the middle of developing a company narrative, these tips might be useful:
Create a team for the project. Assign different stakeholders to identify the company's storyline based on its USP, audience, and competitors.
Convey your ideas, offerings, services, and products through different mediums, and test them on focus groups.
Share it within your organization and ask for constructive feedback.
The key to success is to find a reliable partner that understands your requirements and helps you meet them on time and within budget.