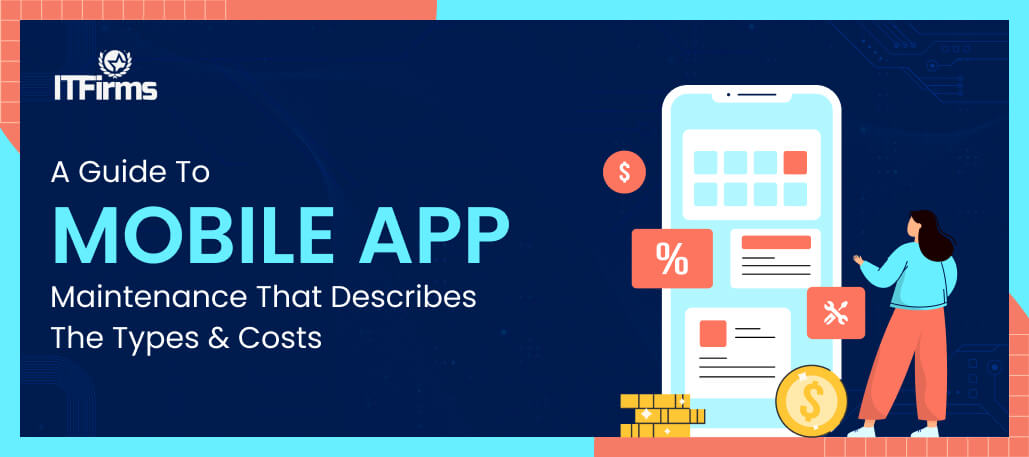 A Guide to Mobile App Maintenance That Describes the Types and Costs
Mobile app maintenance is key to ensuring a better user experience. Here in this guide, you will see the type of app maintenance and how much you need to spend on app maintenance.
Imagine you have built the next-gen mobile application which you believe will probably bring revolution to the world. You have paid attention to design, security, features, and market needs while developing the mobile app. After your app was launched, it worked well for a few months, but as your user base has grown, it is obvious that your app will experience some glitches, which will lead to a poor user experience. It is now that app maintenance takes center stage.
App maintenance is the most crucial stage of mobile app development which involves continuous improvements to the application to make sure it complies with the increasing user demands.
Not sure yet, what is the importance of mobile app maintenance, and how much app maintenance will cost you? If so, this blog got you covered with all your questions related to mobile application maintenance.
So, let's get started.
What is the Importance of Mobile App Maintenance?
When you buy a new car, you don't forget about it after spending hundreds or thousands of dollars on it. In addition to the purchase cost, you need to invest in servicing, parts replacement, cleaning, and so on to ensure that it lasts a long time.
The same applies to app development. Your job is not done with the launch of the app, after that, your responsibilities are shifted from development to maintenance of the app.
The following are a few of the key benefits that demonstrate the importance of app maintenance:
Releasing Timely Updates Will Reduce Uninstalls
Your mobile application needs to match the user's level of expectations in terms of features, functionalities, and design.
A 2017 study found that 20% of smartphone users uninstalled the application just because the logo appeared incorrectly. In other words, you cannot afford to compromise on even the smallest detail, or you will be left behind your competitors.
If you find that something is offbeat no matter how small it is, you should fix the issue as soon as you find it to retain the users with your app.
Keep Up With the Latest Upgrades
The demand of users keeps changing with time. Along with time competition also progresses which means you have to make extra efforts to make sure you stand high from your competition. For that purpose, you have to keep your app updating in response to the changing user requirements.
Keeping up with the latest upgrade will not only help you deliver a better user experience but will also help you reduce app downtime and mitigate failures.
Increasing ROI in Long-Term
This benefit might lead you to think that app maintenance can help you increase your ROI. Actually, it is quite simple. When you have solid app maintenance strategies you can detect the bugs & threats in their earlier stage before they put any serious impact on your app. Also, regular mobile app maintenance mitigates the risk of system failure which results in increased revenue.
Averting Downtimes and Revenue Deprivation
Whenever your mobile app goes down, you will lose substantial revenue. Businesses can detect issues in the early stages before they lead to downtime through strong maintenance techniques. By preventing downtime, a business can save itself from revenue deprivation.
Enhancing the Security of Your Mobile Application
In the event that mobile apps become popular, they are often vulnerable to cyberattacks. Any cyber attack can ruin your business presence.
When cyber attackers are constantly searching for possible ways to steal the confidential information of your mobile application. With app maintenance, you can constantly look for the app vulnerabilities before they become the target of cyberattackers.
By doing so, you can enhance the security of your mobile application to a certain level which will help you cope with cyber attackers.
Different Types of Mobile App Maintenance
Now, let's come to the different types of mobile app maintenance available for users;
Perfective Maintenance
This is one of the most common types of app maintenance. As the name suggests it refers to making changes in the design, feature, and functionality of mobile applications in order to comply with the changing user requirements. Perfective maintenance is the result of the user's feedback.
Adaptive Maintenance
It refers to keeping the knowledge of the latest trends running in the market and applying them in the application to make sure it offers the best user experience. The term adaptive maintenance refers to all changes in the app environment related to the hardware, operating system, or software environment.
Emergency Maintenance
Imagine a situation when your mobile is stopped working or suddenly starts behaving strangely leading to a bad user experience. These are a few of the perfect examples of the emergency situation that could occur and need to be addressed with immediate effect. As the name suggests, emergency app maintenance is meant to help you deal with all the emergencies that happen after app deployment.
Preventive Maintenance
Preventive maintenance refers to detecting the errors and bugs in your mobile app even before they occur. The primary goal of preventive maintenance is to reduce the downtime of mobile applications and improve their maintainability of mobile applications.
Corrective Maintenance
Corrective maintenance makes sure that your mobile application is well responding to the modification and rectification of bugs & defects to ensure the best user experience.
After having precise knowledge of the different types of app maintenance, you will be able to opt for the right app maintenance plan to ensure optimal benefits for your mobile application.
Cost of Mobile Application Maintenance
App maintenance is inevitable for your mobile application, but it comes with a cost. Having an idea of the cost of mobile application maintenance beforehand will help you manage your budget accordingly to avoid financial crises.
In reality, there is no significant cost for app maintenance. It is estimated greatly depending on the number of factors that vary from one project to another project.
Here is a quick overview of a few of the factors that play a vital role in the cost determination of application maintenance:
The operating system of your application i.e. Android or iOS.
Feature & functionality of the mobile application.
The severity of the errors or bugs your mobile app experiences.
How often does your app need to be analyzed and monitored for bugs and glitches?
Type of the app maintenance you have chosen.
The selection of the app development company.
Efficient App Maintenance is the Key to Keep Your Mobile App Functioning And Up-To-Date
With all the information above, it is sure that app maintenance is something that is irreplaceable with anything. It is one of the needed things which requires ongoing efforts.
Maintaining your app becomes more important when the market product is constantly evolving. In such a case you need to have a dedicated mobile app development company that can keep track of your ongoing trends and can apply them to your application.
Undervaluation of the importance of app maintenance can lead your app to its presence in the market. Always keep track of the performance of your application and observe the bad patterns that can hamper the functionality of your application. Resolve these issues at the earliest to make sure they go unnoticed by the users.
The best thing you can do to ensure effective maintenance for your mobile app is to choose an app development company that offers post-maintenance & support services. Having a similar partner for development and maintenance will ensure that your needs are met.
You might find references to top Indian app developers on ITfirms that have a proven track record of offering app maintenance services backed by industry experts.
Frequently Asked Questions
How often does the mobile app require maintenance?
There is no specific timeframe for app maintenance. Whenever your application faces any technical glitches or bugs, it is best to rectify them at the earliest before they become a serious threat. A mobile app does not always require frequent maintenance, except in cases where the market is constantly changing.
What does app maintenance primarily include?
In general mobile app maintenance is comprised of the following:
Security updates
Bug and glitches fixing
Compatibility issue fixing
Update to comply with the latest upgrade of Android and iOS
UI/UX design improvements
Adding new features and functionalities