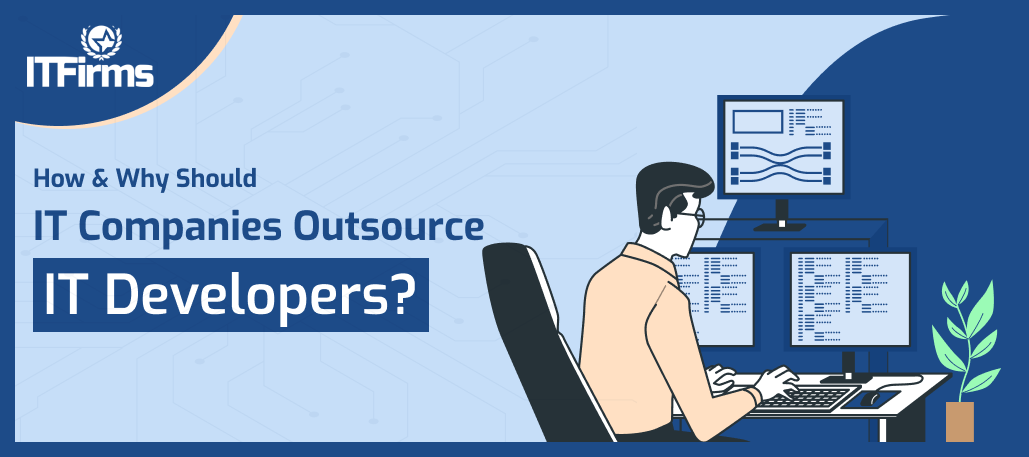 How and why should IT Companies outsource IT Developers?
Hiring Software Engineers that closely follow the Agile process, adaptive planning, project updates, and early delivery to remain informed about the project development process!
The COVID19 pandemic has made a seismic change in the IT sector. Even since the governments (global) enforced the initial lockdown in 2020, the entire sector swiftly transitioned and adopted a digital approach. The move has changed the way IT recruiters think. Businesses started spreading their wings online and routed their physical hiring to the next level with IT Outsourcing. Many companies have risen to the occasion and are helping businesses to do better. IT Outsourcing has seen
According to Kruche and Company, IT Outsourcing accounts for 13.6% of the total IT Budget in 2020/21, which is a notch above 12.7% from 2019.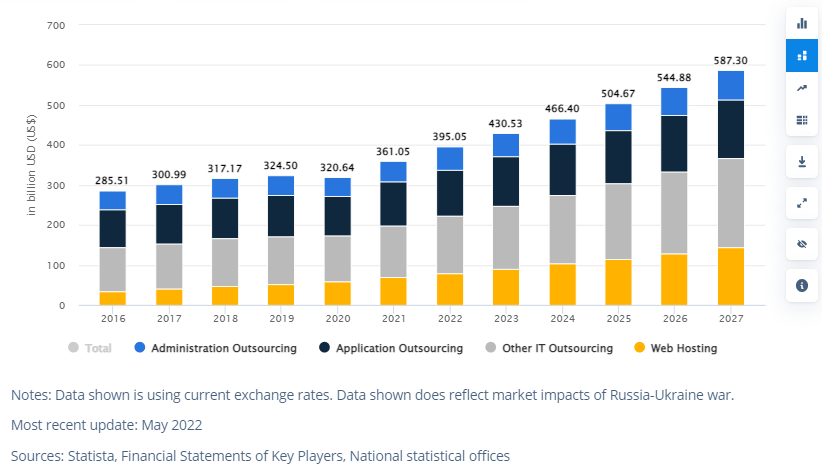 Statista and KPMG discern their opinion on basis of revenue, analyst opinion, global comparison, methodology, and key market indicators for myriad outsourcing needs – administration outsourcing, application outsourcing, IT Outsourcing, and Web Hosting. There has been a steady growth (in billion USD) over a period of time from 2016 to 2027.
Leveraging their experience in-house development teams in IT Companies have been on a massive hiring spree to meet the talent crunch for their ongoing and upcoming projects. While legacy IT projects are focused on maintenance and have fewer resources to manage, this digital transformation will ultimately result in future requirements increasing exponentially, along with the talent required to service them.
The Economic Times reports that HFS Research records that Tier 1 Indian heritage providers overlit 60% of the major IT Service leads. They are on a 10-year roadmap to expand a full virtual business ecosystem where tech delivery is at the core of every business.
The Grand View Research says that the Global IT Services Outsourcing Market stands at USD 520.74 billion in 2019 and is growing at a CAGR of 7.7% from 2020 to 2027.
What is the need to outsource?
Companies need to subcontract IT operations to keep pace with the market dynamics and reduce their lead time, and overhead costs.
Contrary to this a Deloitte case study says that multinational companies have developed Global In-House Centers (GICs) in India, besides resource centers, quality centers, global delivery centers, and market expansion centers to leverage the nation's low-cost, skilled talent pool, and reduce the cost of ownership and delivery. This investment is an arbitrage between the cost and talent and significantly helps organizations in their business functions.
According to NASSCOM, India-based Global Capability Centers (GCC) enable organizations to retain control, insource core functions, and hold on to in-house expertise. When such centers are stuffed with the right talent and commercial effectiveness, these account for approximately half of global GCC revenue. Nearly 1250 multinational corporations set up 1750+ Global Capability Centers in India in Financial Year 2019, growing at a CAGR of 11 percent, year on year.
As the IT industry continues to witness demand for IT operations, it calls for companies to focus on their core tasks to reduce operational costs. Aeronautical companies, defence and BFSI sectors that demand information technology services outsourcing have to be vigilant regarding data security, and customer-centricity in projects. In addition to outsourcing, they are streamlining IT strategy, enterprise architecture advisory, effective and smooth digital transformation, portfolio consulting.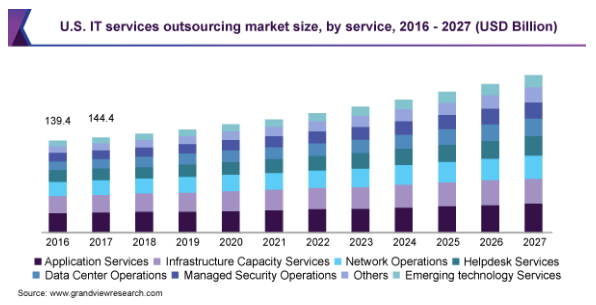 Companies delegate time-consuming and tedious tasks to service providers. This empowers them to concentrate on core business functionalities and reduce the load on their in-house resources. It benefits them by optimizing capacity, optimizing resources, giving them the flexibility to meet the demands of the changing commercial environment, and better access to intellectual property.
What monetization models should companies follow while outsourcing Top App Developers in India?
IT Service providers come up with differential pricing plans to outsource developers. Cloud computing fuels market growth by deploying a Software-as-a-Service (SaaS) model and Infrastructure as a service (IaaS) model that enables service providers to earn through cloud-based offerings. Outsourcing allows companies to reduce their operational risk as they are dependent on different vendors.
Best Mobile App Development Companies implement multi-sourcing models, which often becomes challenging as they have to continually coordinate with the suppliers. Also, SMBs are increasingly adopting digitization trends, large businesses are opting for advanced IT infrastructure, and the development of Industrial Internet of Things (IioT) across industry 4.0 platforms will expand IT operations within a hybrid IT-managed environment.
How should you organize your app development teams smartly?
Decipher your expectations about how the team should be.
Hire skilled developers according to your outsourced project.

Start with checking the company's track record
Introspect the type of outsourcing services that you are seeking
Research about the owners of the outsourcing company
Get a bit closer to the whereabouts of the company, what it does, how has it performed in the past, what do clients say about it,
Get code samples
Visit them before hiring them

Define every team member's roles and responsibilities.
Ensure that every member on board understands what they are required to do.
What technologies they have worked with and are they willing to experiment with the new ones?
Can you implement new collaboration tools to boost the team's productivity?
How does outsourcing benefit organizations?
Outsourcing software development services/teams help companies access a diverse pool of talent in a quicker and cost-efficient way.
Another way round, choosing the wrong outsourcing team can double your costs, and lead to a poor experience, and software overall.
Therefore, it becomes necessary to seek recommendations (referrals) from people known to you. Search on Google, and look for both paid and organic search results.
Look for listings by the best research firms (company directories). Companies like ITFirms, Clutch, Business of Apps, GoodFirms, The Manifest, Appfutura, G2, Movavi, Upcity, CrowdReviews, Reputedfirms, and ServB2B Marketplace etc.
Also, looking on the web to find a software development company may yield some results, but it is always a better idea to look within the vicinity first.
Best mobile app/web development companies will engulf technology stack, skilled developers, expertise, hands-on training, time zone flexibility, and adherence to timelines.
Such companies are often reviewed higher than their counterparts.
It, therefore, becomes easier to spot them, shortlist them, and interview, them before the final selection round. Moreover, reading their case studies will always be handy.
By The Way: What pro tips should you pick from this excerpt?
We have discussed all possibilities of must-haves for outsourcing development teams. But what if you are not able to fit into any of the above scenarios, and are not able to find any such company. It is advisable to look for smaller software development houses that have skilled developers. It can prove to be a cost-effective option, and lead to quick communication and reduce delays. Hire a web development team to see a full-cycle software product development.
Please share your suggestions at [email protected]