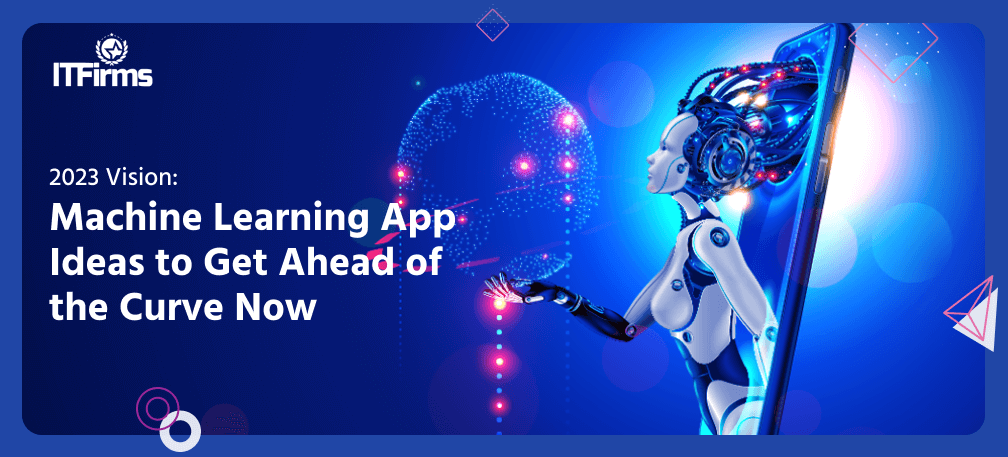 2023 Vision: Machine Learning App Ideas to Get Ahead of the Curve Now
"This blog got a curated list of the best machine learning app ideas to help you take advantage of this rapidly growing technology."
How does Spotify recommend great songs to you based on your preferences? The answer is that Spotify is using machine learning to learn to evaluate user preferences.
According to a McKinsey survey, 56% of companies like Facebook, Twitter, Google, Amazon, etc. use machine learning to deliver personalized content and engage customers.
With machine learning entering the mobile app development sphere, innovative mobile-centric solutions are becoming more accessible.
A rise in the use of machine learning-based applications is on the horizon. ML is anticipated to reach 126 billion dollars in market value by 2025, up from 22.6 billion dollars. (Statista)
Are you interested in tapping into the burgeoning market for machine learning? This blog suggests the machine learning app ideas that can be implemented to ensure a profitable startup.
So, let's get started.
Top Machine Learning App Ideas
Here goes the list of the best machine learning app ideas:
1. Fleet Management Application Using ML
Nowadays, every industry uses machine learning to reduce human errors and increase efficiency in their operations.
Software for fleet management is rapidly growing in the global market. According to a study by Global Newswire, revenue will climb from USD 18.20 billion in 2021 to USD 67.38 billion by 2029 registering a CAGR of 18.3%.
The need for intelligent fleet management mobile apps is rising, so it is time to invest in these tools. You can extend the fleet management software's capabilities to their fullest extent using machine learning. Fleet vehicle management has proven to be more efficient and safer when using machine learning. By automating operational processes, fleet management becomes straightforward and more uncomplicated. Manual processes made fleet management tedious and challenging.
2. Personalized Chatbots for eCommerce
According to multiple surveys, the usage of chatbots can increase sales by an average of 67%. These AI-powered chatbots can make your business available to your customers 24*7.
These chatbots can listen to the user's queries and respond to them with the appropriate answers to increase sales and grow revenue. Companies using chatbots can optimize their customer's journeys.
Driven by machine learning technology, chatbots can develop human intelligence to better serve the customer. By analyzing the customer's behavior using ML, these chatbots can personalize customers' journeys to improve their chances of turning into buyers.
3. Financial Fraud Detection App
Machine learning technology can also be proven helpful in detecting fraudulent transactions in the financial system.
Over 2.8 million consumers reported financial fraud in 2021, which cost them an estimated $5.8 billion, a 70% increase, according to a report released by the Federal Trade Commission.
A fraud detection app powered by machine learning can analyze users' spending habits and use the pattern to find similarities between transactions. An alert can be sent to users when an anomaly is detected so that they can take action to prevent fraudulent transactions from taking place.
4. Machine Learning Powered Content Generation Tools
A marketing campaign is only complete with content. It is an irreplaceable asset. With this in mind, organizations are investing in tools that help them create user-centric brands that adhere to their industry standards.
According to Future Market Insights, the content creation market was valued at USD 13.4 billion in 2022, growing with a CAGR of 12.2%, the market is expected to reach a value of USD 47.2 billion by 2032.
As the demand for content-generation tools continues to grow, you can develop a machine-learning-based content-generation app that can analyze existing data and generate content tailored to the user's needs.
5. Customer Sentiment Analysis App
It is becoming increasingly important to analyze customer sentiment to better understand your customers and to ensure your services are engaging to them.
Using machine learning, businesses will be able to analyze public opinion, improve customer support, and automate tasks with rapid turnaround times, which will enable them to grow and take advantage of economic opportunities.
The market for global customer sentiment analysis tools is growing at a rapid pace. According to Polaris Market Research, the market for such tools is expected to reach USD 3.15 billion in 2021 and grow at 14.4% CAGR over the upcoming years.
6. Machine Learning Powered Weather Forecast Apps
In today's world, weather forecasting applications are becoming increasingly common. By 2028, the weather app market is expected to reach $1.4 billion, representing a CAGR of 9.2%, according to the business wire.
The goal of accuracy can be achieved by weather forecast apps using machine learning. With machine learning, an accurate forecast of weather can be determined in the preferred area using the preferred locality.
7. Geofencing App
Geofencing involves the process of triggering an action whenever a device enters or exits a predefined area.
These apps can be made more accurate with the use of machine learning and trigger action right on time. Geofencing apps can be used to serve a variety of purposes such as kids monitoring, location-based marketing, and so on.
8. Machine Learning Based Recruitment App
Recruiting online is one of the most captive markets in the world. According to Global Newswire, the online recruitment market is expected to reach $47.31 billion by 2028 up from $29.29 billion in 2021 with a CAGR of 7.1%.
Considering the growing market for machine-learning-based apps, it is the right time to tap into it. ML can be used to streamline the process of the hiring process to make sure the best candidate is chosen. Such types of apps can screen the resume of the candidate and filter those resumes that best adhere to the organization's requirements.
9. Portfolio Management App
The market for portfolio management apps was estimated at USD 4.7 billion in 2022, with a CAGR of 6.7%, the market is expected to reach USD 6.7 billion by 2027. (Source: Markets and Markets)
With portfolio management apps gaining popularity, it has proven to be a profitable business venture. Using machine learning, these apps can build a strong portfolio and generate more accurate financial information by analyzing the data.
10. Customer Retention Analysis App
Business owners face a great deal of difficulty retaining existing customers. Achieving revenue growth while not increasing costs is challenging when you do not understand why customers stop supporting you.
Customer retention analysis apps can be proven to be helpful in these scenarios. Thanks to machine learning technology, these apps can identify user behavior, thus making it easier for organizations to find out what strategies they need to fine-tune to improve the customer retention rate.
11. ML Powered Education App
The education sector can benefit greatly from machine learning technology. Educators will be able to track student performance and spot problems more effectively with this technology.
Using these applications, which collect, measure, and analyze data about students, you can analyze student behavior. Thus they can create a personalized learning experience for the students.
Activity Type
Also a smartwatch fitness tracker app is capable of tracking many different types of activities: Walking, jogging, aerobics, American football, Australian football, backcountry skiing, badminton, baseball, basketball, beach volleyball, biathlon, boxing, calisthenics, circuit training, cricket, cross skating, cross country skiing, crossfit, curling, cycling, diving, downhill skiing, elliptical, ergometer, fencing, fitness walking, flossing, football, frisbee, gardening, handball, hand-cycling, high-intensity interval training, hiking, hockey, horse riding, ice skating, indoor skating, indoor volleyball, inline skating, interval training, jogging, kayaking, kettlebell, kick scooter, kickboxing, kite skiing, kitesurfing, martial arts, meditating, mixed martial arts, mountain biking, nordic walking, open water swimming, other, P90x, paced walking, paragliding, pilates, polo, pool swimming, pushchair walking, Racquetball, road biking, rock climbing, roller skiing, rowing, rowing machine, rugby, running, sailing, sand running, scuba diving, skateboarding, skating, skiing, skipping rope, sledding, snowboarding, snowshoeing, softball, spinning, squash, stair climbing, stand up paddle boarding, stationary biking, surfing, swimming, table tennis, treadmill, walking, volleyball, wakeboarding, water poplo, zumba, windsurfing, yoga, that's it.
Applications like Accuweather, have inbuilt sensors that effectively predict hourly, daily, radar, minute-cast monthly forecast, air quality, and health and activities that directly or indirectly affect a person's daily routine.
Final Take: How to Bring These Machine Learning App Ideas Into Reality?
The field of machine learning (ML) is one of the most powerful subsets of artificial intelligence. Through ML, machines can be made smarter to perform tasks by strengthening their learning capacity.
Above we have explained a few of the best machine-learning app ideas that can be implemented with machine-learning technology. The best practice to implement these ideas is to partner with the best machine learning development companies that are driven by the rich expertise in using this technology to steer smart solutions.
Frequently Asked Questions
What are machine learning models?
The process of finding the best ML app ideas starts with learning the potential of machine learning. It is then necessary to figure out how these capabilities can be incorporated into an application to solve challenges.
How to find the best machine learning app ideas?
The process of finding the best ML app ideas starts with learning the potential of machine learning. It is then necessary to figure out how these capabilities can be incorporated into an application to solve challenges.
How much does it cost to develop a machine learning-based mobile application?
The cost ML app idea is subject to multiple variables such as complexity, and feature. ML app development company region and so forth. Considering that these variables vary from project to project, it is not possible to estimate the cost until you know your requirements.