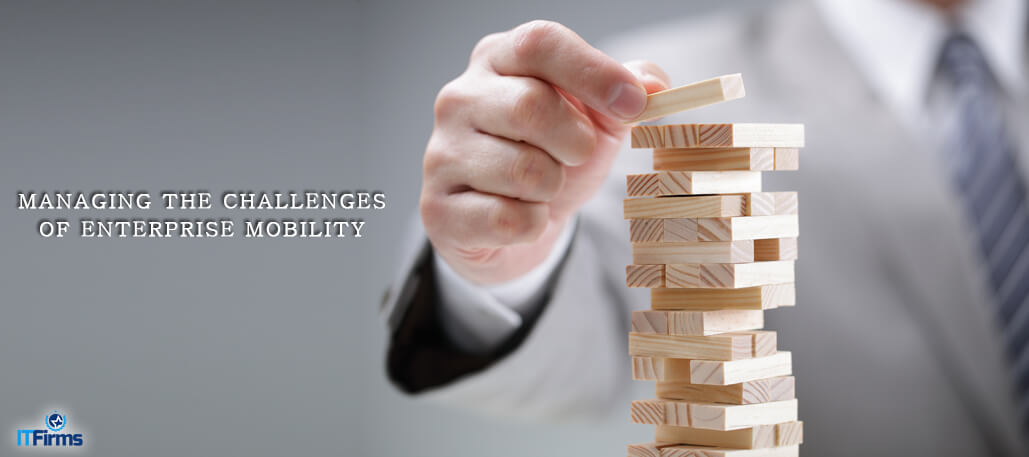 Managing the Challenges of Enterprise Mobility
Wireless technology and mobility have penetrated the routines of young, adults, kids working, non-working and everyone else. At this point, it's not off beam to call it a mobile-first economy as you have access to internet services anytime from anywhere on our smartphones, tablets, iPads and other smart devices.
Speaking of a workplace that provides a personal computer to each employee on their desk or cabin has now shifted to personal devices belonging to the individuals, which they keep with them in their personal space and take them back home. The concept of Bring Your Own Device (BYOD) has really changed the way people connect with work, colleagues, team and clients at offices. Fortunately, it added up to the employee efficiency and overall productivity of the company as a whole.
However, enterprise app development is still struggling to reach a place where mobile apps are right now.  While mobile app development has been commingled well in personal and professional lives, enterprise mobility and BYOD lack the acceptance and strategy when compared. As it turns out, there are plenty of challenges or roadblocks in the successful execution of smart working through mobile devices in organizations.
Challenges and Threats of Enterprise Mobility
As an enterprise, if you want to provide access to your resources, organization data, confidential data, internal chats, corporate emails to a variety of devices and platforms, it's imperative to secure those devices and the applications before allowing access. Security is the biggest challenge that each enterprise is apprehensive of.
Further, the same security policies can't be implemented on for devices owned by organizations on personal devices, which is yet another challenge. An expert team is required to understand the restrictions and limitations a personal device may impose, which is being used for office work purpose. The optimal display of corporate data on the various Android, iOS and Windows devices is a matter of concern for the enterprises.
Dealing with different interfaces of different devices is also a challenge since what works well on Apple devices may not work for Google Android and Windows devices. Because it will create an inconsistent experience and will be difficult for the enterprise to understand where to get support or how to fix the bugs.
Enterprise Mobility Management (EMM)
Enterprise mobility management solutions have unfolded new ways of handling the data and devices in an enterprise when BYOD is implemented. EMM provides mobile security advancements such that it configures and deploys devices for enterprise use.  They are tested for compliance with company policies, which focuses on securing enterprise data like access rights, device lockdown.
For this to work, a number of technologies have to come together to form the best solution so that enterprises of all sizes and industries are convinced to start off the concepts of enterprise app development and BYOD in their organizations. Some of the very known and trending solutions that companies like IBM, VMWare, Microsoft bring forth mobile security advancements.
Mobile Device Management (MDM)
Rendering the complete administration of mobile devices, IBM has come up with a new device management software with the name IBM MaaS360. This provides visibility and control of Android, iOS and Windows devices on a single platform. Similar to an immune system, IBM's product fights against the malware and virus attacks from breaching the security and leakage of any confidential data from the personal devices that the employees have while they work from office or home.
With the help of remote device reset, the company's mobile devices can be locked down and located from remote places so as to ensure no revelation of company's internal data, staff exchanging emails, passwords, corporate documents to any third party.
Identity and Access Management (IAM) Frameworks
To provide control operations over files that are frequently accessed by employees in an organization, there are various IAM frameworks in execution. This enables an organization to enforce restrictions and permissions to who can use or open a particular file; for instance, a client data files is to be only viewed by the top management and a specific business analyst handling that project but not any developer, designer or anyone else in the team.
As a part of mobile data protection schemes, such frameworks employ file-level encryption to protect data from becoming public, when the company actively implements BYOD. Brands like AirWatch have launched great IAM products that keep a check on who is using what device and who should be refrained from using a device or an application on that device.
Leading players in smartphone and smart device industry including Blackberry, MobileIron are also working towards enterprise mobility management such that the security and other device access challenges can be conquered.
Certainly, the EMM solutions have accelerated the adoption of BYOD across companies. Ensuring data security and seamless integration of devices at work are few great innovations in this field, keeping companies carefree of holding important meetings and discussions on mobile devices that can be taken home from work.