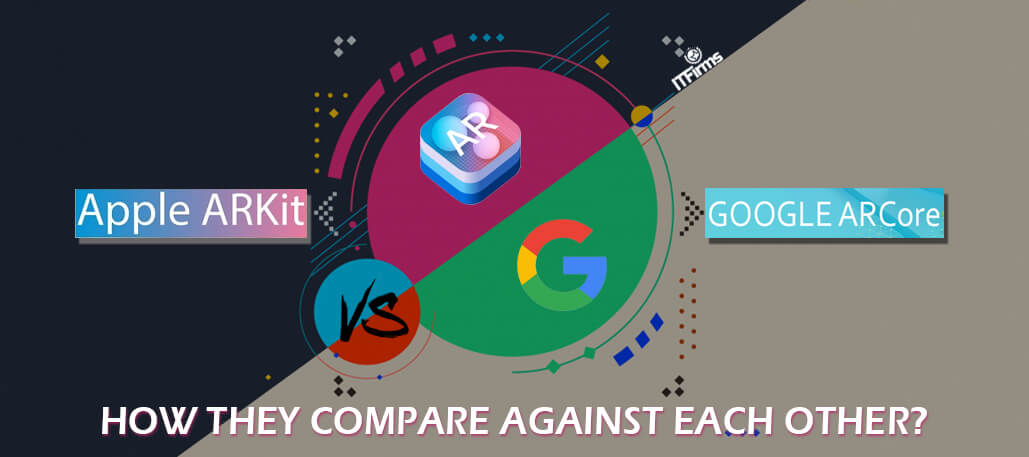 ARKit Vs. ARCore – How they compare against each other?
Augmented Reality is one big technological expression these day. It is being looked by technology leaders and industry experts with great hopes and aspirations to take their ideas and offerings to the next level of possibilities. Recently the AR-based game Pokémon Go, made a big impact in the mobile gaming segment. Likewise, other AR apps have helped different professionals to aethetically enhance their work of art or build better systems by applying augmented ideas and designs to real things. And this is going to get bigger in value and range of offerings with the latest technologies for AR application building like ARKit and ARCore coming to the focus.
It's been just a few months since we have Apple's ARKit among us and it is already creating stir in the market. The inventive attempt by the tech-whopper brings along a lot of new possibilities to allow ground-breaking ways to put up with Augmented Reality, as this AR platform is all equipped with latest feature resources and functional properties to embed and serve your iOS AR project with. And with this, iOS app developers have already started building advanced Augmented Reality solutions.
On the other hand, we have a parallel power emerging in the AR space in the form of ARCore. This is again a striving attempt by the tech-giant Google, which proves to be a close competitor of ARKit. With its plans to iterate the learned competencies into new application ideas and build impactful AR solutions, it is all set to serve existing and future Android phones with the new technology in the upcoming tech spells.
ARKit Features
ARKit comes with three major feature offerings and further covers various sub features and resources. These are motion tracking, light emission, and environmental understanding. These three together offer a comprehensive AR potential that Augmented Reality developers can seek and employ to build significant apps on the new technology. These features combinedly help iOS app developers to allow users to perceive and pertain with enhanced visual objects with great clarity.
Motion Tracking: ARKit can unvaryingly and accurately track device's positioning in reference with the real objects in the live frame that is captured by the camera using Visual Inertial Odometer (VIO). This allows the devices to capture motion sensor data, recording the real-time position of the device.
Environmental Understanding: With the help of ARKit, Apple devices can scan and analyze the scenes that come in their view through the camera and determine different shapes (like horizontal distances) to render useful results.
Light Estimation: This allows iPhone's and iPad's cameras to sense and gauge the amount of light that is present in an area. This helps iOS app developers to enable AR apps to detect and regulate a certain amount of light to be flashed consistently and establish continuity. 
ARCore Features
Though ARCore is not the Google's first attempt at AR solutions as it had launched Tango earlier. But, ARCore comes out as a baked-in platform for Android mobile devices and it is all equipped with latest potentials in reference with sensory perception, measuring values and command interpretation. Which makes ARCore a smarter and more competent platform to serve modern Augmented Reality development needs as per Android app developers. Here's how it does it with different functional aspect of an AR framework.
Motion Tracking: ARCore tracks and interprets IMU (Inertial Measurement Unit) data unlike ARKit that goes with VIO. Quite differently it also measures the shape, built and features of the surrounding objects to detect and identify the right position and orientation of the Android device in use.
Environmental Understanding: Just like ARKit, ARCore also reads and detects it horizontally. Everything including the settings and the functional process works similarly to help devices understand the environment.
Light Estimation: ARCore is again quite similar in terms of taking light estimations. It similarly detects the light in the surrounding ambiance and accordingly adjusts focal positioning and illumination impact, distributing balance of the light in the most orderly and appropriate manner to derive best results out of it.
Comparing the two
In the beginning, we can expect both to serve the top existing Operating Systems in their own spaces. For ARKit it would be iOS11 devices and ARCore should be serving Android 7.0 (Nougat) or higher versions. If you try to measure the popularity of the two, it should be in the favor of the Google's ARCore as Android users have surpassed iOS users over time. So, if you assume that everything else remains the same, more numbers simply translate into more popularity. However, the better recognition and reachability impelled by Apple in getting into the mainstreams keeps ARKit ahead of ARCore. Apple's ARKit's launch was quite affirmative and persuasive as it gone with the launch heard strategy. Quite opposite to that ARCore was propagated through a noticeably subminimal approach pushing it to the audiences through Google's VR YouTube Page. Another thing that puts ARKit over ARCore is the UX factor which is always perceived to be better because of the Apple's lineage of communicating and interfacing with its users and the way it drives its brand recognition and consumer value.
Must Read: Top 5 Development Tools for Augmented Reality
Conclusion
So, in all if we look from a larger angle, ARCore is bigger in terms of market size and seller's appeal. Also, it has tasted good response in the segment with Tango and has been there in the market through its VR offerings in the form of ventures like Daydream and Cardboard. So, this goodwill is going to help Android ARCore to find an edge but not without putting up with the quality mark that Apple is known to offer. On that note, Apple's ARKit really wins over in impressing the userbase with better UX capabilities and higher material references. Comparing them both head to head, you can find both of them having an upper side in some part of the game but of course things should move more into favor of the one that continues to offer better value and utility in the coming times.