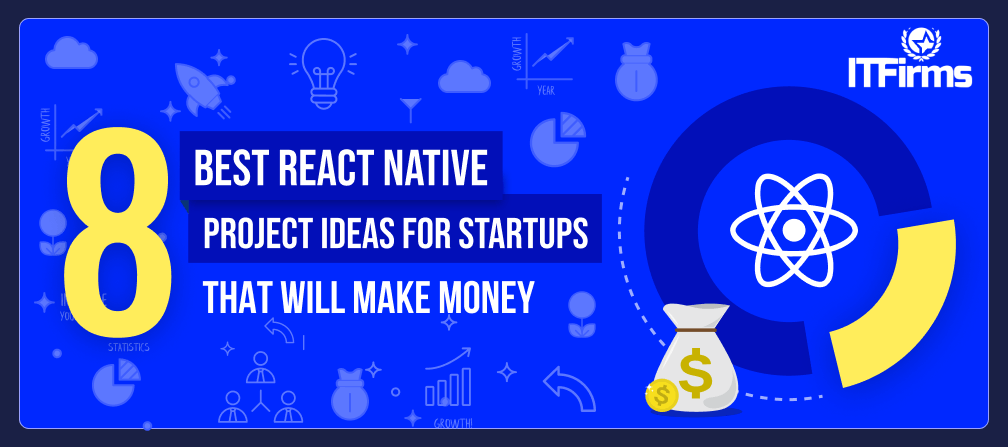 8 Best React Native Project Ideas for Startups That Will Make Money
Looking for the best React Native project ideas that can shape your startup into a successful business? Here are the 8 best React Native app ideas you can follow.
What's the common between mobile apps like Facebook, Skype, Walmart, Airbnb, Uber Eats, Instagram, and Wix?
The question seems illogical since all of these apps are built with various purposes in mind, right?
Throughout all of them, one thing is common, which is the framework these mobile apps are built on; React Native.
React Native is one of the widely accepted Open-Source cross-platform mobile app development frameworks introduced by the Meta Platform.
Among all of the cross-platform app development frameworks like Flutter, Cordova, Ionic, Xamarin, and so forth, React Native with 42% global usage ranked at the top.
By utilizing a very similar codebase, React Native can help mobile app developers to develop apps for multiple platforms like Android, iOS, etc.
Do you also wish to develop an application using React Native, but coming out with a React Native app development idea that can make money is a real challenge?
If this is the case with you, consider yourself lucky.
In this blog, ITFirms is going to reveal the 8 best React Native project ideas that have the potential to turn into successful startups.
So, without any further ado, let's get started.
What are the Benefits of Using React Native?
As an organization that has decided to develop a mobile application, it needs to face a lot of challenges.
You can find a worthy app development idea, but it is not possible to realize your idea's true potential without the right technology selection.
Being an organization, it is essential that you have an idea of the benefits of using React Native over other technologies so that you always come out on top.
Below we have picturized the benefits of React Native app development technology, so you can figure out whether to opt for React Native framework is the right decision or not:
It is the best option if you want to build a mobile application for multiple platforms without investing much in coding. As said with very similar code RN enables developers to develop apps for both Android and iOS.
Code reusability of React Native increases the development speed by allowing developers to use similar code at multiple occurrences.
Employed by the Hot Reload feature, React Native enables the developers to preview the changes they made in real-time.
React Native offers a comprehensive collection of the pre-build UI components, meaning code for various functionalities is already written; all you have to do is implement them.
It is an open-source framework and driven by a community of developers which means everyone has the freedom to contribute to the development of React Native.
React Native offers support for third-party plugins, which have proven helpful to enhance the functionality of mobile applications.
8 Best React Native Project Ideas for Startups
After learning about the basics, now is the time to have a discussion about the 8 best React Native project ideas that have the potential to turn into successful startups. So, let's get started:
1. Cryptocurrency Tracker App
Nowadays the popularity of cryptocurrencies is on the surge.
According to Yahoo Finance, the global cryptocurrency market value was estimated at $1,782 USD billion in the year 2021. With a CAGR of 58.4%, the market is projected to reach $34,420 USD billion during the fiscal year 2022-2027.
What if you can develop a mobile application that helps you become a part of this growing market space? Seems an intriguing thing right?
You can build a simple app that will display the current, previous, and forecast price of multiple cryptocurrencies like Bitcoin, Ethereum, Litecoin, and so forth.
This is one of the most basic React Native app development ideas that you can follow and has the potential to generate million-dollar revenue for your business.
CoinTracker is one of the best examples of a cryptocurrency tracker app.
2. Build an NFT Marketplace
Non-fungible token (NFT) is another hottest topic of 2022.
The global market value of the non-fungible tokens was valued at 50.10 billion USD in the year 2021. During the current financial year, the market is projected to grow with a CAGR of 10.7%.
NFT marketplace serves as a ticket to participate in the buying and selling of the NFTs. You can develop your marketplace and allow users to tokenize their virtual world assets into NFTs.
Such marketplaces usually work on the traditional marketplaces revenue model, in which a predefined fee is labeled on every sale/purchase made on the platform.
OpenSea is one of the most highly popular examples of the NFT marketplace.
3. Audible News App
Gone are the days when people were glued to the newspaper to stay informed with the news roaming around the world.
Having access to the latest news is now easier and more convenient than ever thanks to smartphones. Unlike other news apps which offer the news in the read-only format, developing an audible news app where the users can listen to the news will help you stand out in the market.
In addition to the news, you can also feature music and FM also on your application to get competitive advantages over others.
4. Fiends Near Me
The concept is similar to a dating app like Tinder, where you receive suggestions from the people who cross your path or are interested in you. But instead of following a dating concept let's take it to another level and develop such apps for friends.
Develop a mobile application that can be integrated with all your social media accounts to know information about your friend circle.
Whenever your friends pass a path with you or at your location, you will receive immediate notification. It'll allow you to relive old memories or create new ones by catching up with your friend.
5. Herbal Medicine Delivery App
There are certain points in life when we miss out on the home remedies of our grandparents. What if you could develop a mobile app where people can order herbal remedies?
According to Fortune Business Insight, the global herbal market size was estimated at 185.86 billion in 2020, and by the year 2028, it is projected to become an economy of 430.05 billion with a CAGR of 11.32%.
In addition to the basic features of the pharmacy delivery apps, you can add some advanced features as your app should have the feature to suggest herbal remedies based on the geographical area of the user.
This is one of the best React Native app development ideas, you can follow if you belong to the pharmaceutical world.
6. Sleep Tracker App
In today's society, following the sleep routine is one of the most difficult things to do. Think of developing a mobile app that can help people track their sleep habits and, based on their sleep patterns, provide them with tips that will help them improve their sleeping habits.
In order to make your app more useful to your audience, in addition to sleep routine tracking your app should facilitate users to connect with sleep experts.
7. Personal Safety Mobile App
Develop a mobile app that serves as a safety weapon for the people who often travel alone or feel insecure. In the event of any security threat, the app will notify the person set as a defender by the user or even the police.
The market for the smart personal safety mobile apps was valued at $2.90 billion USD in 2019 and by the year 2025, it is expected to grow to $5.5 billion USD by the year 2025.
8. Product Authenticity Scanning App
People's interest in online shopping is increasing with each passing day. However, the only difficulty with online shopping is ensuring the authenticity of the product received.
To address such difficulty for people, you can develop a mobile application using the React Native framework which scans the barcode of the received product and confirms its authenticity.
How You Can Find the Best React Native Development Company to Turn These Ideas Into Reality?
Following the brainstorming of React Native project ideas, the next thing that comes to your mind is selecting the best React Native app development company to make your dream idea into a reality.
The following are the few best practices you can follow to make the selection of the top React Native development company:
Be acquainted with your business requirements
Determine the amount you can spend on the development
Check the React Native app development company's portfolio
Check the client testimonial of the React Native service provider
These were a few of the tips you can follow to hire a React Native app development company. Based on these parameters, ITFirms prepared a list of the best React Native development companies. You can follow that list to find a good match for your project.