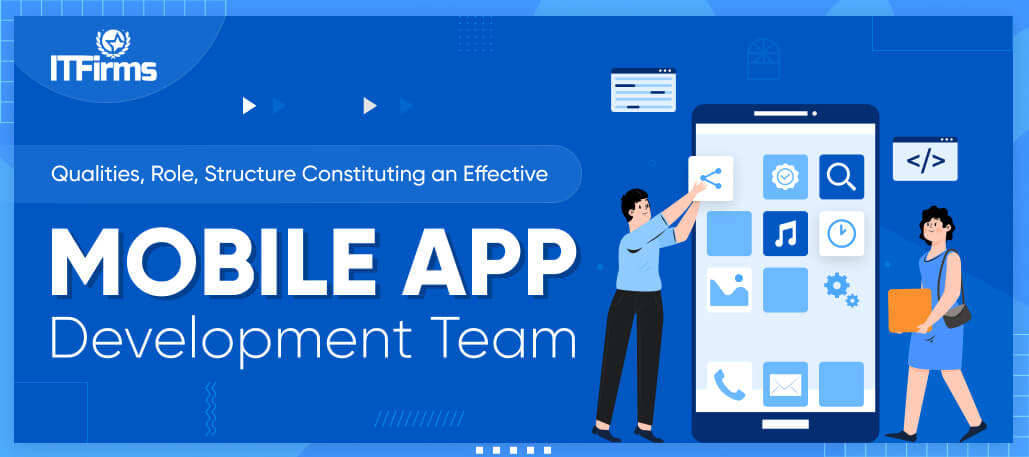 Qualities, Role, Structure Constituting an Effective Mobile App Development Team
People/Strategies/Practices/Structure – What makes an excellent mobile app development team? What are the roles and responsibilities of team members?
People/Strategies/Practices/Structure – What makes an excellent mobile app development team? What are the roles and responsibilities of team members?
Is creating a fully-fledged mobile application or a website enough to give a unique identity to a business? All roads to let businesses strengthen their presence in the world lead through their website/mobile application. Therefore, we cannot skip the importance of having a proper, well-equipped application to suffice the needs of its target audience.
Adding to this, building a brand comes hand in hand with increasing credibility and managing the reputation. Also, if business associates are not active online, and if you're not sharing customer reviews and engaging with their audience on social media, you're probably restricting your potential business prospects to learn about your service offerings.
Regardless of the sector, you step in, having a well-established offline and online presence helps seize the opportunities required in this ever-changing digital world.
Why are mobile apps so popular? Why do we require mobile app developers?
Mobile applications steer websites behind when it comes to interactivity/gaming, regular usage, personalization, complex calculations, reporting with visualization, native functionality when processing is required when push notifications are required when there is a need to provide offline access to the content or to perform functions without a network. Also, mobile app developers want to ensure an optimal return on investment. It is useless to create an app that does not achieve the same results as its web counterparts.
How should you constitute a mobile app development team?
Now mobile applications are overshadowing everything, and websites seem to be ingested with a grain of salt. It is important to know your requirements, before hiring professionals on board. An effective mobile app development team has (1) a Project Manager, (2) QA Engineer, (3) Sales, Marketing, and Promotion Team Experts, (4) UX/UI Designers, (5) Backend and Frontend Developers (1 to many).
mobile app & web development teams work on various tasks by implementing collective efforts and work on multiple tasks by implementing their combined efforts. The skills, abilities, roles, and responsibilities of each team member of your project.
For the most part, the base hierarchy of a software app development company remains – (1) a Project Manager, (2) a Product Manager, (3) a UI/UX designer, (4) iOS/Android developers, (5) Backend Developers, and (6) a Quality Assurance Engineer.
Organizations must consider that the size of their mobile app development team may differ with the complexity of the mobile application, and the size of the organization, and it may subsequently grow to accommodate more than 10 members including a product manager, to develop a project within six to eight weeks. Plus, complex mobile applications for enterprises with advanced functionality, and interactive elements within defined time constraints might require hiring more than 11 specialists including business analysts, marketers, DevOps engineers, Scrum masters, etc.
How many engineers do you need to build an app?
App development companies have one full stack developer to handle frontend, backend, database, quality assurance, release and maintenance. It is always possible for one person to handle a mobile app but the top mobile app development teams in India consist of BA, BD, Developers, Test Engineers, and Project Managers. Et's discuss their roles and responsibilities in detail:
Sales, Marketing, Promotion – Sales teams within software companies consist of IT Sales managers responsible for managing technical sales within companies. They coordinate lead generation for acquiring new customers.
Business Development – They are accustomed to generating new sales, forecasting sales revenue, negotiating client pricing, supporting business development managers and helping organizations in maximizing their profits.
Business Analysts – They prioritize technical requirements, estimate the project time and cost, understand the project requirements from the clients, create software requirement specifications, and software design documentation as and when required. They make use of Business Model Canvas, Balsamiq, WPS, Product Backlog, Microsoft Office, and Google Docs to design wireframes, MVP, and documents.
Project Manager – They are required to allocate assignments to various tech teams, prioritize tasks, and make way for continuous communication between the client and the developers. They keenly absorb diverse project management tools like TeamGantt, Asana, and Confluence; track project deadlines, and follow software development methodologies like Agile, scrum, waterfall, RAD, Spiral, etc.
UI/UX Designer – They curate the designs while keeping the target audience in mind. They must make up further wireframes, mockups, visuals, and prototypes and convert them into dynamic output. They are required to create micro-interactions, logos, brands, brand-specific fonts, colour schemes, and engaging visuals – by making use of User Interface design tools like Figma, AdobeXD, Adobe Illustrator, Adobe Photoshop, Invision Studio, Principle, Axure, and Framer.
Android/iOS Developers – They are required to build high-quality code based on their programming language expertise. They transform wireframes, mock-ups, sketches, and API, and create, and test applications for mobile devices. They need to have a command of programming language, frameworks, material design, database, and development environment.
Backend Developers – They work with the database, integrated development environment, and collaboration services. They also implement strong mechanisms for data security. Backend Developers are also involved in testing and debugging the backend. They have to work with (1) Programming languages – Python, Ruby, PHP, Java, Golang, C#, Perl, and (2) Frameworks – Ruby on Rails, Laravel, CakePHP, Django, Spring Boot, Node.js, Nest.js, Express.js, Flask, Meteor, etc. They assess the speed and performance of the application, manage the hosting environment, troubleshoot and debug and keep up with new technologies.
Quality Assurance – Create and execute test cases, build testing environments, fix bugs, create testing specifications, give relevant and meaningful feedback, and ensure that the product meets the client's requirements. They essentially make use of tools like Postman, Test flight, QA Touch, Confluence, and Burp.
DevOps Engineers – They understand client requirements, and project KPIs, implement automation tools, implement IT infrastructure, manage stakeholders, manage external interfaces, set up tools and required infrastructure, verify and validate the software code, troubleshoot techniques and fix the code bugs, build automated processes. They are involved in incidence management, root cause analysis, selecting appropriate CI/CD tools, monitoring team members, monitoring customer experience, and KPIs, and managing periodic reporting.
Delivery Manager – A delivery manager is responsible for the timely release of the software within the prescribed time schedule. They check up on any impediments that affect team growth and ensure timely delivery. They are required to manage development teams, ensure regular iteration delivery, set project timelines, and define project scope.
Long Story Short
To learn more, write a query and we'll be happy to follow up with additional information, including (1) Needs assessment, (2) Cost estimates, and (3) Questions and Answers! Request information!