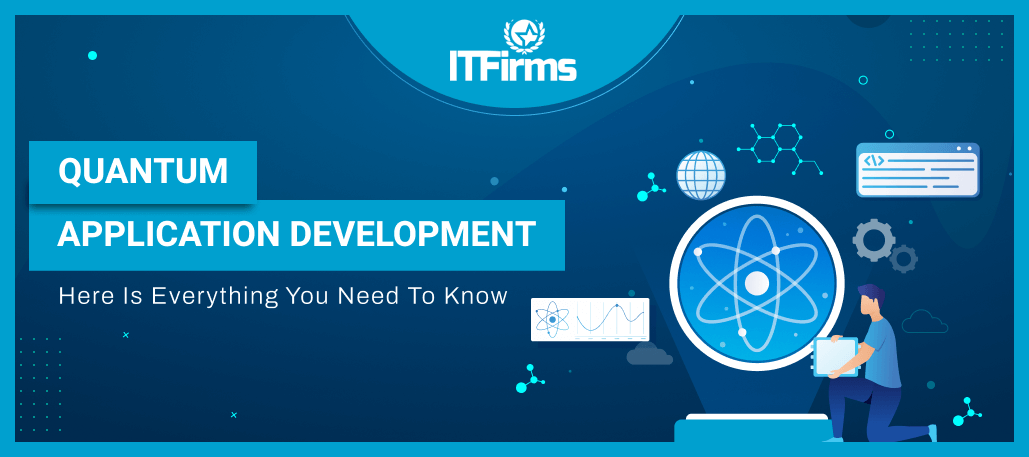 Quantum Application Development: Here is Everything You Need to Know
"Inspired by the lightning-fast computation of quantum computing technology? Here we have shared a comprehensive guide on quantum application development to make you familiar with the technology"
As computing power continues to grow exponentially, quantum technology is making its way into mobile app development.
The Sycamore quantum computer was launched by Google in 2019 to capitalize on the popularity of quantum technology. A conventional computer would take 10,000 years to complete a task that can be completed by the Sycamore in 200 seconds.
The lightning-fast speed of quantum computing technology inspired a lot of tech companies to find out ways to use it in mobile app development.
If you are also among them then this blog is meant for you. Here in this blog, we will share a comprehensive guide on quantum application development.
So let's get started. But before that, let's know what the meaning of quantum application development is.
What is Quantum Application Development?
In layman's terms, quantum application development refers to the unification of quantum computing technology in app development.
Quantum computing techniques make it possible for this unification to occur, and it's useful for building platforms and app databases.
When compared to traditional apps, these apps can solve complex computational problems with greater precision and speed.
Why Quantum App Development?
Quantum app development requires a hefty investment, therefore it is a must for you to have a proper understanding of the benefits it could deliver to your business.
Here in this section, we are going to walk you through the benefits of quantum app development:
Quick Data Analytics
We live in a world where everything is related to the data. Businesses often need to deal with a huge amount of data. With traditional computers, the process of analyzing data takes a long time since they are limited in terms of computational power.
While quantum apps have the capabilities of solving complex problems with lightning-fast speed.
Forecasting
There are various instances when business needs to deal with a huge volume of data to make accurate forecasts. However, traditional computers take a lot of time to analyze the data. By taking advantage of higher computational power, the business can perform the data analysis in a shorter span of time to lead to better forecasting.
Quantum App Can Enhance the Power of Artificial Intelligence
The unification of quantum computing with artificial intelligence can enhance the power of AI to a greater extent. It can lead businesses to serve their customers with prompt answers to all their queries.
Enhanced Productivity
An application built on the logic of quantum application development can execute the tasks more efficiently. Fast task execution saves a lot of time that can be used to perform other tasks which result in increased productivity.
Reduces Overhead Cost
Quantum application development can reduce the business operational cost in many different ways. The increased productivity will result in better revenue. Unparalleled data analytics capabilities will lead to better forecasting and marketing strategy implementation.
Use Cases of Quantum Application Development?
Quantum application development is still in its early days. Many best app development companies are exploring their ways to make it a reality.
Although the quantum application can be used in almost all industries here are a few of the most prominent industries that can benefit from quantum app development:
Finance
Quantum computing is expected to revolutionize the future of finance. In finance, portfolio and risk management are notable examples of this. By analyzing the huge volume of the data, such apps will make an accurate forecast of quantum computing.
Quantum computing can also be used in the field of finance for effective fraud detection. One recent example of this is the partnership of PayPal with IBM.
Automotive
QC provides computational improvements that could boost the capabilities of the automotive sector. With the QC, the transportation businesses are solving issues related to route optimization, fuel optimization, vehicle maintenance schedule, and so on.
One recent example of the use case of quantum computing in the automotive sector is the partnership of Volkswagen with Google. This partnership will enable Volkswagen to make use of Google's QC for its autonomous vehicle design.
Insurance
Insurance is another sector that also deals with a huge amount of data. Insurance companies often need to go through a long process of asset valuation calculation, determining the right premium amount for the insurance, and so on.
The health insurance company named Anthem announced its collaboration with IBM. By doing so, the company aims to make use of IBM's quantum computing to identify its health insurance anomalies.
Healthcare
Quantum computing is also pushing the advancement in the healthcare sector. The use of this technology can bring advancement and speed up the process of treatment plans, and personalized medicine recommendations. Through this, patients are able to receive more personalized care.
QC can also enable doctors to make predictive decisions depending on the health condition of the patient to ensure the prevention of occurring serious medical conditions.
Cybersecurity
QC can also enhance cybersecurity by suggesting to businesses the most effective ways of protecting their business data. Online payment mobile i.e. wallets can make the best use of the QC technology and it can encrypt the transactions information and prevent it from data breaches.
QC can also be used in conjunction with other technologies, such as machine learning, to ensure secure communication between the payer and receiver.
Cloud Computing
Cloud computing is one of the most emerging fields which often deal with complex data. Using quantum applications, complex data processing can be simplified by breaking it into chunks of information.
Agriculture
Agriculture is one of the vast sectors and pays a huge contribution to financial growth alongside feeding people. The use of QC in agriculture can analyze the chemical information and suggest the optimal amount of fertilizers required to support the growth of crops.
Artificial Intelligence
Artificial intelligence laid the foundation for the technologies such as IoT, Big Data, and so on. It brings intelligence to the machines and allows them to mimic human intelligence. But still, AI struggles due to slow processing in the analysis of the vast amount of data.
The capabilities of AI can be enhanced with the integration of quantum computing. As a result of this unification, AI will be able to analyze the vast amount of data more precisely, resulting in better decision-making.
How to Select the Right Quantum Application Development Company?
Now you are familiar with the potential that quantum application development can deliver to your business. Your next significant challenge will be how to select the right quantum application development company that can help you achieve your development goals.
This challenge becomes harder when looking at the number of best app development companies available to serve you. If you are also struggling to make the selection of the right top Indian app developers, then you should consider checking out the following factors:
Experience leads to the development of mobile applications that can put your business ahead of the competitor.
Client testimonials are the best way to judge the expertise of quantum app developers.
Don't make decisions based on the development cost, think of other development expertise as well.
Choose someone who has an interest in your business goals.
Focus on their support services to make sure you receive the care you deserve.
If you are looking for a reference for the best quantum app developers then you should consider checking out the ITfirm's list of top mobile app development companies. Depending on the above-mentioned factors ITfirms rounded up a list of the best developers you can choose to work with.
Frequently Asked Questions
What are the quantum application development services providers?
Microsoft
IBM
Intel
D-Wave Systems
IQM
Alibaba Quantum Lab
What is the future of quantum application development?
Quantum application development is the talk of the town and in the near future, we expect to see the integration of technology in a variety of industries. In the year 2021, quantum computing startups collectively raised an investment of more than 1.7 billion dollars according to a report published in McKinsey.