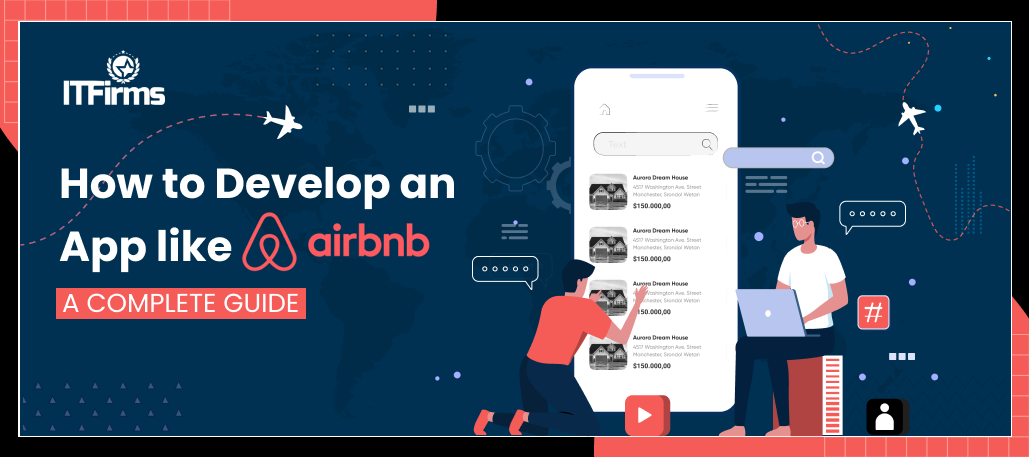 How to Develop Apps like Airbnb: A Complete Guide
"Did you know Airbnb made a whopping $8.4 billion annually in 2022 and is one of the most profitable startup in vacation rental industry?"
Maybe you had an idea about the numbers! But ….But you might not know that Airbnb was started because the founders didn't have the money to pay their rent. Strange, right? Read the full article to know the complete story.
As per the internet News Company Globe News Wire, the online travel market size is expected to grow at 14.8% CAGR, i.e., $1835.6 Billion by 2030. The pioneer in the space is Airbnb which covers 20% market share in the vacation rental space.
Now you also want to build an app like Airbnb to create an impact but how do you do that? Honestly, developing a website like Airbnb requires in-hand experience with varied programming languages and frameworks, which might not be possible for everyone. A better way is to look for professional website development companies with relevant experience, a good team, and robust customer support. How to find such companies? The answer is this article which covers all the queries related to how to develop an app like Airbnb and related topics.
What is Airbnb?
Airbnb is a travel vacation Rental Company based in the USA that allows property owners to rent out their spaces to other people. The company operates as a marketplace for hotels, private properties, & homestays, and guests can book rooms, spaces, entire villas, and cottages at an affordable price.
The company is valued at over $100 billion and has over 14000 employees worldwide. With more than 5.6 Million listings in over 100,000+ cities globally, the company has served 300 million guests since 2008.
Airbnb Statistics
Airbnb currently has about 5.6 Million listings and 4 million hosts.
6 guests book an Airbnb every second on average.
One guest typically stays for 4.3 nights in an Airbnb
The platform has booked over 1 billion stays till now
The Airbnb Story – From $80 Rent to $100 Billion Valuation
Renting The Air Mattresses: Airbnb started as a simple idea in 2007 in San Francisco when two guys, Joe Gebbia & Brian Chesky, couldn't pay their rent. The duo came out with an interesting idea to rent out their living room with 3 air mattresses along with breakfast for their guests. They made a simple blog website with a map called airbedandbreakfast.com, and their first guests were 2 men & a woman paying $80 each.
Launching the Site: Once the guests left the place, the founders gave thought to the idea and brought their ex-roommate, Nathan, as a co-founder to build their site and launched it in SXSW, getting them just two bookings initially.
Funding: In 2009, the company got its first funding of $20,000 from Y Combinator. However, the company was still making $200 a week and not growing much. One of the reasons they found was photos of the properties were not nice, and they took photos themselves.
The Growth: One week later, the company started growing, making $400 weekly. The turning point came when a famous drummer rented an entire house. Then Airbnb raised $600,000 in a seed round from sequoia capital; in 2010, the company rose $7.2M, and in 2011, the company raised $112M from several investors, including Ashton Kutcher, and the rest is history!!
Key Components of Airbnb's Business Model

Key Partners: Airbnb's key partners are their stakeholders, hosts, properties, travel managers, investors, photographers, hosting providers, corporate travel partners, experience providers, guests, and more.
Key Activities: The core activities for a company like Airbnb are sales & marketing, customer service, management, platform, app, and website development, and ensuring trust & safety to guests. It is essential to develop a smooth platform for the best user experience, and the best way to do this if you are not tech-savvy is to hire mobile app developers with relevant experience.
Value Propositions: Value propositions for Airbnb vary for different parties. For hosts & hotels, it is income generation, ease of listing, & booking system. For guests, low cost, unique & varied location options.
Revenue Streams: Airbnb earns its revenue by charging service fees per transaction from guests, commission charges from hosts, experience providers, & hotels.
Key Resources: Airbnb or any company's core key resource is its employees. Some other crucial resources are platforms, mobile apps, patents, & brands.
Cost Structure: Key costs for an app like Airbnb are infrastructure, customer support, PR & marketing, legalities, payrolls, cost of acquiring resources, and payment processing charges.
Mind Blowing Fact – Airbnb is present in 97.95% of the world covering every country on earth except the North Korea, Iran, Sudan, & Syria.
How Does Airbnb Work?
Airbnb works majorly for two users, guests & hosts. The platform connects travelers with hosts who want to rent their homes, apartments, or rooms. Here's a basic idea about how the platform works for different parties to help you build apps like Airbnb:
How does an App like Airbnb work for Hosts?
Step 1 – Registration: Hosts register themselves on the Airbnb platform to create their profile. The registration process includes providing a phone number, an email ID, and interests & hobbies. If you are an existing user, simply log in onto the app. The platform will also verify your identity through phone & email verification before your property listing goes live.
Step 2 – Listing the Property: Hosts can list their properties for rentals on Airbnb by providing details about the property, such as facilities, number of bedrooms, number of washrooms, accommodation type, etc. Hosts can also set their own prices and availability dates.
Step 3 – Bookings: Once your property listing is live, guests can book the place. Hosts have the option to accept or reject the bookings. Note that hosts receive their payments 24 hours after the guest checks in. Airbnb holds the payment for 24 hours to ensure guests' stay quality.
Step 4 – Communication: Hosts can solve any guest concerns, answer their questions, or communicate with them through the platform website or app.
Step 5 – Check-in: On the day of guest check-in, the host has to provide them with property access or instructions for self-check-in. Generally, hosts meet the guests in person and greet them on the day of check-in.
Step 6 – Payment: Airbnb releases the payment to the host 24 hours after the guest checks in to ensure the quality of the stay for a guest. Hosts can withdraw their balance or keep that in their Airbnb account for future bookings.
Hosts Fact – Did you know more than 55% of Airbnb hosts are women and has earned over $600 million.
How does an App like Airbnb work for Guests?
Step 1 – Sign Up: Go to the Airbnb website or app to create your profile using your email address, phone number, or social media account. If you are an existing user, simply log in. Once logged in, you must complete your Airbnb profile by providing basic information such as name, profile picture, ID card, and other details.
Step 2 – Search for a Place: Once the profile is completed, you can search for a place to book. There are several filters to use in the app, such as price range, location, accommodation type, etc. Users can view photos, shortlist places, and even read reviews before booking a place.
Step 3 – Booking: Once a place is finalized, the user can submit a booking request to the host. Your request will be accepted or rejected within 24 hours, and you will get a push notification or SMS for the same.
Step 4 – Payment: Once accepted, the user has to pay for the stay. You can pay through cards, net banking, and other online payment methods. The platform holds the payment for 24 hours to ensure the quality of the stay.
Step 5 – Accommodation: Once the payment is made, the user has to arrive at the property and check-in. One can contact Airbnb customer service or the host in case of any inconvenience.
Guest Facts – A big portion of Airbnb guests age between 25 & 45.
Top Rivals of the Airbnb Vacation Rental App

Booking.com is one of the prominent rivals of the popular vacation rental app Airbnb. Unlike Airbnb, which only lists homes & apartments, Booking.com lists homes, hotels, apartments, and motels, in over 100,000 locations worldwide. The company is a pioneer in the space and was founded in 1996 and currently has more than 28M listings.
CouchSurfing also offers services like Airbnb and does exactly what the name says. The platform allows users to explore the city with a local man and stay at their place for some charge. While this might sound a little dangerous and unsafe to some people, some consider it as an experience. However, CouchSurfingalso facilitates authentication through the app to ensure the legitimacy of the host.
Oyo is one of the largest and best hotel booking apps, which was started by Ritesh Agarwal in 2013. Initially, the company was only in hotel booking, but with time, it has ventured into other niches, including renting private rooms, just like Airbnb.
Flipkeywebsite is another home rental marketplace with some noteworthy features, like instant booking system, search & filter options, hassle-free & secure payment, listed user's information, and property information. The platform also has over 300,000 rental holidays listed.
Homestay platform is a marketplace & allows the guests to stay with the host in their houses and is a major competitor for Airbnb type apps. The feature has its own benefits and disadvantages, some people like it, some don't; but the platform aims to provide the user with a local city experience.
Revenue Model for Apps like Airbnb
Airbnb earns revenue through 2 fee structures for stay – a host-only fee and a split fee. Airbnb charges the fee to run smoothly, cover operations costs, and provide 24/7 customer service.
1. Split Fee Structure: The charge is split between the guest and host.
Host Fee: Airbnb charges a flat 3% charge from Hosts on the booking total and is charged from the payout.
Guest Fee Structure: Airbnb charges up to 14.2% fee from guests of the total booking subtotal. The charge depends upon several factors.
2. Host-Only Fee Structure: In this model, Airbnb charges the entire charge from the host/hotel and typically ranges between 14-16%. Note that charges for longer terms might be less.
Key Features of Vacation Rental Apps like Airbnb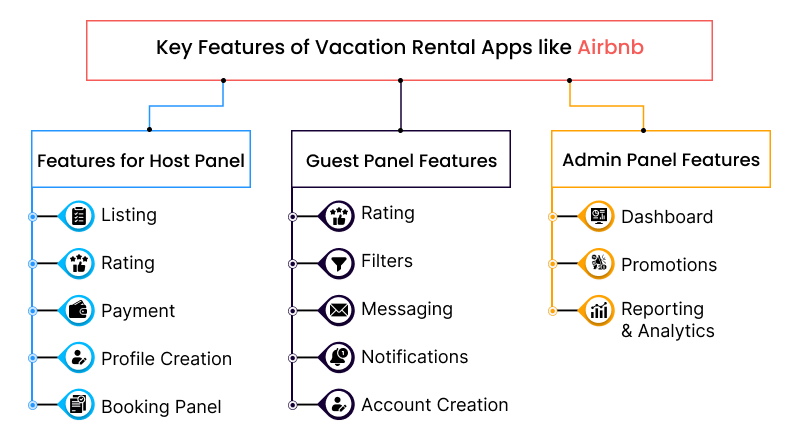 An app like Airbnb has three major users in the system, i.e., host, guest, and admin.
Features for Host Panel
1. Listing: A non-negotiable feature for a host of the property will be an easy-to-use listing feature. The feature should have options to upload good-quality pictures and update essential information about the property, location, language, and number of guests they would be able to accommodate.
2.Rating: Ratings and reviews should be displayed on the guests' host profile or property listing.
3.Profile Creation: Another essential feature will be the log-in/Signup feature for the property's host. They can update their information, such as phone number, email address, profile picture, etc.
4. Payment: A payment panel will be helpful for the host to view transaction history, receive payments, update their bank details, etc.
5. Booking Panel: A panel to manage booking requests is also essential for the host. They can accept or decline a booking request or view the guest information to make a better arrangement for them.
Guest Panel Features
1. Account Creation: Airbnb provides its user with a profile creation feature for its guests. Users can log in/sign up to their account using their social media handles or email Ids. The feature lets users update their profile picture, phone number, address, etc.
2. Filters: This feature is useful for finding the best-suited property for the user. Filters like location, accommodation type, number of rooms, washrooms, etc., are some basic filters.
3.Messaging: This feature allows the guest and host to communicate with each other. This can be used to get some more information about the property or solve any query.
4. Notifications: This is another essential feature that helps guests to be updated about their bookings, news, and instant alerts from the hosts/property.
5. Rating: This allows guests to rate their experience at the property or with the host.
Admin Panel Features
1. Dashboard: The dashboard is the primary feature of an Airbnb app admin panel. It allows them to manage their bookings, update the information, check analytics and reports, and facilitate amenities for guests.
2. Promotions: This allows the admin to promote their property or run coupons for their users to boost their sales. Promoted properties receive more visibility than an ordinary listing.
3. Reporting & Analytics: This feature allows the admin to track their listing and take the necessary actions. It includes the number of views, clicks, ad spent amount, number of bookings made, etc.
Advance Features for Superior User Experience
Voice Search: This feature will allow the user to search with a voice assistant. It is a hand-free help to the user for searching for a place to stay.
Weather Forecast: You can also have the weather forecast feature in apps like Airbnb. This will help both the guest and the host, the host can make the necessary arrangements, and the guest can plan their accommodation accordingly.
Currency Converter: This feature will help the users who are booking a stay out of their countries.
In-app calls: This feature shall facilitate smooth communication between the host and the guest. The guest can resolve their queries with the host or mention any special requirement, and the host can also confirm the guest's booking.
Apart from these 4 points, there can be several other advance features one can include in an app like Airbnb, such as:
Language Assistance
Location Navigator
Loyalty Programs
CMS Integrations
Advanced Analytics
In-app Documents Management
Third-Party Integration Services
Steps to Make an App like Airbnb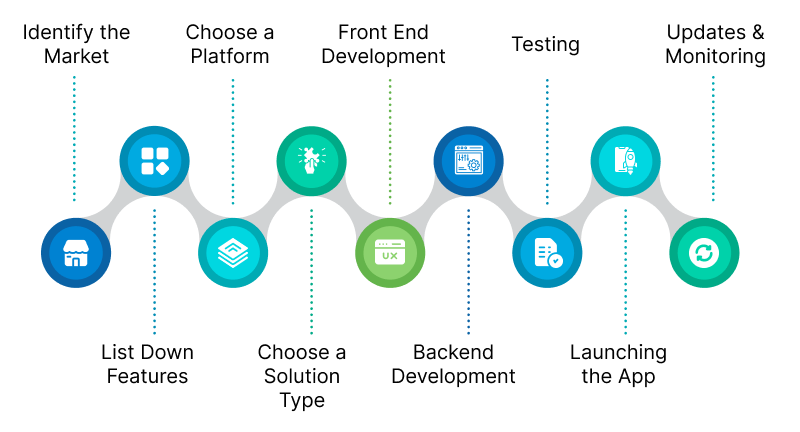 1. Identify the Market: The first step before you go for developing the platform is identifying and understanding your target audience. It is also important to document the idea & brainstorm to understand the market. You need to analyze the demographics, your USP, audience interest, and more.
2. List Down Features: The second step is to jot down the core and additional app features. You might need to come up with some unique features that will offer you an advantage over others.
3. Choose A Platform: The next step is to choose the appropriate development platform that best lines up with your objective. You need to decide whether you need a mobile app, web app, or while you need it for iOS or android, or both. Make sure to choose the best tech stack for website and hire the best mobile app developers for your application.
4. Choose a Solution Type: You need to select whether you want to get a custom development platform or a ready-made solution can work for you. Both of them have their pros and cons; while a custom development solution is user oriented and can offer more features, a readymade solution is cost effective and less time consuming.
5. Front End Development: Once you have chosen a solution type, the next step is to get your front end application design done from professional developers. The app's interface should be user friendly, easy to navigate, and attractive. Airbnb's front end is built on React and to have a robust UI/UX, you also need to look for some react native app development companies.
6. Backend Development: Once the app's design is ready, it is time to get the features and application backend done by a good mobile app backend development company. Developers use different frameworks and choose the best tech stack for website that integrates better features & benefits on the platform.
7. Testing: Once the backend & frontend of the platform is done, it is time to test the app. It is essential to find & fix programming bugs and ensure smooth working before launching it.
8. Launching the App: Once the mobile app backend development is done, the platform is now ready to be launched for the public on several application platforms like Playstore & App store. Make a launching strategy and plan it accordingly to ensure the app success.
9. Updates & Monitoring: Your work is not finished after launching the app. The platform needs regular updates, bug fixes, and monitoring to ensure smooth running. Customer feedback helps in getting the usability tested.
What Tech Stack is Required to Develop an App like Airbnb?
| | |
| --- | --- |
| Backend Technology | Node.js, Ruby on Rails. Meteor.js, RoR framework |
| Programming languages | Ruby, JavaScript, Kotlin, or Swift |
| JavaScript framework | React, Express.js |
| Webserver | Nginx |
| Key-value storage | Redis |
| Cloud storage | Amazon S3, EBS |
| Cloud hosting | AWS, Azure |
| Big Data tools | Presto, Druid, Airpal |
| Cloud database | Amazon RDS, MySQL, MSSQL |
This was the Airbnb tech stack, and if anybody wants a website similar to Airbnb, one can choose the best tech stack for website as per his requirement. You can consider some good Ruby on Rails development companies to build an app like Airbnb.
How Much Does It Cost to Develop an App Like Airbnb?
The Airbnb app development cost depends upon several factors, including the features & functionality you need, the technology stack chosen, the price of the Development Company, etc. Below are some of the most important factors to help you understand Airbnb mobile app development cost breakdown:
Team Size
Backend Complexity
UI/UX Design
Location of the Development Company
Technology Stack Chosen
The Airbnb startup cost difference between in-house vs. outsourced developers is significant, and the rational way is to look for some good Android app development companies. Considering all the factors, the cost to develop another app like Airbnb shall be $20,000 – $30,000 if you go for a single platform with basic features. Furthermore, to build an app like Airbnb for iOS & Android, both with advanced features, can go up to $50,000 – $70,000.
Final Words
Airbnb has proved to be a successful business model and many startups have followed the platform's path. Developing an App like Airbnb is a challenging and time-consuming task, but at the same time, it can prove to be fruitful. One also needs to make sure to offer features & functionalities above Airbnb to make a position in the market. A better way is to consider some good Ruby on Rails development companies offering affordable solutions. Here is a list of top mobile app development companies in India that have been in the industry for years, have a good team, and offer robust services.