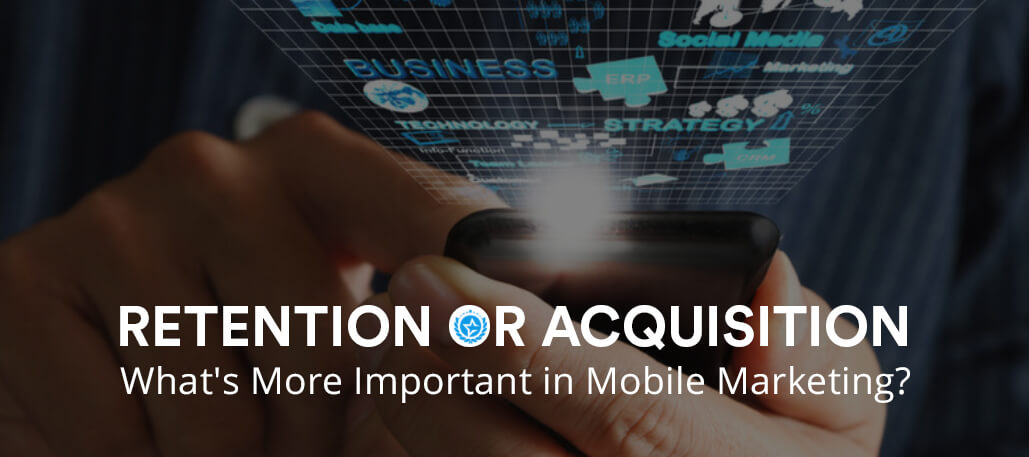 Retention or Acquisition- What's More Important in Mobile Marketing?
This time no reviews, no rankings, no core technology, we'd love to discuss how a business deals with its users.
Sticking to the digital platforms- mobile apps, websites, E-commerce, let's gain insight on the importance of customer acquisition and customer retention, and what between the two is crucial than the other.
"Get closer than ever to your customers. So close that you tell them what they need before they realize it themselves," rightly said by Steve Jobs.
With today's audience and marketplace- to acquire or to retain- relies upon how much you, as a business owner, as a product and as a service provider, can customize and personalize user experience.
No wonder, user/customer acquisition is the first step in every business. Every startup, every brand needs new customers, and wish to capitalize on it. But then, we can't ignore loyalty and engagement as we move forward with our products because there's a good chance that most people who download your mobile app or use your e-commerce services won't continue using it after the first week (if they don't find anything interesting).
Nonetheless, retention vs. acquisition is a long-standing debate, and we can't decide so early. Let's just dig deep for more statistics and sensible reasons as to what should be the goal of startups and enterprises-to attract more users or to hold on to the existing users using retention-focused marketing strategies. I guess both are equally important, though.
Study the numbers
Most of us have heard about the marketing gnome that 80% of your business generates from 20% of your users, which is true in real-time.
According to recent reports from a global study of 300 retail and media executives by Forbes and Sailthru, here are some insights that talk about retention and acquisition:
The report documented that it is much more cost-effective to focus on nurturing relationships with existing customers than it is to find and convert new ones.
Existing customers are 50% more likely to try new products and spend 30% more when compared to new customers
Retention-focused companies have shown greater increases in market share (14%) than their acquisition-focused colleagues (which was just 5%).
Despite that, as per Sailthru, 40% of companies have greater focus on customer acquisition vs. 18% that focus on retention.
This clearly states that businesses and agencies are still not positive about investing in retention campaigns, even though they are affordable.
What to Choose and When?
Cost, which has been a matter of concern for innovating and implementing strategies, is reported to be lesser in retaining users than acquiring. So, startups and businesses can take it as a win-win situation, in terms of monetary investments.
Some of the factors that are responsible for the higher incurring cost in customer acquisition are traditional promotion expenses (online and offline ads), inbound marketing expenses (social media, blogs, guest posts, SEO), business development, event marketing, Also, to trigger a new user, it requires an extraordinary level of effort and thought, which if invested in retaining, can give you better results.
The money and efforts, capitalized in gaining new audience, can be recovered by utilizing the potential of customers you already have on board. Customer acquisition is simply playing with volumes, where after a single purchase, we lose that customer because we aren't capable of maintaining the standards of quality and delivery to the users. And this goes on…
Technically, there is no single user/customer we have that we can count on or that can express loyalty.
Today's consumer is nimbler and more changing than ever in the history. The endless options of apps, sites and devices, in the digital world, make their lives more entertaining and easier. They want inventive, quick revisions, diversity, variations and not to forget, convenience.
It's not easy to retain them but certainly, if we work on targeted and personalized promotions, they will come back.  We can take advantage of the user data, likes, preferences available from previous purchases and aim at offering a more personalized experience to every user.
According to Appboy, 90% of people who engage weekly  for the first month after download are retained compared to only 23% people who are not engaged in the second, third or fourth week.
The only thing we (startups, SMB's and enterprises) all need to understand is that early engagement really matters because as per past researches, the chances that people who download your app and use it for the first time will return to the app in next three months are only 55%. Unfortunately, it isn't a good number.
Consistent engagement is the key. Remember, every week matters. Keep looking for new ways of marketing like inspiring videos, call-to-action emailers, jaw-dropping offers and discounts, ad campaigns on social channels, new releases, feedback and reviews, effective referral marketing and more.
One important thing to note here is that customer engagement stop leading to major jumps in retention. But this never means we stop trying. After all, holding back a customer is as valuable as acquiring a new one.