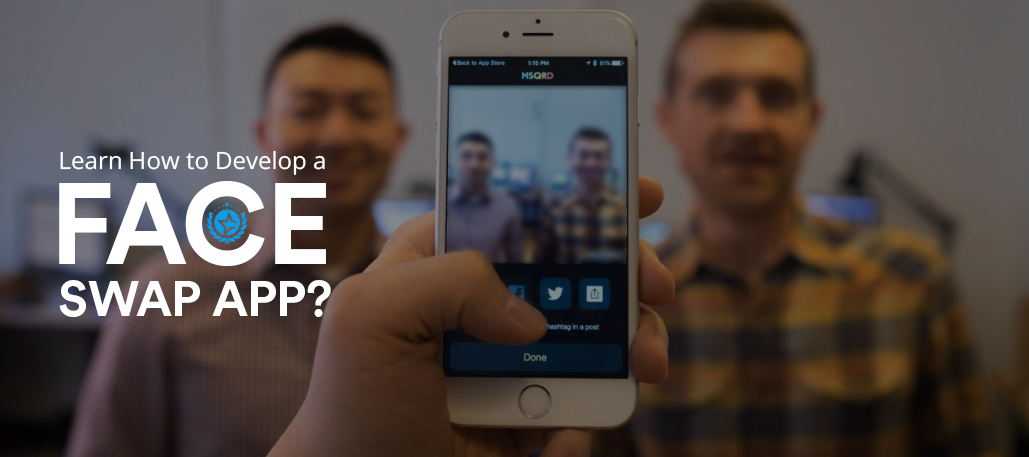 Learn How to Develop a Face Swap App?
With the release of Snapchat and MSQRD (Masquerade), face swap apps, the entertainment domain saw a surge in new users who were treated by the app in turning themselves into a zombie, panda or their desired friend's face. The real-time face swapping concept proved magical for the owners as the apps went viral among teens within few months of their launch.
The fad of experimenting with looks kept on rising with time especially among the young age groups. The selfie video apps managed to rope in billions of users within a short span of time. MSQRD was so influential in its approach and marketing that the social networking giant, Facebook acquired it last year to square up to Snapchat. MSQRD had more than 1.6 billion users when Facebook took control.
If you are too fancying your chances in this field and want to build a face swap app or a selfie video filter app then we're this article won't disappoint you.
Here's what it takes to build face swap app
For such an app, you need a powerful engine at the backend for operations to run flawlessly. Popular apps in this domain use majorly Google Cloud Vision API, an image analysis tool that recognizes uploaded pictures. Basically, face detection engine is the backbone of such kind of apps as further operations can only occur once the face is recognized accurately. So, as a business owner, you got to think this way and invest the majority of your funds in making this aspect strong.
Understanding the underlying
You need to understand What's required? What's important? And what can turn the tide in your favor?
Objects: An API is required to detect the notable objects in the picture, which can further be processed by the app's engine. Like the app should be capable of distinguishing between a human being and an animal or a human's face to that of an animal's. Plus, objects like buildings, furniture, cars and more need to be detected and of course differentiated from human beings.
Content: Appropriate content needs to be detected. Violent/adult/nude content needs to be bypassed/blocked. Hence, an API is required to identify the same to do the needful.
Emotions: Video filter app requires precise detection of emotions so that it can trigger the modifications thereafter. A potent API is therefore needed that can detect and analyze the emotions of people in the image or video.
How to develop a face swap app?
After you have understood the requisites of the video filter app, you need to focus on the features that are likely to take you above the existing players. Incorporating the ones, which are already popular in the existing apps won't help the cause as there won't be an extra reason for users to download your app ahead of others.
Look out for new/exciting masks to include
Analyze your competition for existing masks, characters, celebrity faces and virtual characters and try not to copy those. There is always a room for imagination and creativity. Hire an efficient team of designers, analysts and strategists to achieve this feat. Let them think, explore and widen their bars to the unimaginable that's where you'll make a mark.
Explore new filters and effects
Including effects of the popular apps is required but creating more like no one else is a requisite. You got to give your designers liberty to explore, think and implement. Think creative, be creative and add value to your users with every filter you include.
Include a flawless face swap feature
Flawless is the key here. The backend engine needs to be potent to detect, handle and swap between different faces, objects and elements. Unless the app works without glitches no one is going to like it and you'll suffer quick app uninstalls.
Hire a proficient team of developers
Developing face swap and video filter app isn't a piece of cake as it requires special skills, expertise and experience. You need to look out for top app development agencies for the needful to be done because the first impression is the last impression and users won't offer you a second chance.
This has to be a part of your app. In this modern era, no app can be successful without sharing content on social networks. Also, people like to share, flaunt and receive feedback on their activities from their friends and peers. Social sharing will also help you reach new people making a WIN-WIN situation for both, you as well as users.
Regardless of exceptional features and functionalities you offering to the world it's important to take note of the monetization aspect. Because nothing comes for free until it's mom's love. You can always include premium/paid masks and filters plus in-app ads can also help the cause. Remember that you don't overdo with the ads as they can be annoying at times.
Final Thoughts
This is an entire product with an array of features inbuilt. Hence, it requires a critical eye all the time. It's also important to understand that app development isn't a one-time process, it is prolonged process involving aspects like development, cloud maintenance, testing, execution, customer support, marketing, etc.
You need to have a strong business model to make money in addition to retaining your users. So, discuss your plan with an experienced mobile app development agency for a professional angle and achieve the invincible. In the end, just follow your heart, give your best shot and success won't be far away.