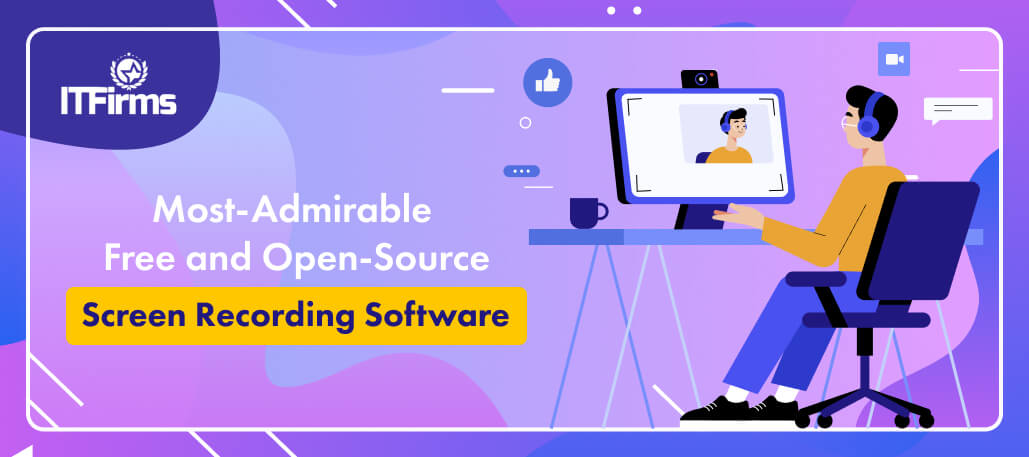 Most-admirable Free and Open-Source Screen Recording Software
Screen recorder videos help create how-to-do, DIY videos, Product demos, learning resources and chapter wise tutorials. ITfirms gives us a choice, know the best ones here!
With industrialists, software professionals, teaching staff – all working from home, because of the COVID-19 pandemic, organizations everywhere are jumbling for business software that supports video-conferencing, remote team collaboration, virtual classrooms, socio-cultural-virtual activities. It is sometimes challenging to find the right tools and technologies to make remote technologies work. Government and healthcare agencies are combating this on the frontline of COVID-19, trying to get hold of the scenario, not to lose out on important updates, keep the information flow intact, share potentially relevant information effectively to a wider audience. Schools and universities have already been into this mode for the past 4-5 months. Business software and service companies have been rolling out certain tools to fill in this demand-supply gap as a consequence of the pandemic.
Lately, screen-recording tools have helped teaching and coaching staff immensely in absence of in-person classes. Inversely, such videos compliment the monotonous text content, and the specific steps to solve a particular issue or share knowledge, plus writing a very long description is tougher than making a presentable video. Best screen recording software eases this task of preparing and sharing videos.
How should an Ideal Screen Recording Software be like?
It must be user-friendly with easy to use interface
It should have comprehensive tools to capture, edit and save in different formats
It should have capturing capabilities – full screen, half screen, a quarter of the screen and likewise. Scrolling capture and timer controlled capture screens
Customized toolbars – tools that you require to use often must be included in screen recorder software
How does the screen recording software work?
Screen Recording Software work on the simple principle of screen rendering – the screen recording application reads that content and transfers that to its memory. This captures a single image. In case multiple images have to be captured, this process is repeated in cycles. These multiple images can then be compiled and converted into a video required for how-to-dos, product demos, tutorials, learning resources and likewise.
Key Features of ShareX
It is free and open-source video capture software that allows capturing and recording any area of the screen and sharing it across in one single click. Image, videos, text can be uploaded to 80 different destinations. ShareX allows capturing full screen, or partial screen screenshots in windows of various shapes rectangle, triangle, square etc.
Effects can be added, drag and drop, clipboard upload, Windows Explorer context menu
A productivity tool, advanced screenshot capture, screen recording, file-sharing and printing are inclusive.
It also supports URL shortening, and URL sharing services.
It supports 40 different file hosting services for text and image uploading like Dropbox, FTP, Imgur, etc.
It is powered with advanced tools like an image editor, DNS changer, directory indexer, and many more.
Key Features of OBS Studio
OBS Studio is completely free, works in the same way as normal screen recording software but with a high definition mask.
It saves the video in FLV format after encoding and can eventually be streamed live to YouTube or Twitch.
The API on which it works allows implementing customizations and functionality according to requirements using its plugins and scripts.
It allows previewing the creation before you post live.
It also enables customizing keys for actions like the transition between scenes, start/stop streaming, adjusting audio, etc.
It has a spontaneous audio mixer including filters like noise gate, noise suppression, and gain, it can provide full control with VST plugin support.
New resources can be added, existing resources can be copied
It has a systematic panel of settings that provides access to a wide range of configuration options that can improvise your recording.
It has a modular 'Dock' UI that enables you to customize the layout according to the requirement. You can even make each dock to pop out to its window.
Key Features of CamStudio
It is a screen recording software that records HD videos and converts them into high-quality AVI video files.
These can later be converted into streaming Flash Videos that save bandwidth on any platform.
It facilitates customizing cursors while recording the video
It includes Lossless Codec helping to create explicit videos with small file sizes.
It has the option of capturing the whole screen or a specified section of the screen
Key Features of VirtualDub
It is an open-source screen capture software that has high-speed screen recording program in terms of interface and video processing
It can process many files and customize using third-party video filters
It can also process AVI files, but can read MPEG-1 files and can also handle BMP images
Noise reduction, field swapping, and downsizing are possible on a real-time basis
It has an integrated volume meter and histogram that helps monitor its input level
Audio tracks can be added/edited/removed without disturbing the video
Audio and video both can be compressed and decompressed.
The Video preview is available before making it live.
It can remove segments of a video without decompressing.
It has integrated MPEG-1 and Motion-JPEG decoders.
Key Features of Veed.io
Free online screen recorder.
The easiest way to record and capture your screen online.
Works on your Windows or Mac computer, no software download or plugin required.
Capture your screen with multiple layouts.
Choose a layout that best suits your content.
Record your screen and mic at the same time.
Add yourself in the scene with you webcam side by side or on top of each other.
Screen capture meets powerful online video editing.
Once your screen recording is finished, edit your videos online with our powerful video editor.
Add subtitles, create overlays, cut between scenes and much more.
Perfect for product demos, walk through videos, annotated videos and much more.
Key Features of SimpleScreenRecorder
SimpleScreenRecorder is an open-source video capture software that is a straightforward interface and is extremely easy to use.
It is faster than other screen recorders
It supports X11 and OpenGL and has a Qt-based graphical user interface.
It can record the entire screen or a specified part of the screen.
The recording can be paused and resumed from where it was left.
It supports many different file formats and codecs and has the scope of adding more. It has a Qt-based graphical user interface.
Tooltips are available.
It creates a smooth video with better performance using computers having multiple processors.
Video previews are available.
Proper synchronization of audio and video is possible
It automatically reduces the video frame rate if the computer is too slow.
At the time of recording, this software also shows real-time statistics like file size, recording time, frame rate, bit rate, etc.
This software supports a plethora of codecs and file formats as it Uses libav/ffmpeg libraries for encoding.
Key Features of RecordCast
Free online screen recorder.
No registration and download required.
Make screen capture of the whole screen, application windows, or browser tab as you need.
Download your screenshot in seconds, and add text, music, widgets, and transitions to enhance it.
Built-in video editor can polish your recordings by adding titles, annotations, effects and more.
Key Features of UltraVNC Screen Recorder
It is faster than other screen recording software.
UltraVNC screen recorder integrates the mirror driver, which is the cause of its fast processing system.
The video prepared by this software is saved on the hard disk, and you can share it on your preferred platforms.
This software can record audio and sync it with the video.
Key Features of Freeseer
Freeseer is a free and open-source cross-platform video making software, coded using Python and utilizes Qt4 for its GUI, and GStreamer for audio & video processing.
It is based on open standards, Freeseer supports royalty-free audio and codecs.
It allows audio & video streaming using RTMP and Justin.tv plug-in
It can support basic keyboard shortcuts
It includes a talk editor which can manage talks to be recorded
It has report editor for reporting issues with recorded talks
It can upload videos on Youtube
Conclusive
Open Source screen recording software can turn anyone into a professional. It empowers them to create videos and share informational content, free of cost. Though not comprehensive, the list of open-source screen recorder software discussed by ITFirms above are the ones that are widely used for screen recording, video creation and sharing purposes. The choice can be based on the requirement, the bandwidth, the platform, the problem it solves, the technical expertise and the popularity in the market.