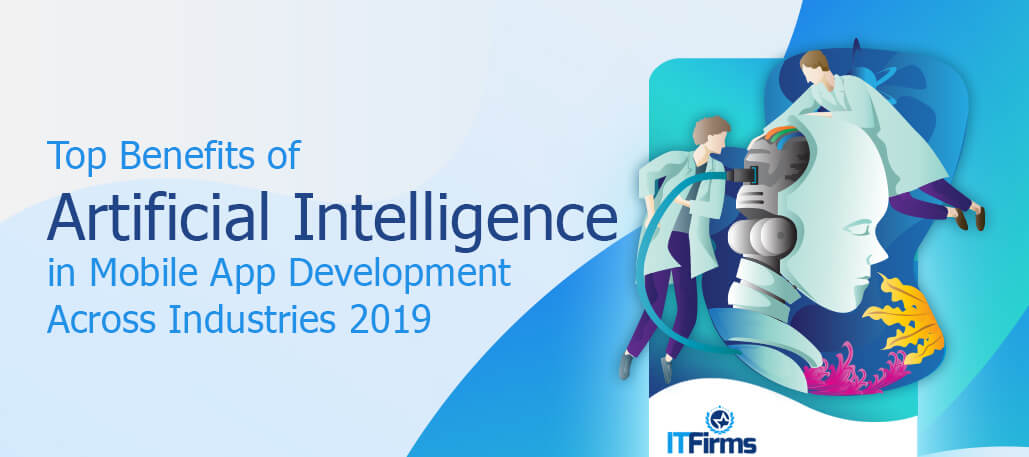 Top Benefits of Artificial Intelligence in Mobile App Development Across Industries 2022
AI takes the cognitive burden off the providers, reduces stress and increases confidence.
Forrester research reports have recently revealed that the businesses that make use of artificial intelligence (AI) and related technologies will steal $1.2 trillion per annum from their less informed peers by 2020. Although AI is 69 years old (since 1950), but it still feels as an acronym or jargon if someone talks about making use of a virtual assistant to make workplace communication effective, automating the hiring process, ruling out mundane screening, time-consuming paperwork and annoying data entry.
Simultaneously, medical professionals cannot easily accept the fact that machine learning can help prevent medical errors by offering both clinical decision support during critical medical events as well as documenting those events electronically in real-time.
Application Areas of Artificial Intelligence (AI)
No one could have possibly imagined that AI could improve reliability, predictability, and consistency. With quality and patient safety. A decision augmentation tool, but it still does not have a free reign without human interaction and guidance. It cannot completely replace doctors and nurses, but it can at least make them more efficient, effective and happier in their jobs.
In Cyber Security
Making cyber-security more intelligent, AI allows companies to detect vulnerabilities in business applications as ERP or financial system. The attacks from hackers do not go unnoticed even if there are different from usual ones.
Supply Chain Management
With increasing 'Uberization' of things, people have felt an increasing need to improve their working areas like supply chain operations, customer data, and analytics to improve customer experience.
In the shipping and logistics industry, when consumers demand shorter wait times, whether it is between retailers and manufacturers or manufacturers and distribution centers etc. If the trucks can be automated and robots are deployed for picking systems, the supply chain fulfillment can be covered overnight in comparison to a week.
Sports Betting
In sports betting industry, where there is a large number of games and numerous people are involved, it becomes very difficult to satisfy their needs amongst all the odds of making the database, it becomes easy to evaluate the potential permutations of each sporting event, thereby increasing the accuracy.
Streamlining the Manufacturing Process
AI can even help in streamlining the manufacturing process. Machine learning and artificial intelligence can be used to predict which raw material is better (after quality assurance), which data must be pulled from cooking process, based on random dynamic conditions, which materials must be injected to ensure continuity of the process to continue with golden batch manufacturing of the products, improving the yield and customer satisfaction.
Hotels and Casino's
Hotels can understand the preferences and behaviors of their potential customers, understand what suits them. They even make use of virtual reality to enhance their dining experience, make their trip a soothing one, by giving them larger than life experience. AI is also useful in clustering the guests in dynamic clusters and segmenting them according to their preferences.
Retail (Online) Shopping
In the e-commerce industry, AI can simply introduce that extra bit of the relevancy that programmatic advertising has been long waiting for. Individualized display ads according to users, handling invoices and payments – enables marketers to focus on the big picture.
How AI is desirable for Mobile App Development?
Artificial Intelligence (AI) can be as progressive as the upcoming technologies. It can make applications behave intelligently without human interaction, make people learn chess, interact with users (as customer support agents), can make online recommendations in real-time, thus help people make a smart choice before purchase.
AI converts the raw data into an intellectual property that is useful in solving many problems.
The applications can become more reasonable and logically correct, which will eventually be useful for varied problems. As with Uber, automated reasoning capacity helps find riders easily.
Making product recommendations based on purchase behavior and search history of users is an important aspect that drives most of the e-commerce platforms.
Optimizing the user news feeds and contents that evoke a reaction or generate a response
Racking Up
Top mobile app development agencies are increasingly imbibing artificial intelligence in their daily mobile applications, to make them more intelligent. Artificial intelligence is more about learning from experiences and behaving like humans. Indian app development firms have been ping-ponging towards justifying current and future applications and their implications, thus finding out the reason behind a behavior, representing the knowledge, planning, learning, processing natural language, perceiving an object to behave like a living thing and understanding the general intelligence in the long run.
Thus, machine learning to learn from experiences, deep learning to build self-educating machines, a neural network to make associations, cognitive computing to make inferences from context, natural language processing to understand the language and computer vision to understand the images etc., applications of this technology have already begun to revolutionize industries.