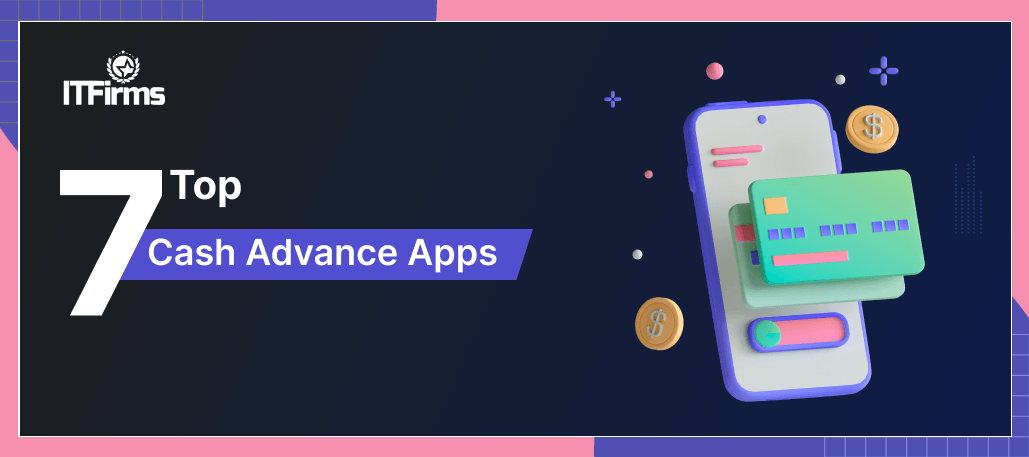 Everything about Cash Advance Apps – Top 7 Cash Advance Apps
Did you know? – More than 70% of users that take the cash advance apps service at least once a month.
What does this prove – The regular need and demand for short term financial aid among people. Surprised? Be ready for another blow…!
In 2021, there were 7.5 million cash advance apps in the USA and the number has reached approximately 12 million in 2023.
These numbers prove the massive popularity of Cash Advance apps among people, especially in the USA. These apps help people avail money before payday and save themselves from financial troubles.
Today, in this article, we are helping readers understand everything about such apps, including topics related to developing cash advance app, the tech stack required, cost, how to find an app development company, etc.
What is Cash Advance App?
Cash advance apps allow their users with the money they have already earned, i.e., an early payment before the actual payday. For instance, your salary is about to be credited after two days but you need some short term cash today, then you can get some assistance from cash advance apps here.
These apps charge a real nominal or no fee at all from its users. Further, users have to link their bank accounts with the app and the app evaluates their income and expenses.
How Do Cash Advance Apps Work?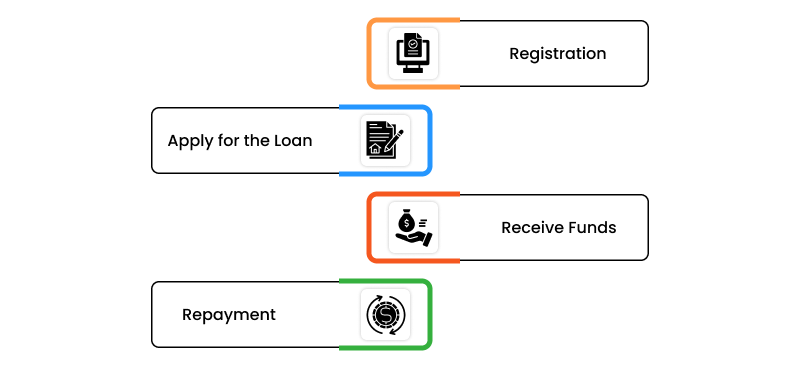 Cash advance app offers earned wages before the actual payday, helping users with short-term financial assistance. The app works as:
Registration
The user needs to register on the app and fill the application with all the required information. These apps might require your name, phone number, bank account details, employment details, address, and a valid ID proof to prove your authenticity.
Apply for the Loan
Once a user fills out the application, it needs to apply for the required amount of loan on the app. The app should have an inbuilt calculator to get you an estimate of interest and fees. The backend team then evaluates your application and considers your credit score along with additional factors.
Receive Funds
Once the app backend team approves the fund request, the user shall receive it in their bank accounts. The fund transfer is not time taking and will take place under a day.
Repayment
This is the final and automatic process. The app debits the necessary amount from the bank account (linked to the registration process) along with the fees (if any) automatically on the due date.
List of Top Cash Advance Apps
There are a variety of Cash Advance Apps on the Play Store. Every cash advance app has different features and subscription fees creating a conflict as to which one should be chosen. Here's a list of top cash advance apps that often pay the best deals. The details of all these apps are given so that you can choose the best one according to your requirements.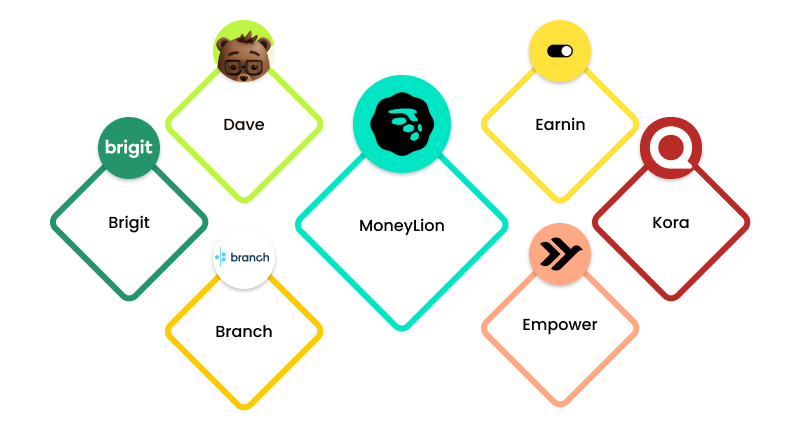 Dave
Dave is a great cash advance app which is mostly suitable for small loan amounts. It can save you from overdraft fees and charges no extra fee. The best part about Dave is that you get the option to borrow $500 instantly without any interest or credit check. So for those who don't have a great credit score, Dave can come in handy. Further, subscription fee for Dave is $1 per month.
The expected time by which you can avail the payment is 3 days. If it's an emergency and you require the money on an immediate basis, an app like Dave provides you with 'Express Payment Option.' You will be charged a minimal fee of $0.99 – $6.99 and the money will be transferred into your account the same day.
Brigit
Brigit is another great cash advance app if you want to protect yourself from overdraft fees. You can avail advance payment up to $250 in one pay period. Good part about using Brigit is that it gives an interest free paycheck advance without checking on your credit score.
One can avail services of Brigit in two ways: free plan and Plus membership. Plus membership is available at $9.99 per month and you will get access to quick cash, theft insurance, credit building, payment on the same day, etc. On the other hand, free membership will be free but these services would be missing and it might take around 2 days for payment of money.
The only setback of this app is that most of the features are open to paid customers and the financial tools are limited.
MoneyLion
If you want to improve your credit score, MoneyLion is your go-to option for cash advance. The app reports all the loan payments that you make, to the credit bureau, thus reflecting a good credit score. The app also offers you cash advance up to $250.
Moneylion provides you with the option to transfer the funds from savings accounts to an ETF portfolio, chance to win debit card rewards, a refund policy if you find something cheaper within 90 days and more such features. Furthermore, the payment system is quick and you can expect money on the same day also. The services of this app can be availed after paying a monthly administrative fee of $1.
Earnin
Earnin is one of the best free cash advance apps. It provides you with a cash advance up to $500 without any fee or interest. The limit can further be extended up to $750. If you like the services, you can pay a voluntary tip. The average time taken for payment is usually one or two days and if you want quicker cash out, you can use the Lightning speed feature. It also comes with an automatic overdraft protection.
The only con of using Earnin is that there is a daily limit of $100 a day. Also, consistent pay is one of the eligibility criteria to use this app. So the benefits are not available to freelancers and remote workers.
Empower
Empower as the name suggests empowers you to get cash advances without fearing about late fee and credit checking. You can avail cash advance of up to $250 and no interest will be charged from you if the amount is returned by the next paycheck date. The best features of Empower include instant transfer, a debit card account with overdraft fee protection, up to 10% cashback, assistance in improving credit score, etc.
The only downfall is that you have to pay a monthly subscription fee of $8 to avail all the features.
Branch
Branch is the most suitable cash advance app for budget-minded peeps. But it is only available for people employed in instant pay organizations and it can be used only if it is sponsored by the employer. Amount transfer to an external account is usually free but in case of instant transfer without Branch debit card, the fee charged is between $2.99 – $4.99. An average transfer takes up to three days.
Various features available on Branch include overdraft warnings, a budgeting tool, an earning tracker, schedule management etc. You can also use Branch wallet for interest-free advances and free ATM access.
Kora
Kora is a cash advance app designed for college students and recent grads. College students with a limited credit history often face financial crunch and require cash advance. Therefore Kora helps them in seeking financial help and availing car loans, personalized money tools, reward visa cards, etc.
One can get up to $3000 line of credit without any requirement of annual fee. The repayment terms can also be personalized. Once the amount is requested and the preferred timeline is mentioned, the app will provide adjustable repayment terms. The only negative side is that the app is only available in 21 states.
How to Develop Cash Advance Apps?
Define an Idea: The initial step is to brainstorm the idea and define its features. There are already a lot of cash advance apps in the market and thus, coming up with an app with a USP and unique functionality is required. This shall help in establishing a place in the market.
Choose Software Development Company: Having a reliable and experienced development company as your technology partner is essential. Developing Cash Advance app requires some serious skills and a company with a similar experience and the required tools & resources can do your work best. An effective mobile app development team includes developers, QAs, testers, and a project manager.
Frontend: Design is the most important part of the app development process. A user interacts with the website frontend and it greatly determines the bounce rate of the site. UI/UX designers work on building a website's frontend and continuous client feedback is required at this stage so that the final product matches with the expectations as well.
Backend: Backend is executing the frontend design and interface into reality using varied programming frameworks and technologies. In other words, backend developers program the app functions using several technologies. Your team must have experience in building a similar app before to avoid bugs, errors, and other issues, that eventually save time. This is a major difference in inhouse vs outsourced team. While an in-house team might not include experts of all domains, an outsourced agency has an extended dedicated team of experts.
Testing & Deployment: Testing is the analysis of the app and finding out bugs & errors. This phase is important to ensure the smooth running of the app after the launch. The testing is done by testers and quality analysts of the company and all the bugs are fixed to improve the platform.
Features to be Included in a Cash Advance App

Sign-up: A sign up and login feature is necessary to acquire the essential information from the user. Users can update their name, phone number, bank details, employment history, etc. It is important to make the process smooth, easy, and less time-consuming for users. You can enable features like signup with Google or social media to save time.
For an extra layer of security, you can verify the user profile with ID verification.
Cash on Demand Service: A cash advance app is designed to help individuals who need urgent money. Therefore, it becomes necessary for such apps to offer cash with ease and usually on a single touch. The money should be sent to the user's requested source.
Note that the underlying work of cash advance apps is to lend money easily to customers.
Repayment Facility: Another crucial feature is integrating repayment methods that can debit as soon as the salary credits in the user account. The user would also be at ease with the feature and can avoid unnecessary charges if he skips to repay.
Calculator: Money lending calculator is common among cash advance apps these days and helps users with an approximate calculation of the loan along with the interest. The feature is helpful for users to make an informed decision using the information they need.
Support Center: For users who need assistance you can add a help & support button. The feature shall help users to contact the support team anytime through email or calls. Queries like difficulty in understanding the app and technical glitches are common among these types of apps.
Tech stack required to build cash advance apps
| | |
| --- | --- |
| Function | Framework/Technology |
| Backend Technology | Node.js, Python, Java |
| Programming Languages | Ruby, JavaScript, Kotlin, or Swift |
| Real Time Analytics | BigData, Cisco, IBM |
| JavaScript Framework | React, Express.js |
| Webserver | Nginx |
| Big Data Tools | Presto, Druid, Airpal |
| Cloud Database | Amazon RDS, MySQL, MSSQL |
| Key-Value Storage | Redis |
| Cloud Storage | Amazon S3, EBS |
| Cloud Hosting | AWS, Azure |
Cash Advances App Development Cost – Perfect Analysis
Building a cash advance app is a complex task for developers and requires knowledge of several latest technologies. There are a number of factors that decide the final cost of such apps like team size, skills required, location of the team, and the app functionality chosen.
For instance, top mobile app development companies in Europe charge between $50 & $200 while an expert with the same skills in Asia will charge between $20 & $70. However, heading with the cheapest development company is usually not the best solution as an effective mobile app development team will work effectively and efficiently, thus saving time, and therefore, the final cost. In conclusion, cash advance apps generally range between $25000 and $75,000.
How long does it take to create Cash Advance App?
Cash advance app development is usually a time taking process and requires good technical skills & resources. The time required to develop such apps depends upon varied factors such as developer's location, app design, functionality, number of platforms, and many more. Considering a usual & average time, it takes approximately 5-6 months to build a cash advance app and includes all the steps from ideation to deployment. Note that top app developers might take much less time than beginners, ultimately saving the costs and time both.
Closing Words
Cash advance apps are becoming popular nowadays. These apps help people avail money before payday and save themselves from financial troubles. Thus, venturing into the lending business through this model can prove to be helpful. We've given you the list of top cash advance apps along with the details required for developing cash advance app. App development cost plays an important part when choosing your technology partner but this is not the only factor to consider. Top app developers will not charge the lowest but will deliver a highly responsive and interactive platform. Thus, cash advance apps might seem like a great deal but cost-benefit analysis is a must along with research and choosing app Development Company.
Data Sources: softermii.com, billpin.com