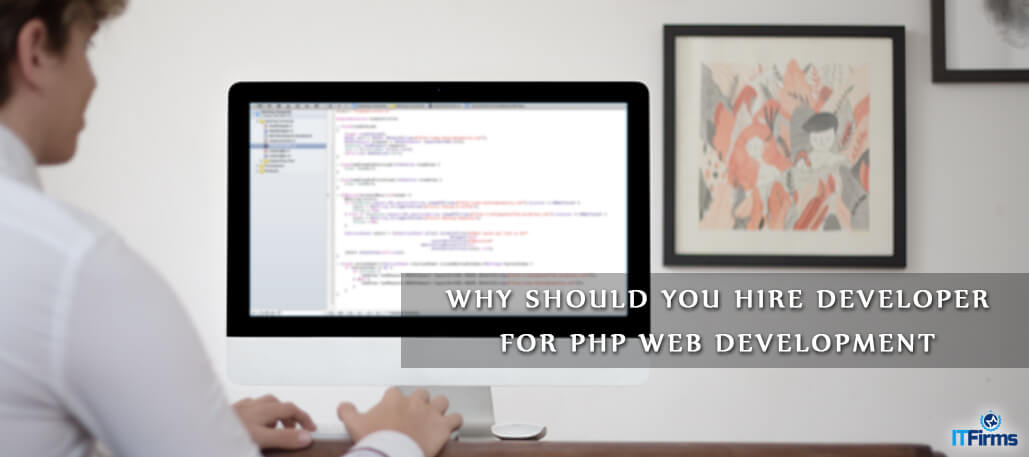 Why Should You Hire Developer for PHP Web Development?
Well, about half the world's population (49.7%) access the internet today, as per latest insights by internetworldstats.com. The numbers in the future are going to rise anyway. Almost around every web programming language and framework is enjoying a global presence on the World Wide Web.
With tons of web programming languages, the traditional ones like Java, C, C++, C#, PHP, Python JavaScript, Visual Basic, SQL, and new addons like Ruby on Rails, R Programming language, web development has become much more veritable and promising. Consequently, the developer's and business owner's choices have extended to what suits them better in what kind of online business they are starting. Whenever we read or hear from anyone about the top programming languages for the year, along with basics of Java, C and JavaScript, there's this one name that's gaining popularity and moving ahead with each year passing- and that's PHP.
PHP web development is the new bliss to the industry. Though PHP has been into the industry for several years, its significance has made strides in the last five years, like never before. Even with a little knowledge, business owners and enterprises are willing to invest their money on an online business that's devised on PHP. 'Because there are some things that no other web programming language entail-claim top PHP developers.
Competitive advantages
Typically, if you talk about a server-side programming language, there's nothing better than PHP web development. It's a foundation of many of the recently established Content Management System like WordPress and popular websites like Wikipedia, Facebook and Tumblr. Winning the awards of 'Language of the year' in 2004 by TOIBE and 'Third Most Popular Programming Language' in 2010, PHP is the most sought-after, having been trusted by millions of brands, enterprises and startups.
Working with hundreds of top PHP web development companies, we understand every bit of it. Why every company should opt for PHP web development. There are not so ordinary but some outstanding benefits of making a choice.
Open-source: You never need to pay for expensive upgrades or rely on the manufacturer to release the latest version if something doesn't work well. There are no licensing fees but the certain upgrades can be accessed for free, which is a huge plus for budgeted projects.
Well-supported: With over a thousand websites powered by PH, many of whose traffic is measured in millions, PHP web development supports servers like IIS and Apache. A developer, if stuck, can easily find online documentation for help. And as we know, PHP is a continuous large and growing community of passionate and experienced coders, their support and help is available every time.
With each bug request sent to the server, PHP cleans and starts over. This certainly is a sorted step towards bug fixing as a problem with one element, others aren't disturbed. Debugging is simpler and fun.
Provides freedom to code: Web applications built on PHP can cater to any industry your business belongs to- from retail to banks to software companies to restaurants to media and entertainment. Open source framework, PHP web development is not limited to any tools for script development. It can work in a simple notepad in different editors like Eclipse, Netbeans. At the same time, PHP can work efficiently on different OSes like Windows, Linux, Unix, Mac OSX.
Speed and Scalability: The internal structure of PHP allows increasing the cluster size by adding more servers as the size of your website increases. PHP uses minimal storage space in the system resources, which enables it to operate faster than any other scripting language. As a large number of hosting providers support PHP, the site hosting is quick.
Unlimited choice of frameworks: Offers a number of most popular and preferred frameworks including CakePHP, Zend, Yii, CodeIgniter, which are faster, lighter and the least like a framework.
Low development cost with high performance and reliability
New in latest PHP version
Few of the latest PHP upgrades present a stronger base to opt for PHP web development for your next project. Our top PHP web development companies suggest few more modern reasons behind choosing this server-side programming language to fulfill their client's web development requirements.
SimpleXML extension has new tools to read and modify XML files.
SQLite for embedded server-side storage mechanism
Iterative process for data handling and data management
Modern and un error handling modules
New MySQL extensions and improved support
Extended support of object-oriented programming
Hiring a top PHP developer
Now that you've known how popular and fruitful a programming language is PHP, you must also get the hang of why there is a need to hire a PHP developer from a full-scale PHP development company. Why can't a local neighbor or a freelancer friend can give productive results?
It's simple as that there are many brands that can provide you a cup of coffee, but when it comes to having a perfect cup, you only visit your favorite Starbucks. Not only because it's a popular brand, but because they do the best brewing and bring the most premium cup on your table. Same applies to your business. And yes, you can sometimes compromise with your coffee but never for your business. Right?
Though PHP isn't as complicated as Swift or Java, an expert hand can always do it faster. leveraging the top benefits of the language and implementing brilliantly in your most-loved business. Don't let your in-house team focus on something they aren't good at, rather let them devote their attention in monetizing the website and bringing more traffic to the site.
Not giving it a second thought, choose from our list of top PHP development companies, that are rigorously evaluated on quality and user experience. We bet you will make a great choice.