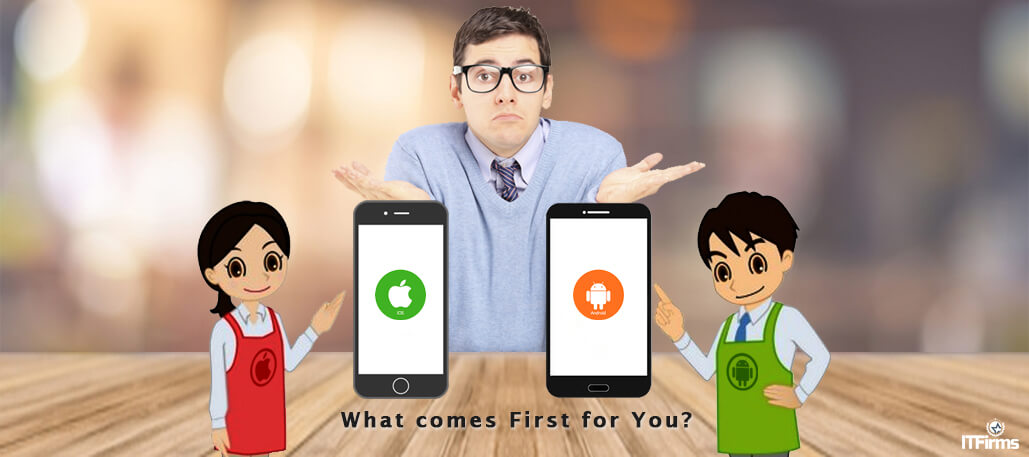 Android or iOS App Development – What comes First for You?
This is always a point of debate – which one between Android or iOS is the most favorite of businesses. Well, this debate gets even more intricate as you add the facet of applicability, reach and utility to it going beyond the conventional parameters of cost and quality.
Though, it is all obvious and has been established time and again that iOS and Android have their own orientations, approaches, persona and traits to appeal different user groups, but that does not seem to sufficiently answer a business or brand asking you the answer on what to go with when planning for mobile app development.
Making this question easy to answer we have come up with 5 precisely chosen and finely curated ideas that will help you decide which one you should be picking as your first choice.
Demographics
If you compare both the platforms on the basis of user demographics, Android is spread across a wider range of age, profession, social grade and other category groups, when compared to iOS users. However, iOS targets users with the need of higher service value propositions. So, if you need to cover a wider userbase and diverse range of needs and use cases, you should better go with Android. Otherwise, if you want to focus on a premium user group with quality preferences and accessibility traits, you should keep iOS app development at priority.
Must Read: Top 5 iPhone App Development Trends to Dominate the Market in 2018
Revenue model
iOS is more inclined towards fetching revenues through paid apps. This is essentially because the user group using iPhone comes from a segment that has higher capacity and propensity towards spending on apps, as proven by different research reports and market studies over the years. That is the reason why If you want to put up with more direct and upfront revenue model and want to keep your monetization strategy aggressive, there are more chances to strike success going with iOS app as compared to Android app.
Fragmentation
As a proprietary platform, Apple comes with a combined ecosystem of software and hardware, which allows it to have a more control over the release cycle. This collective approach to offer mobile solutions makes iOS more secure and quality driven in its offerings. However, at the same time it becomes more rigid and bolted in its offerings. Android on the other hand, is more flexible with its approach as It invariably combines with third-party tools and services to offer you more performance possibilities. So, if you weigh compatibility over security, you should go with Android app development.
User experiences
iOS platform is all based on the idea to offer a higher user-driven entity and better user experience. The platform is equipped and validated to serve developers with ability to build apps based on rich feature properties, fine detailing and advanced communication interface. Be it device, software program or the connecting APIs and services, iOS has the reputation of offering better user value than Android. This is primarily because unlike iPhone which is a proprietary platform, Android is an open-source community platform that allows different third-party resources and services to fuse in and act together, which allows it lesser control over maintaining user experience standards. Thus, that sums up to the fact that if you need to go with better user experience, go with iOS.
App marketplace
Most of the businesses and product ventures today look for a platform that offers them a highly promising marketplace experience. They want things to be well defined, aptly arranged and resourcefully appointed to get them broader and richer exposure to more opportunities. iOS offers providers with a plush and viable platform to connect with and sell to users that are better oriented, highly perceptive and more qualified to be app customers. Putting that in simple words, if you want to have a more receptive marketplace experience it's better to go with iOS over Android.
Must Read: Mobile App Development Trends
Conclusion
Putting all that together, you can simply find that when it is more about quality and value it is iOS that wins over the game in almost every department. However, when you talk about numbers, compatibility and range, Android gets you the most favors. So, practically if you see, these are altogether different factors to compare these two for validity and value. However, if you compare them aggregately, keeping every fringe aspect and seeming possibility on neutral, and of course comparing them more on their absolute properties and traits, iOS should come first for you in the current scenario.