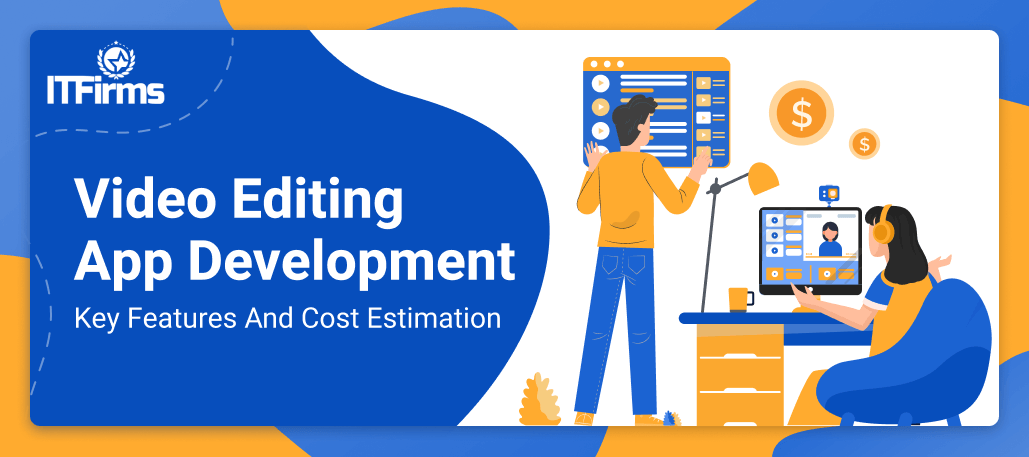 Video Editing App Development: Features, Cost, Technology Stack, Business Model
See what our experts have to say about Video Editing App!
Video editing software helps in making amendments in pre-recorded videos to highlight or accentuate some features, or include animations to beautify its overall appeal. Video editing involves structural edit, rough/line copy edit, fine copy edit. These help in accomplishing various tasks like simple cutting, theme-based editing, reduction editing and compilation.
Linear Editing: It involves working with the timeline on one horizontal time axis. This often reduces the overall length of the video.
Simple Cutting: It involves removing some unneeded sections from the video like background noise cancellation, fast-forwarding a scene, cutting the poor quality etc.
Bespoke Editing: It involves collecting multiple recordings of an event and then edits them together. It also involves reducing the time of the video by choosing bits to keep and bits to remove based on priority.
Review for Editing: This type of editing is particularly useful probably when you are not aware of the content of the videos before recording to digital.
Editing Based On Theme: This involves making implicit or explicit changes to the video like adding a touch of holidays, or festivities to the video, retaining the best clips.
Reduction Editing: This involves taking down long events to something manageable. It sometimes highlights a teaser or a summary.
Composition Editing: This includes multi-source editing, you film we edit, extraction from a DVD for editing, adding voice commentary, film editing, editing for art, editing film from live events, length reduction editing, editing to accentuate highlights, photo slideshows, end of life Photomontage, subtitling and much more.
Video Editing App Features
Video recording apps are limited by the technical capabilities of the phone's camera, so the higher the configurations, the higher will be the capacity. More features:
These support recording in various file formats including mp4 and 3GP
These support frame rates from 24 to 240 FPS
They should be enabled with manual controls for all functionality
Video editing apps should be enabled with audio recording with on-screen audio meters, Bluetooth microphone input etc.
Trimming and cutting video for uploading to social media integrations
Special video effects (filters, overlays, transitions, fast, and slow motion, playing in reverse etc.)
Auto-generating videos based on available images and videos
Adding audio effects like adding music, applying voice filters etc.
Top 20 Video Editing Apps for 2021
There are numerous video editing apps for android, ios and web. Have a look at the most-used video editing apps currently:
| | | | |
| --- | --- | --- | --- |
| 1. Magisto | 2. Hyperlapse | 3. Wondershare FilmoraGo | 4. InShot |
| 5. Splice | 6. Adobe Premiere Clip | 7. PicPlayPost | 8. Blender |
| 9. Lightworks | 10. Shotcut | 11. VSDC Free Video Editor | 12. Machete Video Editor Lite |
| 13. Avidemux | 14. HitFilm | 15. VideoShow | 16. PowerDirector |
| 17. Quik | 18. KineMaster | 19. iMovie | 20. Clips |
| 21. Cameo | 22. LumaFusion | 23. VideoGrade | 24. Pinnacle Studio |
| 25. Videoshop | 26. Funimate | 27. ALIVE Movie Maker | 28. Vizmato |
| 29. FilmoraGo | 30. WeVideo | 31. MX TakaTak | 32. Instagram Reels |
How to create video editing software?
Firstly, you would need to decide the type of video that we require: Animated Video, Demo Video, Interactive Video, Live Action Video and Animated Graphics etc.
Secondly, you would need to estimate a timeline of video creation/editing as in when do you want your video to be ready – as soon as possible, in less than 2 months, in less than 3 months, or longer.
Thirdly, preliminary features that should not be avoided for open-source video editing software:
Define the problem, focus on your idea of creating the best video editing software free
Do your research
Define your target audience according to demographics – age, location, interests, income level
Analyze your competitors
Do a SWOT Analysis to check their USP's
Create a Minimal Viable Product (MVP)
Make a list of features that you wish to have in your software to edit videos free, like trimming and adding frames, merging separate files into one (photos and videos), adding music or sound effects, colour correction and transition settings, sharing to social media platforms (Instagram, Tik Tok, Facebook, YouTube), save/load video
Fourthly, the MVP represents the app just before actual deployment. It represents the outer-face of the app, as it will appear to the customers. Therefore, it is important to select and showcase the features that best fit the client's and market's requirements. More features that can be included in the video editing online software can be – synchronizing with various music services, cloud storage, speed up/slow down settings, reverse video option, picture-in-picture option, AI editing assistance and likewise.
Select a Suitable Technology Stack for video-editing app development
| | |
| --- | --- |
| Module/Feature | Technology |
| Registration and Login | Firebase Dynamic Links |
| Trimming Videos | FFmpeg (Android, iOS), Transcoder (Android) |
| Colour Correction | GPUVideo (Android), MetalAPI (iOS) |
| Adding music and audio effects | MPMediaPickerController |
| Sharing on Social Network | Twitter SDK, YouTube SDK, Tik Tok SDK, Facebook SDK |
(Adapted from Cleveroad)
Select a Suitable Monetization Model for Video Editing Software Free
The selection of a monetization model in the early stages of development helps in avoiding overwork in later stages of development and during alpha-beta testing for different use cases. We are listing four ways in which you may earn money with your video editing app:
In-app advertising: Even if the app is provided free, pay-per-click advertising helps often. This comes in handy in the case of iOS app rather than Android apps.
Freemium Model: The app overall remains free to download, but some features require in-app purchases. You might be asked to pay some amount to remove the watermark etc.
Subscription: In this model, the overall app is free but with an option buy a subscription.
Paymium: This model is more prevalent in iOS, wherein the apps are paid to download and have in-app purchases at the same time.
Some of the Best Video Editing Apps and Their Monetization Models
| | | |
| --- | --- | --- |
| In-App Advertising | Freemium Model | Subscription Model |
| VivaVideo | InShot | KineMaster |
| Magisto | PowerDirector | Adobe Premiere Rush |
| Cameo | FilmoraGo | Videoshop |
Android Apps
Video rendering performance – it is currently slow in Android
Management of Undo/Redo actions – cancelling actions is difficult and understanding which ones can be cancelled is typical
Filters (sepia, negative and so on) – implementing readymade filters
iOS Apps
Image and video orientation – if development is done simultaneous to developing an android app, the video editing app might flip over
Precise video merging with pictures – need to take care while working with pixels otherwise watermark might not be visible
Correct adding of audio tracks – It is difficult to manage scalable audio volume levels
How much time and costs are invested in the development of a professional video editing software free download?
| | | |
| --- | --- | --- |
| Feature | Approximate Time (in hours) | Approximate Cost (in $) |
| Sign Up Screen | 6 | 300 |
| Sign In Screen | 19 | 950 |
| My Video Screen | 50 | 2500 |
| Adding photos/videos (from the gallery) | 3 | 150 |
| Trimming Videos | 40 | 2000 |
| Adding Frames to Videos | 14 | 700 |
| Merging separate files into one (for photos) | 28 | 1400 |
| Merging separate files into one (for videos) | 22 | 1100 |
| Adding music and audio effects | 28 | 1400 |
| Correcting colours | 320 | 16000 |
| Transition settings | 106 | 5300 |
| Sharing across social network | 16 | 800 |
| Save Video | 2 | 100 |
| Load Video | 16 | 800 |
| Total | 670 | 33500 |
(Adapted from Cleveroad)
Carrying the Discussion towards Actual Development
Although video recording apps feature pretty much the same features and functionalities, still, these apps can't compare with the video editors for computers. As top app development companies bring in top video editing beauty app and video face editor app on similar lines with comparable technology stack, creating a video editing software does have certain challenges for specific platforms (some are listed above). While Android OS requires a premade solution for development, the iOS platform requires constant editing work like correct positioning of the images and videos, adding soundtracks and so on. We have a team of experienced developers, who have created similar solutions earlier. Drop us a query for more.