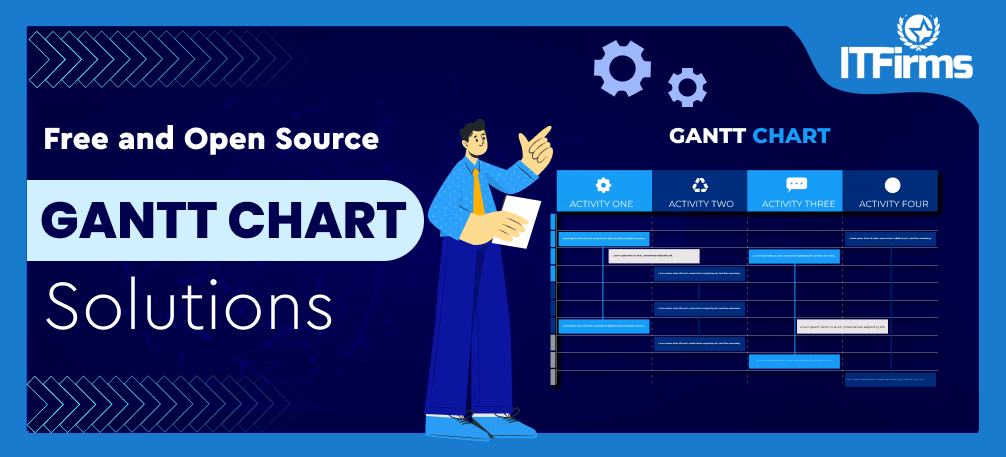 Best Gantt Chart Software (Free/Open-Source)
Let's weigh the best Gantt Chart Software; we're picking the ones that are free and open-source!
Project management is a complex mix of activities – straight out of initiation, idea generation, planning, designing, coding, testing, deployment, and maintenance. Gantt charts are helpful in the project development process. It outlines all the tasks involved in a project and depicts them on a timescale. It gives us an instant overview of the project, its associated tasks, and the exact timeline.
Why are Gantt Charts important?
Gantt charts allow us to plan and schedule projects. They help assess the overall time that the project will require. It also estimates the time that every single module requires within the project.
Gantt charts help project managers in making important decisions. These do not limit the scope or timeline of any project. If it goes for weeks – months – years, it is possible to graph it on Gantt Charts. It goes like this – You may start a task only if the previous ones in the queue completes.
If the task completes in a few iterations, then a simple excel sheet or paper calculator can suffice. But in case there is a complex project with numerous 'tasks' – you'll require Interactive Gantt Charts.
What is the purpose of Gantt Charts?
Gantt charts represent the project steps pictographically. It manages the project efficiency and can be simple or complex depending upon the nature of the project. Gantt charts make the project look easier with clearly defined boundaries and start and stop destinations. It does not overwhelm the user with loads of information. Gantt Charts enable the project teams to – Collaborate, Manage Tasks, Manage Resources, Plan, and Track projects.
How does it look?
Gantt Charts typically represent bar charts for scheduling the project and showing the dependencies between different tasks according to date/time.
What are the best benefits of Gantt Charts?
It improves – (1) team productivity, (2) resource planning, (3) helps manage complex information, (4) clarifies project requirements, (5) combines information from all tasks and shares it with all stakeholders, (6) tracking the project's progress, (7) communicate within a team, (8) check dependencies amongst tasks, (9) avoid work-overload for employees, (10) Improved Time Management, (11) Manages remote teams, (12) provide accountability and transparency in the software development lifecycle.
Features of Gantt Chart Tool
Setting task dependencies
Set planned and time date/time
Set milestones
Critical path
Project progress line
Ability to align a custom project budget
Track the project cost
Assign tasks, issues, and risks to the project.
List of the best Open-Source Gantt Chart Software
It is a free desktop project scheduling app. It is easy to use, mature and reliable and free for any purpose.
Main Features of GanttProject
Easy to start
Clean user interface
Data exchange
It is free of charge
Has an Open-source codeSet tasks and milestones
Evaluate baselines
Microsoft Project import/export
Examine and allocate the resources
Management of the task
PERT chart generation
Structure of work breakdown
Draw dependency
Export to CSV and produce PDF/JPG/PNG files
Various options to work together with contemporaries
dotProject is an open-source project management software to create Gantt Charts. It is easy to use and has an interactive interface.
Main Features of dotProject
Easy issue tracking
Simple and easy to use user interface
Security management and user permissions
Company/client management
Upload/download/sharing of files
Task dependency and dynamic tasks
Project management and planning
Gantt charts and contact lists
It calculates planned durations and actual time spent
Target budgets
Nodal user permissions
It has discussion dashboards
Project delegation, milestones, and statuses
File checkout and reporting
Collaboratively multiple users can work
This Gantt Chart Software allows managing project timelines, scheduling tasks, visualizing required steps to complete the project. It displays the phases and milestones in the project and the relationships between them. It integrates with task management to update the start and end date and uses simple drag and drop of the element on the timeline. The timeline contains data that syncs with the Gantt chart.
Main Features of OpenProject
Bug tracking
Cost reporting
Team Collaboration
User groups and permissions
Agile and Scrum view
Task Management
Road-mapping
Offers task boards and backlogs
Budgeting and Reporting
It gets to your first project within 10 seconds. It is a 'free' project management tool without limitations. It is suitable if you're working with a small or mid-size team and have trouble managing tasks. It helps you organize and plan unlimited projects, tasks and teams.
Main Features of Agantty
Google Chrome plug-in
User groups and rights management
PDF export of tasks
Set team and user permissions
Limitless projects, 'tasks' and users
Feedback button to flag bugs
Free Gantt chart-centric solution
Facilitate quick resolution
ProjectLibre accommodates all sorts of Gantt Charts, even if it goes beyond your webpage. It attempts to minimize unnecessary scrolling. It is easy to create tasks with or without start and end dates. It is easy to insert Gantt charts made with ProjectLibre and insert them into project documentation.
Main Features of ProjectLibre
Gantt chart, WBS/RBS charts
Value Costing
Resource Histograms
Visualize the critical path on a single dashboard
Coordinates with Microsoft Project
To understand the availability of resources
Network Diagram
OrangeScrum is an open-source Gantt Chart Software with well-defined task timelines that prevents unwanted delays and keeps the team in sync. It is easy to manage task dependencies with drag-n-drop linkages; arrange tasks in a single view. IT Teams, Marketing teams, Remote teams, Creative Teams benefit the most from OrangeScrum.
Main Features of OrangeScrum
Agile Project Management
Task Management
Kanban View
Time Tracking
Timesheet
Resource Management
Reports And Analytics
Mobile App
Project Template
Custom Task Status
User Role Management
Workload Management
Gantt Chart
Slack Integration
Google Calendar Integration
Recurring tasks
User role management
Resource utilization
Agile Project and Task Management
Task, resource reports, and analytics
Time tracking and Invoice
Native mobile apps –iOS and Android
To efficiently manage clients
Project templates
Companies like Amazon, Netflix, Nike, Intuit, Lush -use TeamGantt to manage their projects. It allows you to plan, manage and schedule your projects with free Gantt Chart creator. It also enables you to invite clients and teams to collaborate on your Gantt chart and project plan.
Main Features of TeamGantt
Outstanding Gantt charts
It features customizable views
Noticeable to the availability and workload of the teammates
Team Communication
Collaboration options
Resource Management and capacity planning
The free option holds no time limitation
Three user accounts
Export to PDF
Mail Reminders daily
Team Members share projects
Update of team progress
Features tasks, filters, and dependencies
Real timeline vs. planned
Drag-and-drop functionality
Easy-to-use frontend
It is a free Gantt Chart software to create and share professional Gantt charts in minutes. It allows drag-n-drop and is very easy to learn.
Main Features of Tom's Planner
Free updates
Create and share a professional Gantt chart
Email support and flexible
Drag & drop simplicity
Right-click menus
Easy filtering
Task management and dependencies
No installation requirements
Custom colour coding
Dynamic Project Planning
Visualize your work
Simple Gantt chart software
Monitor your progress
Multiple projects? No problem
See Timeline View in action
Set task duration
Create dependencies
Populate it instantly
Make changes anywhere
Get overdue indicators
Have a historical record
It helps teams master the art of project management with its beautiful Gantt Charts. Thousands of organizations trust it. Sign up in seconds – no credit cards are required. It allows you to transform your project planning and access all of Redbooth's features free for 14 days.
Main Features of Redbooth
Dynamic project planning
Timeline Overview report
Monitor your progress
Stay focused with dashboards
Task management
Detailed productivity reports
Visualize project timelines
HD video meetings
Better task transparency
In Conclusion
We hope that this illustration brings some clarity and helps you compare features of Gantt Chart Software. Gantt Charts help schedule your tasks in the project and track the project's progress. Gantt charts are an effective way to represent your tasks and their associated times visually. These are widely used across industries to define project elements and their inter-dependencies and timelines for holistic project management.
Please share your suggestions at [email protected]