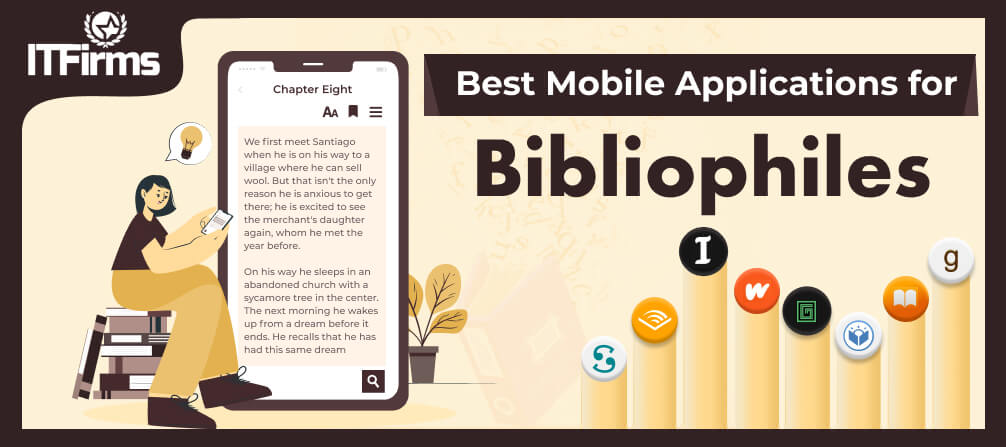 Best Mobile Applications for Book Lovers
Readers are currently alimenting millions of digital books worldwide!
Pandemic lockdowns created made many e-reading platforms come up, letting bibliophiles access local libraries from their smartphones. E-book applications have seen a 200% increase in the number of sessions across their apps during prevalent lockdowns. Not only are users opening them more frequently, but the amount of usable content has also drastically increased by 1/3rd. And it has sustained at this level ever since.
Although this growth is evident across demographics, instead of just the pre-existing book-lovers. Of course, they like reading more, rather than the non-readers converting into avid readers. Most of these digital library applications saw thousands of digital library cards created through their Instant Digital Card Service, followed by an increase in borrowing of e-books and audiobooks from public libraries worldwide through apps like Overdrive and Libby. Let's sneak into the best reading apps that are making it possible.
List of the Best Mobile Applications for Bibliophiles:
Main Features of Audible
30-day free trial
One free audiobook + two Audible original audiobooks
Users can cancel the trial at any time.
Users can swap their selections at any time or can keep them forever.
Even if they cancel their trial, they can access their free Audible electronic books.
Main Features of Good Reads
Save time while you search for your favourite book.
It updates most popular lists and monthly reading challenge
It has in-app purchases
Main Features of WattPad
It helps prospective writers to bridge the gap between their creation and audience.
It allows readers to connect with famous authors.
Also, users get first-hand updates when their new book drops.
In-app purchases – Wattpad premium 5.99 a month 59.99/year.
Main Features of Inkitt
They are the world's first reader-powered publisher with many publications in their portfolio.
Their profiles are customizable to a favourite genre.
Their profiles are customizable to a favourite genre.
Readers can customize their screens to do away with any strain.
There are no in-app purchases.
Main Features of Galatea
It adds effects in-form-of music so that the reader can match the characters' emotions to feel their reading journey.
Authors get published through Inkitt and Galatea
Authors get royalty while increasing their fan base.
It has in-app purchases with 7 – tier packages starting at $1.99 – $99.
Main Features of Serial Reader
It has a simple format to sail you through some classical literature.
It has a serial reader that categorizes books online for free and splits them into multiple sections to take each book in small portions.
It contains in-app purchases.
Subscription starts at a $2.99 one-time fee.
Main Features of Kobo
It is an umbrella solution for online books and audiobooks.
It is user-friendly and has millions of titles.
It offers access to genres and features electronic material at a discount for readers on a budget.
It contains in-app purchases.
Main Features of Aldiko
It contains high-quality – differently formatted online books – journals.
This app enables users to access all different formats, even encrypted books and stores them on a simple interface.
It allows customizing pages in the base format so that users can access them at their convenience.
It contains in-app purchases.
Subscription starts at $2.99 / one-time fee for premium.
Main Features of Oodles
It is a free online book and audiobook provider.
It even works of the public domain literature.
It gives readers access to several titles in various languages – Spanish – English – French – Russian.
It offers a page-turning animation and niche book titles to enhance the feel.
It comes with in-app purchases.
Subscription starts at $4.50 – $4.99 to access ad-free copies.
Main Features of ComiXology
It offers comics like marvel – leading lady – Manga – Martial Arts etc., with crisp animation.
It charges a small initial fee each month to carry out its services and offers a 15% discount on your favourite titles.
It has in-app purchases.
Subscription starts at $5.99 / month membership and the cost of comic books.
Main Features of Commaful
It offers short stories – poetry and short fan fiction stories.
It comes with a similar layout as most social media sites.
It is scrollable to thousands of stories leaving likes and encouragements to the authors that you desire.
Every story – tale – poetry has interesting photos and drawings in the background to keep the readers interested.
It does not have any in-app purchases.
Main Features of Spellbinding
It contains short animated stories that follow users through the information taking all the guesswork out of character or space description.
It has in-app purchases.
Subscriptions starts at $2.99 – $49.99.
Main Features of Blinkest
It contains primary insights section that highlights any book's critical elements and themes that enables the readers to reach the main point real quick.
It comes with an accessible interface allowing test podcasts and lives feedbacks.
It comes with in-app purchases.
Subscription starts at $15.99/month or $99.99/year.
Main Features of Epic
It is children friendly app that comes with an attractive interface containing large colourful icons with easy-to-use menus.
Parents can control and track their children's progress.
It comes with in-app purchases.
Subscription starts at a $9.99 monthly fee for up to 4 accounts.
Main Features of Marvin 3
It has a classically clean book organizer home screen and the ability to highlight, magnify, annotate during reading.
It has easy-to-use menus and access to millions of books.
It comes with in-app purchases with premium membership starting at $4.99.
Main Features of Scribd
Scribd showcases worthy content for books – magazines – audiobooks with millions of titles.
It comes at a reasonable membership fee of $9.99 / month.
Main Features of Apple Books
It is an e-reading application from Apple Inc.
It was earlier known as iBooks and used to work on iPads only.
Not everything is freely accessible on Apple Books, but it has some dedicated sections for special offers and free books at no extra fee.
Apple offers some classic titles like Shakespeare, Lewis Carol, Nancy Drew, Enid Blyton etc.
Main Features of Bookly
It is a reading assistant that will help you hone your reading skills.
It comes with a time-tracker to help users improve their reading speed – keep track of how much you read in real-time.
It makes you treat your daily reading habit as a workout.
It helps you keep track of your daily reading goals.
Main Features of Serial Box
'Serial Box' known as 'Realm' is an American Audio Entertainment Company that creates original fiction podcasts and audiobook series that include continuations of TV series.
Realm's podcasts feature various production styles depending upon the story – full casts and single voice narrations.
Main Features of Kindle Paperwhite
Read online for free
Shop for digital books
Synchronize your electronic books
Sample books before you buy
Customize your reading
The selection and price of electronic journals and e-periodicals vary by country.
Main Features of OverDrive
It is one of the best apps for reading books.
Users require to register, sign in, search their library and access their favourite books for free via audiobooks, electronic books and digital libraries.
OverDrive helps organizations and businesses to create digital book collections for library patrons, students and employees.
It is innovating to help libraries transform.
It helps users meet their educational needs.
It maximizes discoverability with a global leader in digital distribution.
In Conclusion
If you love good books, apps make it easier and cost-effective to maintain a digital library. The library is an often-overlooked public resource, but the mobile apps for bibliophiles that we've just talked about bring it back into the fold. We hope it helps app development companies in creating the best book apps. In-presence-of competitive options, we're open to scale this list up!
Please share your suggestions at [email protected]