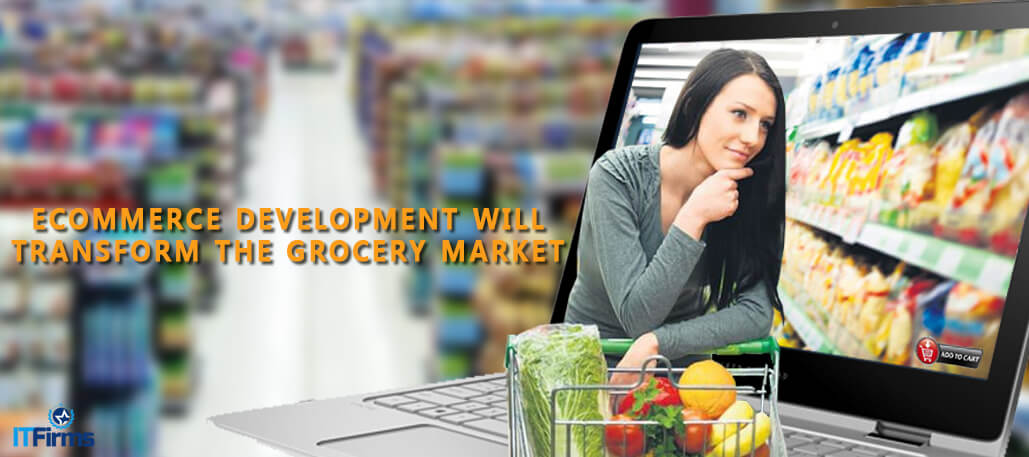 eCommerce Development Will Transform the Grocery Market
Online grocery has been slow to catch on with the latest technology trends as people are reluctant to get their veggies and meat picked by any other delivery boy. Though Amazon's grocery initiatives like Amazon Fresh, Amazon Pantry are sought-after concepts, the US population is not ready to accept this digital change.
While for many of them it's the 'touch and feel' that matters with products like their favorite fruits or breads- they have personal specifications, some others believe that the quality of product is not same as it is when they go out to shop. Instead,countries like South Korea, Japan, UK are having the highest share of FMCG sales, as reported by Statista. For fast moving consumer goods, eCommerce plays a minimal role in the regions of the United States.
Incorporated into Whole Foods, digital assets are struggling to break into eCommerce. The majority in the US is still picking their grocery from brick-and-mortar stores.
Just like Amazon Fresh is the most excellently planned and executed platform for online grocery shopping, we have here a list of Top eCommerce development companies that can build the best FMCG stores for your grocery business. You can pick the best development partner from this list as per your requirements as each of them has been rigorously evaluated on quality of end-product, expertise and experience in eCommerce development, client reviews and testimonials and project development strategy. These development agencies are globally recognized and have delivered innovative, customer-centric, aesthetically-appealing eCommerce development solutions in the regions of the US, the UK, Japan, South Korea, Kuwait and more.
Whole Foods tie-up with Amazon
Grocery shopping is likely to get more sensational as Amazon announced its acquisition of Whole Foods (America's healthiest grocery store) for $13.7 billion, on Friday, 16th June 2017. As per Amazon experts, this will accelerate the online grocery shopping among the US audience as both brands hold an exceptional value in the minds and hearts of American consumers.
Amazon is passionate and committed to being the major force for staples and grocery in the worldwide market. Combining Amazon's quality online and product quality and delivery service of Whole Foods will stimulate shoppers, who were earlier hesitant to buy their everyday food essentials from eCommerce FMCG stores. With Whole Foods, they're very sure about the quality and superior organic foods, and with Amazon, they can't doubt the packaging and logistics.
eCommerce stores for FMCG industry will flourish in the years to come. Eventually, consumers will start showing trust in local grocery apps and online stores as their preferences and choices will incline more towards on-demand apps, being served at their convenience. The tech-savvy millennials will contribute in increasing the number of households dependent on getting groceries digitally.
Businesses and retailers should definitely get inspired by Amazon's strategy to integrate its delivery services and Amazon Fresh with a well-established grocery brand, Whole Foods.
If you're planning to develop a grocery delivery app or eCommerce store, you must consider tying up with some top-quality grocery stores and shops in your area. This will result in an increased traffic on your website/app, more orders and thus, high ROI.
One thing that FMCG online store owners need to understand that in this industry, it's not only the home (online) delivery that's going to work but both options including click-an -collect and delivery will go well with the modern consumers.
Further, the online grocery store must be as simple-to-navigate as buying staples in real. A consumer must find it easy to move from one section to the other and one screen to another. For a simple yet valuable user experience, you can choose from the list of top eCommerce development companies for 2017. You can rest assured that you're going to get the best development partner.
Start your online grocery store before your competitors take the center stage because anyway, online grocery sale will grow five-fold and is set to grab 20% of the market by 2025, with American consumers spending over $100 million on grocery-at-home (reported by CNBC).