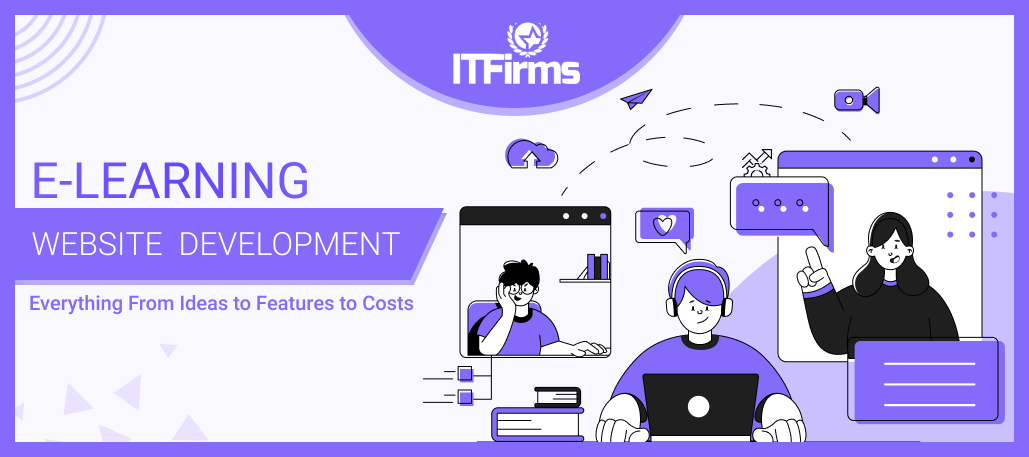 eLearning Website Development: Everything From Ideas to Features to Costs
"Want to create an eLearning website? Here is everything you need to know regarding eLearning website development starting from idea to feature to cost"
Dad, I'm gonna be late for my online class, please turn on the laptop and give it to me. This is the new scenario of the education system.
Online education platforms like Udemy, Coursera, edx, Skillshare, Alison, Udacity, and many others to name are outpacing traditional schools and universities.
During the covid-19 days when schools and colleges were shut down, eLearning websites served as a platform for students to continue their studies on a mobile, or computer.
According to Global News Wire, the market for eLearning platforms was valued at USD 144 billion in the year 2019, with an annual growth rate of 14.6% the market is projected to reach USD 374.3 billion by the year 2026.
In the wake of the promising growth of the online education industry, many entrepreneurs are thinking about eLearning website development to capitalize on the market to make revenue from it.
Investing in eLearning Website Development: Is Your Idea Worth It?
The popularity of online education systems is becoming more prominent, in response to the number of eLearning websites and mobile apps that are also increasing. This increases competition leading to the fear of whether the newcomers will be able to make their position in the market or they should drop the idea of online education website development.
Let's validate the worth of online eLearning website development like Udemy, Udacity and so many others:
By 2026, the global eLearning market is projected to reach USD 400 billion. Online e-learning with USD 167.5 billion in revenue contributes a huge part.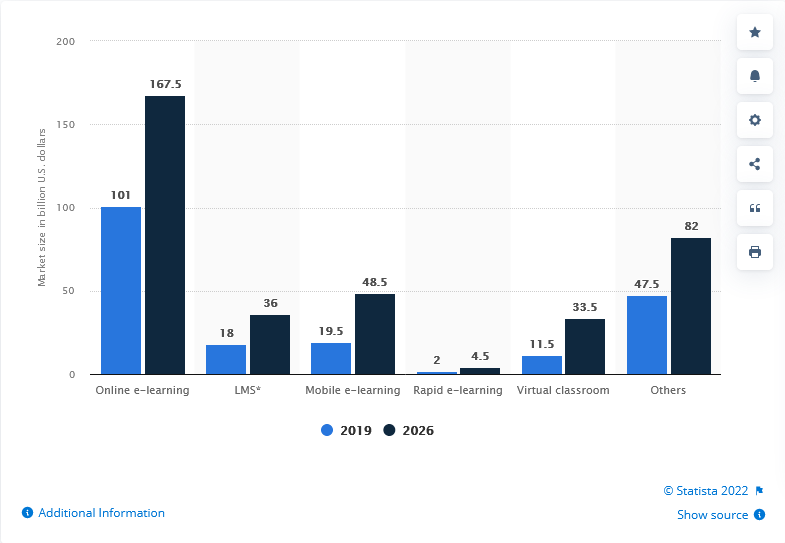 According to a report by Skill Scouter, the US and Europe is the biggest market for eLearning platforms.
As per a report on Similarweb.com Udemy is one of the largest learning websites with over 1,55,000 courses and 40 million students. Most of the user base of Udemy comes from the US followed by India.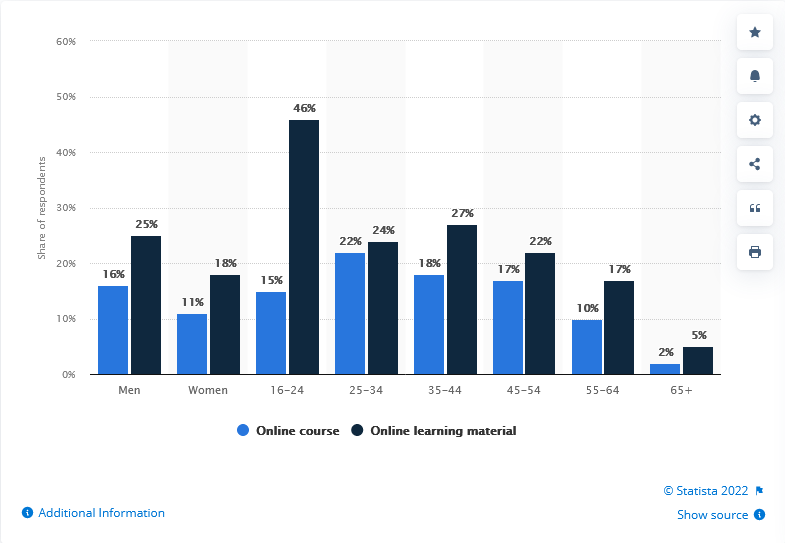 By demographics, the majority of the users of eLearning platforms are men (25%) and belong to the 16-24 age group.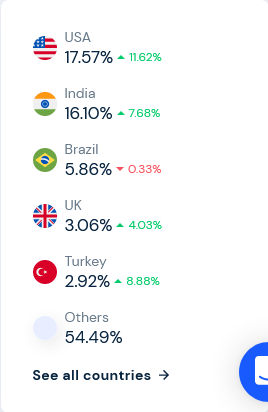 The amount invested in the online education industry has also grown. In the year 2020, the EdTech industry alone in the United Kingdom received around 164 million dollars of investment. In 2020, this investment approximately reached 609 million dollars according to Statista.
In light of all of these reasons, it is crystal clear that investing in eLearning platform development is a future-proof investment that has a lot of potential to grow in the future.
How do E-Learning Websites Make Money?
Generating revenue is the ultimate goal of every entrepreneur to consider developing an EdTech website.
There are multiple ways through which an eLearning website makes money, as mentioned below:
1. Affiliate Marketing
This is one of the most effective eLearning website monetization models.
Under this model, the mobile app developers can place advertisements on the website or link to various books or other equipment that users can purchase to support their learning experience.
When the user follows the link and makes a purchase, a certain percentage will be shared by the book author with websites. This is how you can gain revenue.
2. Paid Certificates
You can tie up with various institutes or universities to provide the users with verified paid certificates. By adopting this monetization model, you can ensure to have continuous revenue.
3. Subscription Model
Under this model, users are required to pay a subscription fee either on a monthly basis or yearly basis. The purchase of the subscription model will provide the users with access to the website content.
4. Paid Courses
This monetization model is a suitable choice for users who want to pursue a single skill on the platform. Users can purchase a course on the website and ensure access to it. This revenue model of the eLearning platform will also ensure continuous revenue.
5. Corporate Collaboration
There are many organizations worldwide that promote their employees to learn new things. For such an organization, you can introduce corporate plans where they can enable all their employees to access a particular course on your website by paying a fixed amount.
Must-Have Features for eLearning Websites?
E-learning websites are formed of three panels: student, instructor, and admin. Each of these panels serves a different purpose, therefore they differ in their features as well.
Let's have a quick overview of the features of the eLearning website:
Student Panel Features
1. Login/signup and profile management
This is one of the first steps to onboard students on your website, so make sure to keep it easy and clean. Ask the students to feed the required information only.
2. Search Filter
E-learning websites have a collection of multiple courses, therefore having a search feature is essential to enable students to find a particular course on the website.
3. Student Dashboard
Dashboards should be there to enable the students to keep track of their progress and useful insights into their study patterns.
4. Course Page
All the course-related content can be accessed from this panel.
5. Payment
If you opt for a subscription model, the paid course, paid certification, or any other monetization model which requires the students to make payment, it is a must to have a payment gateway.
6. Notification & Reminders
This feature is helpful to keep students informed about their progress on the website. Also, students should be kept in the loop about all the things happening on the website.
7. Reviews and ratings
Enable the students to share their feedback on the course or instructor's teaching pattern.
Instructor Panel Features
1. Login/Sign up
Similar to the student panel, instructors also should have a panel dedicated to providing them seamless access to the website.
2. Course Management
TThe instructor should be able to manage the course content to deliver a more appropriate learning experience to students.
3. Dashboard
The dashboard will provide the instructor with detailed insight into the progress he or she has made on the website.
Admin Panel Feature
1. Admin panel
The admin will have an option to keep an eye on every activity happening on the eLearning platform.
2. Support system
The admin will receive all the queries of customers and provide the user with the solution to make their experience with the website smooth.
3. Monetization model management
The admin will also have access to the monetization model, so appropriate changes can be made to it to bring better revenue.
4. Manage Profile
The admin can manage the profile of both students and instructors. If any inappropriate activities are performed on the website, the admin can block or remove the involving student or instructor.
eLearning Website Development – How Much Will It Cost?
E-learning website development is a multi-step process that includes the followings:
Research and Analysis
Prototyping
UI/UX Designing
Backend Development
Quality Analysis
Deployment
All of these processes come into action while determining the scope. The scope of the website development company needs to lead your project from research & analysis to deployment plays a vital role in eLearning website development cost determination.
Since every web development project is unique, so does the process followed by the developers to turn it into reality. Therefore providing the final cost is not possible.
Besides all of these the location of web development companies you opt to work with considerably influences the cost of development.
For example, if you outsource your development project to Indian developers, then you might have to pay somewhere between $15 to 25 per hour. In contrast, if you choose to work with web development in the USA, then you should have to pay somewhere between $60 to $100 per hour. Therefore explore all your choices of web development companies and pick the one that is cost-effective and delivers the work according to your expectations.
Final Take
The global eLearning market is filled with fierce competition, but still, there is a lot of scope for newcomers as long as they have something brilliant to offer. The execution of a brilliant idea requires a brilliant team of web app developers.
If you are facing any difficulty while choosing web app developers, then you can consider taking help from ITfirms top web development companies list.
Frequently Asked Questions
How do I create an eLearning website?
Study your targeted market and competition to figure out what they are doing to stand out in the market. Compile the best strategies that you believe can outstand your competitors, connect with the best website development company and see your idea turning into reality.
How can I choose the best eLearning website development company?
Make a list of all the website development companies' options available to you. Filter these companies on the basis of client reviews, and portfolios. Choose a company that has relevant experience instead of choosing any web development company.