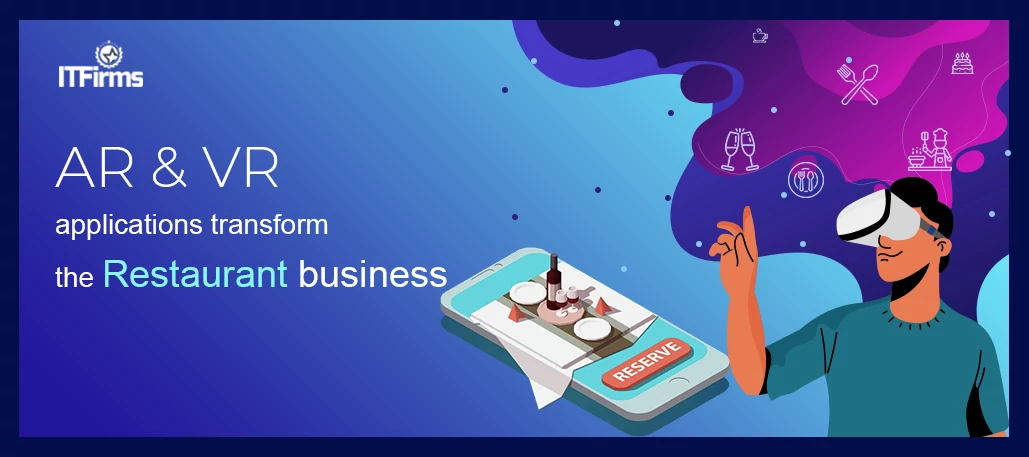 How Can AR and VR Applications Transform the Restaurant Business?
Let's find out the combined effects of AR and VR in uplifting Restaurant Business!
High-tech like AR and VR have been significant factors in influencing customer's decisions. Restaurants are in the process of taking inspiration to analyze and respond to the latest digital trends to deliver highly-customized (and personalized) guest experience. Trends have a ripple effect – that navigated from mobile-first to AI-first, thus transforming restaurant guest interactions from a wide range of emerging digital technologies. This has undoubtedly refreshed and revolutionized the customer's dining experience (end-to-end) from touch-screen tablets to ordering through a virtual assistant (chatbot). What is more, usage of AR and VR has been through mobile tracking to guest loyalty, transforming the restaurants from traditional to digital operations!
Uplifting Tech
Emerging technologies such as Artificial Intelligence, mobile and cloud-first, API's and Micro-services have been intertwined with data to transform how restaurants operate to deliver great guest experience. There has been a significant change in the way restaurants have been marketing and adopted modern trends to increase their sales.
Apart from the changes in technology, the have been changes in functionality, along with some significant changes in the way food is served, the interior of a restaurant and even the staff uniform styles have been observed to make the visitors comfortable within that environment.
Restaurants Catch a Glimpse of Emerging Tech
Restaurants often make use of VR headsets like 'HTC Vive Virtual Reality Headsets' to enhance a customer's experience within the restaurant. Emerging tech created by application development companies has made it easy for the customers as well as businesses to create feedback loops and predict behavior (in any order); from predicting the calories in the dish (according to the ingredients, to giving tailor-made suggestions like a starter, welcome drink, main course and dessert to supplement the meal; Artificial intelligence development has chastened the way modern restaurants must carry on with their business. Customers get customized recommendations or can inquire about their meal, their stay or any other related topic with virtual assistants like: what should they have for dinner? What are the recommendations for brunch? What flavors are available in ice-cream? Is there a cocktail to accompany it? All such operations are contoured via a Bluetooth speaker with an inbuilt smart digital assistant that works by making use of internet database as its information source. Top software development companies have come up with AI functionality that helps predict user's behavior based on past order history and frequency of visit to a particular restaurant.
Implementation of AR-VR features in restaurants has improved capabilities which is one major lineament that makes a customer visit the restaurant, make a repeat purchase and follow certain behavior. Emerging tech like AR-VR has lifted the way menus are displayed, improving the services and efficiency of chefs, making variations in food variety, giving a boost to additional luxuries, etc. This immersive visual information is often visible with Google Glass and Google Lens. This enables customers to dive into the information and experience them virtually before actual reservations.
AR-VR: Prevalent Applications
Hospitality Industry has been making use of AR technology in many innovative ways:
In 2014, Hotel Marriot made use of immersive 4-D virtual reality travel experience where the user had to make use of Oculus Rift spectacles to virtually teleport to Mariott Hotels spread across Hawaii, San Francisco and London.
In 2014, Destinology created Street view guides to 40 hotels that it markets.
AR app to find mass transit stations in London.
Thomas Cook made use of AR technology to enhance the print and online versions of their Sentido hotels brochures.
Hub Hotel in UK allowed guests to point smartphones at the wall maps to check the address and local place details, thus delivering an interactive experience for them.
Yelp makes use of GPS and enables their customers' to use a smart phone camera to display a 360-degree radius of neighboring restaurants, by their preferences.
Chipotle created its own VR game to engage their audience by educating them, win rewards, use loyalty points to redeem for best deals, etc.
Domino's allowed users to make use of VR to order Pizza's since 2011
Ericsson launched its 3D AR menus that were informative and interactive allowing users to check before placing their orders.
Succinct
Top Artificial Intelligence Companies will continue giving off technologies and continue to be cryptic with times ahead. From easing certain tasks to understanding preferences, buying behavior and adding intelligence to prescribed tasks, it has been instrumental in reducing time and food wastage and saving substantial efforts on part of restaurateurs.