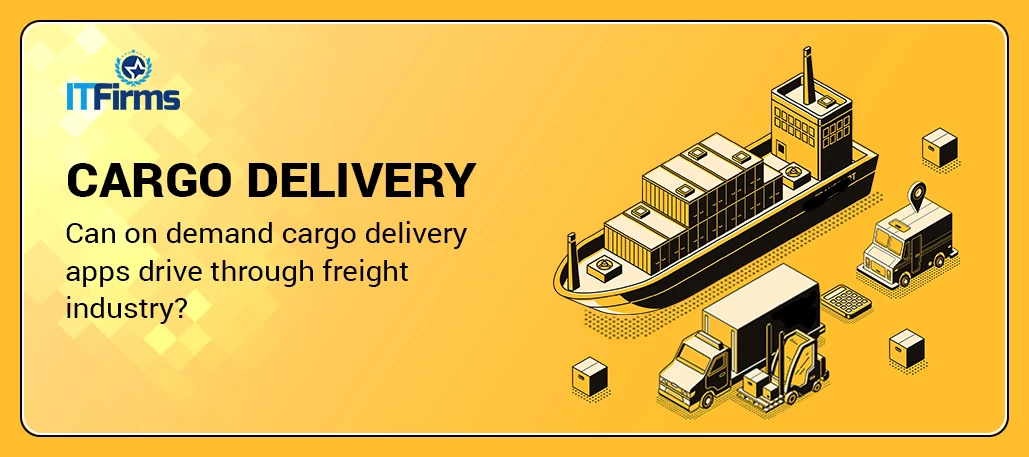 Can On-Demand Cargo Delivery Apps Drive-Through Freight Industry?
Aiming to move the world together, on-demand cargo delivery apps have channelized logistics in a new direction. Seek new opportunities brought in by leading technologies!
Out of the various available service industries, the likes of Uber for Trucking and subsequent on-demand Cargo delivery apps empower instant provisioning of goods and services. With surging prices across the economy, logistics and freight industry are ripe for "Uber-like" disruption. More often than not, Uber has turned the smartphone into a tool for dynamically pricing and allocating car rides in real-time, agitating the traditional taxi business. This has eventually driven venture capital investments in large numbers.
Surging Prices Lead To Growth in On-Demand Economy
On-demand freight apps like Eve cargo delivery have replaced the traditional middleman linking truckers to shippers and vice-versa. Such apps are shaping up to be as disruptive to the trucking industry as Uber was for the Taxi Business.
From extensive search to booking, to job reminders to payments, the entire flow of advertising-purchasing-marketing services is streamlined with technology built on by on-demand platforms to enable the average homeowner to have a warm and fuzzy customer experience.
An average service business today makes use of some 5 to 10 apps or software programs to run their business, which is mixed between their desktops and smartphones. This might sound like any other organizational issue to some business owners, due to this, their clients as well face some negative impact. How feasible and logical it sounds to bombard customers with invoices in the mail, send them voicemail reminders, send them paper contracts top sign, seek appointments over email – this simply flats out some bad experience.
What Is Cargo Delivery, freight, logistics?
While these might look similar to the uninitiated (naïve) users, there are essential differences involved in terms of assets, working principle, architecture, qualifications, and skillsets of the people involved, experience and expertise, knowledge and even attitudes.
Shipping is carrying cargo from source till destination.
Freight involves carrying cargo by making use of cargo van delivery services offered by various companies.
Logistics is the process of carrying cargo from manufacturer to receiver's warehouse which involves shipping services offered by cargo delivery services.
6 Essential Steps Can Help Design On-Demand Cargo Delivery Apps like Uber
This paves the way for "Uberizing" by combining smart-phone connectivity with voluminous real-time data on demand and supply:
Platform: Determine the app development platform and devices to build an app for
Features: Check all the intrinsic features of cargo delivery apps (List of Orders, Delivery Card, Delivery Details, Delivery Dashboard, Quotes, Active Deliveries)
Design: Cargo delivery app interface design must be done following different user roles like transportation provider, dispatcher, and client. Core features of the app must be accessible with a single-click. Swiping to and fro for navigation will ease out the design, making it convenient for the user to move across various pages. The tab must not contain more than 3 to 4 elements or buttons. Secondary features like settings, profile info, message archives must feature under "More" button.
Navigation: Analysing all possible ways to improve the navigation of the cargo delivery app and making all core features accessible at a single click.
Screen Size: All the elements within the cargo delivery app must be designed following the right screen size.
Tracking: Tracking the status of the order. The dashboard must focus on the delivery status, delivery route and delivery crew.
Testing: Testing of mobile app
Cargo Van Delivery Rates
These are based upon factors like distance between the source and destination, deliveries on weekends, fuel surcharge, waiting time, and value of shipments. Additional airport drop/recovery surcharge, paperwork, all expos, inside deliveries, COD and deliveries to private residences and long distances.
Besides, cargo delivery levels are decided by the shipping lines according to the nature of shipments and risks involved. Mobile app development companies India consider up to 4 levels while building cargo delivery apps.
What benefits it bring alongwith?
Consumers, in current scenarios, are well adept with the fact that they are made to choose between the booking service through an on-demand platform or directly with an entrepreneurial professional. They are at the verge of forming a relationship with the platform of their choice, vote the ones which rate high on performance and convenience which make them more influential than a small business owner. Technology has empowered businesses to compete with these platforms, enabling them to deliver a mobile, trustworthy and convenient experience at any place and time on-demand.
Progression of On-Demand Cargo Delivery Apps
Progress of logistics and freight industry has long been impeded by its fragmentation. Numerous (Read: tens of thousands) of small trucking carriers need intermediaries to transact business with shippers. All such brokers typically rely on telephone calls to engage the parties which are neither an efficient nor a very cost-effective means of moving freight in an age of on-demand commerce.
As experienced widely, top app development companies have streamlined technology to make a huge difference. This in-turn helps consumers when they have to decide about a place to go for making a second purchase. Say what you will, on-demand cargo delivery apps have subsequently gained traction in a world of one-click overnight and even same-day cargo deliveries, for similar reasons. This has further helped this industry to gain competitive traction when they can move goods the fastest.