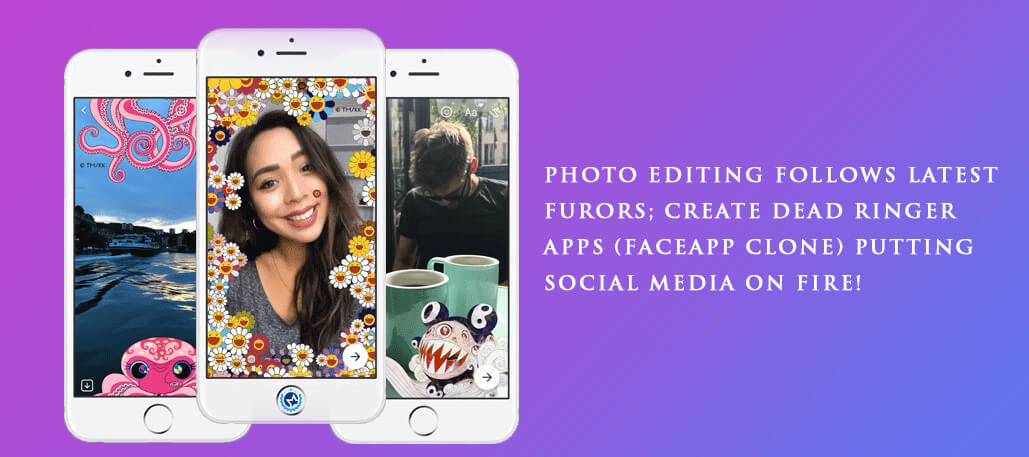 Photo Editing Follows Latest Furors; Create Dead Ringer Apps (FaceApp Clone) Putting Social Media On Fire!
Impersonate pictures to resemble Robot fetishism, apps like FaceApp creates Cyborgs (cybernetic organism) likable, redefining your selfies, taking them to next level.
Humankind is at the verge of an evolutionary inflection point where man and machine will become one in near future. Should we assume that robots will go into our brains and connect to our neocortex by the year 2019? Apps like FaceApp are just a step that directs us towards supercomputing power of AI; a chip in our brains will resemble smartphone in our hands, amusing isn't it? Make face younger or older, put mustache or apply beard, brighten up face or put a toothy smile; creating pictures as irrational and surreal as a dream, App developers are creating FaceApp Clone apps more often now. Laughter is guaranteed!
Let's Discuss FaceApp Apropos
FaceApp is a photo editing app that is a new addition to all the existing photo maker applications in Android and iOS app stores. It is an app that effectively morphs photos and has recently exploded social media in popularity due to artificial intelligence and semi-photo realistic transformations. The output can make you snare or creep or get your tummy in knots – can be fascinating or weird. Having a huge photo library is an additional advantage. The app enables you to scan your photo library and pull out the images that feature faces.
It can make use of neural networks, tweak the reality and produce different versions of the face – some features can give you un-ending nightmares – there are many more unexplored ones. While some of us can't just have enough of it, users often look for apps that provide similar features and perform similar feats.
Click selfies with a neutral expression and FaceApp will do it all. It contains a built-in collage formatting tool that allows for easy comparisons between FaceApp altered faces and original photo.
This app closely resembles Snapchat's lenses but it does not highlight the transformation so much as to slap dog ears on your head.
How does FaceApp work?
Spooky photo effect, creepy animations, Halloween look, weird graphics, hilarious animations – Apps like FaceApp makes photo morphing easily by creating fascinating alterations to face. Artificial intelligence is advancing to a level where systems become so intelligent that they surpass human capabilities and comprehension. This enables a super-intelligent AI to be extremely good at accomplishing its goals.
This app makes use of photos from the app gallery or freshly clicked photos to morph them into an unknown and unpredictable avatar. Like in the movie Avengers: The Age of Ultron, the Iron Man and Bruce Banner – a genius scientist when he wasn't playing Hulk – built an artificial intelligence system named 'Ultron' to help protect the earth. But this turned out to be catastrophic when Ultron – a peacekeeping program embedded in a synthetic body turned hostile, making earth's fate hung in a balance and heftiest Avengers had to prove their mettle to save the planet from complete annihilation.
One distinguishing feature is that FaceApp essentially makes use of artificial neural networks instead of usual filters to morph faces in photos. Neural networks branches out from artificial intelligence and significantly simulates intelligent behavior by imitating the way that biological neural networks function.
This technology works wonders for some tasks like artistic style transfers or super-resolution but is quite challenging for high-resolution images. Many factors have to be kept in mind for this effect to work on most real-life photos like lightning, posture, skin color, the shape of eyes, lips, photo quality etc. The result of pho editing varies picture wise.
How Mobile App Development Services build an app like FaceApp?
It is the thinking that counts the most while you create an art or convert an image into one. The initiation and the final outcome are to be considered before you get your balls rolling; without knowing where you come and where you want to head towards is mere spit-balling.
It gives you an opportunity to create almost everything from humorous cartoons to scary critters, morphing human faces to resemble cartoons or critters, making them look grown up or like a schoolboy kid, you'll get to recognize bilateral symmetry, a deviation from the standard human form to make real lookalike.
What are alternatives available for FaceApp in market?
Some other popular filters allow you to augment facial features, animating the reality in some way. Some of the FaceApp alternatives:
| | |
| --- | --- |
| AgingBooth | Inkhunter |
| YouCam Makeup: Selfie Makeover | MSQRD |
| Prisma | Al Experiments by Google |
| Avatoon | Portrait by img.ly |
| MDacne | Meitu |
| Pikazo 2.0 | MakeApp |
| Emoji Me Face Maker | Lucid |
| Portrait Mode + | Mighty Patch |
| Memoji Keyboard | SmileFun |
Fact Finality
Clicking pictures and uploading them on social media is so frequent that users do it effortlessly. Adding certain effects to those images with additional themes, stickers, special effects, artificial intelligence and so on not only makes it fun to do pastime but has additional beneficial advantages for gamification and entertainment.
Giving digital rewards to your users will motivate the users to make use of FaceApp clone app more often. Experienced mobile app development services must be hired to create applications with embedded neural networks and artificial intelligence.
Various app development companies India are processing selfie photo editor apps and building apps like FaceApp for real life like transformations.