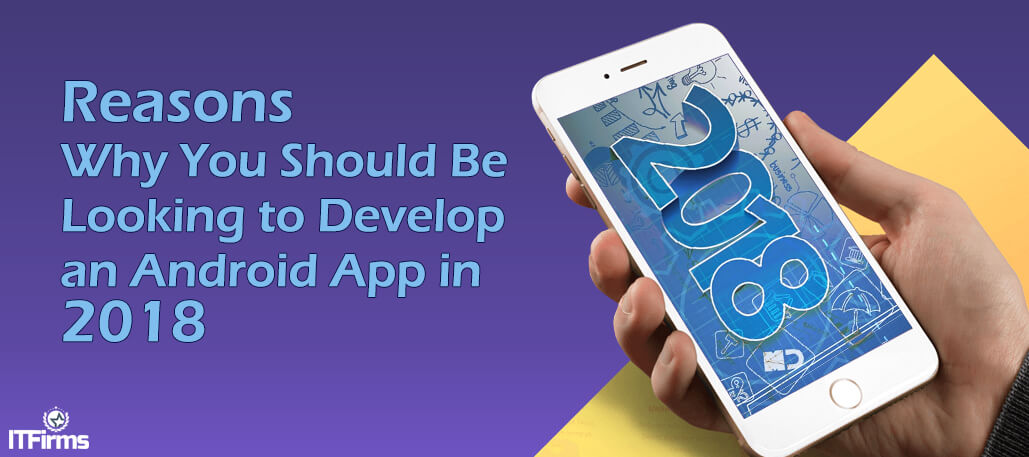 Reasons Why You Should Be Looking to Develop an Android App in 2018
We have seen how Android app development has captured the fantasies of businesses at global level in the preceding seasons. Here's what makes it rule it again in 2018 based on its cumulative offerings best complementing the latest ideas and transformed trends.
Well, we all know how Android has grown over the years to be on the top of the mobile operating systems chart. The way it has penetrated the market over time, giving tough competition to the market leader iOS, is commendable and inspiring. And something that is worth-noticing is the way it has allowed masses to have and use advanced smartphone technology taking the range and scale of mobile apps to another level of significance and value.
Now, as we have entered 2018, most of the progressive businesses are already prepared to go with some way of connecting with the smartphone users. And rest are looking to extend their existing range of users to a larger audience base capturing the Android userbase. There's a lot happening at both the ends. Which brings us to the need to appoint and furnish reasons to go for Android in 2018. Here are a few most noteworthy of the ideas:
Reason 1:

The growing share of Android OS Usage in the Market
If we compare the figures of last 5 years, Android is capturing the market at a steady pace and making its presence count across a wide geographical and demographical range of smartphone users. There's this direct impact of the growth of the mobile market suggesting the figures reaching $189 billion in revenue from the stores that goes in favor of Android. Further adding to the Android's feat are the numbers affected by the changing ownership trends. To which Android responds well and captures around 2/3rd of the market share, necessarily by reaching out to the markets that were meagerly explored earlier. And this has been made possible by spreading beyond the markets of USA, Canada, Australia and Europe. So, if you go with Android app development in 2018, you get a better chance to spread up globally and operate on a higher investment model to generate more revenue.
Reason 2:

Hiring a freelancer or an Android development company, both are easy
When you are looking to get your app developed on Android, you can go either with a freelance option or a full-fledged company to avail services. Because you have a lot of Android developers coming up across the globe, which makes it easier to get the most suitable option. Also, as the allied facilities and supporting resources for Android app development are more openly available and accessible, you can find even freelance developers offering you the value you are looking to have. All you need to do while hiring the Android development services is looking at the requirements of your project well, determining the type of expertise and skillset you want to have, and weighing the factors like time-zone and communication to help you reach optimum value. Once you have answers to these questions you will be in a better position to achieve better value out of it in the year 2018.
Reason 3:

Android App Development – A Low-Cost affair
Another important reason you should look into getting your app developed on Android is the affordability factor. As always, Android developers can access tools and systems mostly for free as it is all built on a freely available open source model. Windows, Mac, and Linux OS can be used for developing a solution on Android and there's no cost to acquire and implement these in a development facility. Also, Android devices and supporting hardware are cheaper and there are least compatibility issues you face working with different versions of Android OS. With more developers joining in as expected, it is going to be highly reasonable to choose a developer and get an app developed and launched on Android. Topping all that up, as you know there are more Android users, you get to reach a larger number of people going with the platform, which makes the per-user-cost of developing Android apps lower and profitable.
Reason 4:

It's quicker and easier to develop Android app
Android's open working model and flexible ways to commit to development factors along with the easy availability of resources make it highly easy and quick to develop an app on Android. The growth of Android as a mobile app development community has been phenomenal in the last couple of years and it would see an exponential rise moving forward. Therefore, the cost and time matrices come out to be lucrative when you build an app on Android. Its lenient approval process and fast facilitation will continue to make it highly easy and quick to launch an app. Also, the fast-growing community-driven repositories will make it further easier to take references and look for support from the makers and members – making it really smooth and easy to develop an app on the platform more than ever.
Reason 5:

Based on Easy-to-learn Technologies
Android is all based on the practicing framework and methods that come from core development technologies like Java, that are known to most of the developers. Thus, it becomes easy to refer and understand Android as these technologies form the basis and idea of coding that you and most of developers around are familiar to work with. Further, it is based on object-oriented programming approach which is an extremely resourceful way to commit to the modern ways of coding. Also, a lot of Android development can be supported by ever-updated Java libraries which is highly contributive and reassuring for Android app developers to go with. Because of this technological backdrop and acquaintance with already proven and applied methods, Android app development gets far easy than other options.
Conclusion
Why 2018? This is the time when Android has touched its premium and has covered the finest of marks of reachability and viability. With a mammoth two-third share in the market it has claimed nearly the most of it ever, before hitting the plateau. Referring to the developing trends, most of the existing businesses will be trying to come out with sustaining force of maturity and excellence to prove their potential beyond their realm and area of operation. As keen would be the new entrants who would like to explore the massive mobile user market, which is today spearheading towards greatest of opportunities. So, quite obviously as you see top Android app development companies increasingly growing to serve such big benefits in all measures of utility, compliance and value, it makes sense to go with Android app development and make the most of your idea, raking in the best of cost and reach benefits in your bet of digitalization.