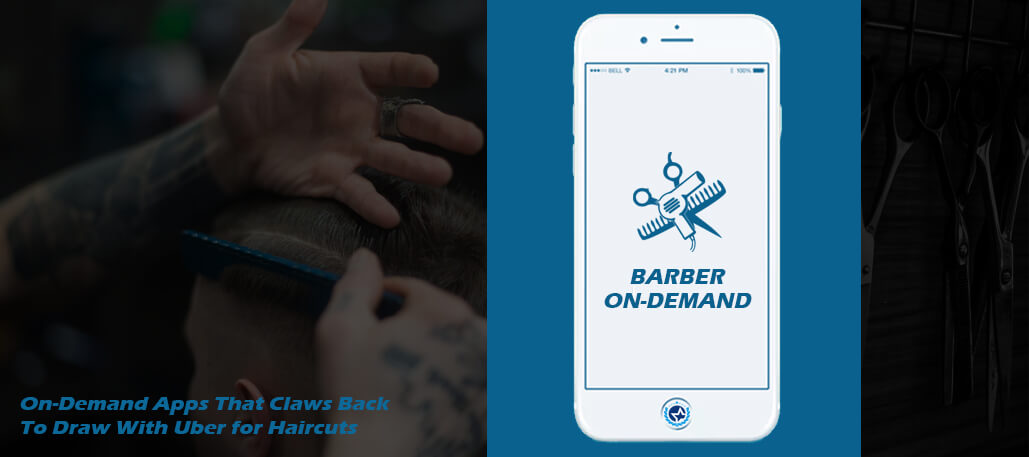 On-Demand Apps That Claws Back To Draw With Uber for Haircuts
You're never fully dressed without great hair. But does good hair stay at home on Friday's?
Estimated amount that a normal person spend for their haircuts in the USA is around $16 -$45 billion at barbershops. This can further be bifurcated to $15 billion on haircuts every two months that an average adult (men or women) pays in USA. As a simple example, this formula fits well in this scenario:

(According to a post on Quora) This comes with besets like delays, wait for queues and an annoying feeling, especially when one has other tasks in hand.
But haircuts are quintessential for men, be it classic or edgy, a hairstyle adds to a person's looks. Someone had to solve this problem, give practical tips to people, and streamline the process of connecting with the best barbers in town.
Apps like Uber for Haircuts simply assist in booking hair stylists/hairdressers from a salon of your choice. These are not exactly mobile moving haircuts. Neither are they stylists.
Once Jim Mitchell aptly said, "Time is the scarcity, and it's the commodity we can't create any more of." It happens most of the time that one is in need of a haircut but they do not have time to spare. This is the basic concept behind apps like Squire, Shortcut and Uber for Haircuts.
There are few things that one could run into while booking an appointment like:
Making an effort to speak with right person, if the appointment is booked, then getting reminded as the time approaches, getting a suitable time slot can all be messy and clunky but with apps like Shortcut, people have to no more trawl the yellow pages or wade through the directories or any referrals to find them. They have traversed through their set of highs and lows – left no stone unturned and have settled with the perfect fit for top app development companies.
They pride at being available 24/7 for the booking, but you will have to wait for the salon working hours in case of a haircut. One needs to share their location and address details, choose the option of haircut or beard trim, stylized or a basic cut, select the salon and you are ready to go. What is best about Uber for haircuts is that it is effective and efficient with the time. It does not make a person wait or sit on hold while the call is being transferred to the right person. Booking can be done instantaneously, at any time and then you can have plenty on your plate.
What points must be considered while making an on-demand app for a haircut?
Cutting out on hassles of standing outside the barbershop and waiting for your turn, and above all finding, a barber shop that can provide the best and reliable services, apps like Uber for Haircuts can be a time and money saver for people who don't wish to move out for a cut. Mobile app development companies India consider these three points while creating an app like Squire and Shortcut:
What haircut problems customers had been facing till now?
Can you provide them with quick and convenient service?
Are on-demand app solutions stable for arising haircut needs?
Besides these, there are some additional services that the haircut app must provide:
The app must provide haircuts for men, women, and kids of any age.
Haircuts must be scheduled at the comfort of home or office.
The browsing, ordering, and payment – all must be quick and hassle-free.
The app must be able to provide location preferences for the users of the app
Haircut apps must enable looking for barbers in your locality, book an appointment and make payments directly from the mobile devices
Abstract
It takes hours of research and experience to look for a barber or barbershop, finding a good match with reasonable distance and affordable cost can prove to be challenging. Waiting to experience it that takes less than an hour to complete, can be tiring too. This can get even more challenging for people who are not loyal with a specific barber or barbershop, the process of getting a haircut can be an inefficient one. With the availability of apps like Squire and Shortcut, people can browse for barbers in their area, book appointments, make payments – all with a very minimal booking fee, when they book it from their mobile devices.