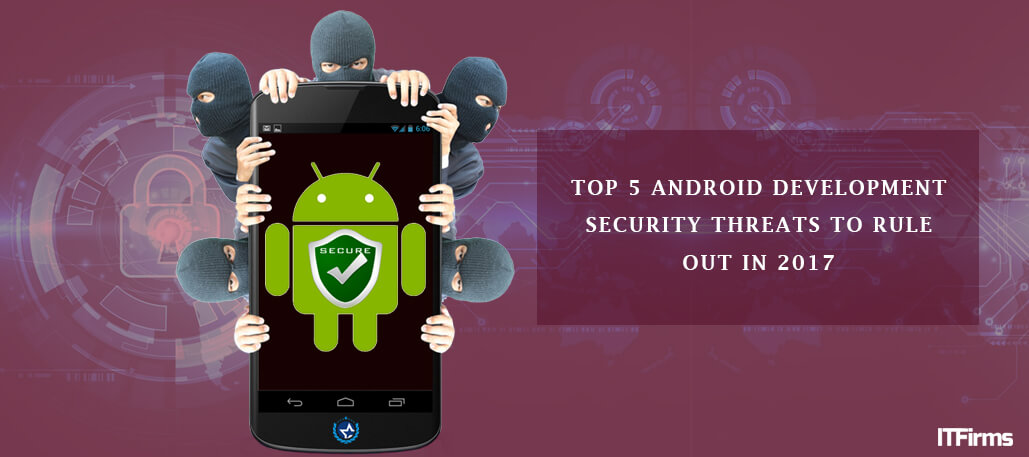 Top 5 Android Development Security Threats to Rule Out in 2017
Android apps are vulnerable to security perils. Being an acclaimed and most widely used operating system, Android is always at risk. Hackers prey on the extensive database of users who use Android-powered devices. Their constant hunt to get away with sensitive information for vested interests continues, which requires Android app development companies to take solid measures from the very beginning.
With the increasing number of apps available for download on Google Play Store, doing away with security threats is a big challenge for Android app developers. They are trying every trick up their sleeve to secure the system, preserve customer information and keep intruders at bay.
However, nothing has worked well because cyber criminals have managed to break even the strongest barriers time and again. So, questions that app developers need to answer include- Is it safe to start a business with Android application? Is Android a safe bet for enterprise mobility? Does Google have prevention techniques to outplay hackers? And much more.
On an everyday basis, an Android developer needs to handle significant security threats that can disrupt the entire business parlance. Here, we are listing the top five.
1. Risks with new app downloads
Being an open source OS, Android puts its users at a high risk whenever a new app is downloaded from Play Store. There are multiple security leaks in Google's devised policies that invite malicious software to feed on users' mobile devices.
Due to easy app upload policy and process, Play Store has been unintentionally loaded with malwares and harmful applications. New apps grant user permission on their first attempt to use and without going too much into details, the user accepts, which puts them in the firing line.
2. Malignant software resides in Android devices
According to a report, nearly 95% of all Android devices were affected by a malware called Stagefright back in 2015. This hacking phenomenon continued in the future years as well. Andr/Ransom-I malware is noteworthy because it affected approximately 140 million users worldwide who use Android v4.3 devices.
According to SophosLabs analysis, more than 4 million Android applications were identified suspicious containing malware or potentially unwanted applications (PUA) in 2016.
These malicious apps are aimed at stealing personal or financial data, forge display ads or even spying.
3. Third-party app downloads
While Google Play Store has its own share of security breaches, the situation worsens when users download applications from third-party sources and not from the official store. Often, to avoid payments, users download apps from untrusted sources that is a trap laid by hackers.
The apps downloaded from untrusted sites can harm your device, exploit your privacy and other sensitive details stored on your device. Hence, it is advised to download apps from only authentic sources but nowhere else.
4. Non-upgradeable Android devices
The mobile market has seen a sudden spike in Android-powered devices due to their budgeted price tags. People are happy owning a smartphone that matches their budget limitations. Companies are working on creating devices that'll cost as low as $25, which is incredible, but the major challenge for these low-budget smart devices is that manufacturers don't make them scalable. This means they can't be upgraded to new Android version whenever Google releases one, which makes these phones even more vulnerable to security breaches and malicious activities.
Therefore, it is recommended to upgrade to the latest version that can combat potential risks due to regularly upgraded version releases.
5. Customization in the core
People or device manufacturers tend to make changes in the core procedures of an operating system that not only hamper device's performance but also widen the security gaps. Modifications done at the core level can make way for intruders, thereby making their task to steal necessary data a cinch.
Final words
Today, security is one of the major concerns for Android app developers to cope with. Risks associated with the same have increased lately and hackers are continually churning out new ways to breach. You, as a developer, need to include superior techniques that covers the entire ecosystem while for users, it is advised to download apps from official app stores, update Android whenever an update is available and purchase a smartphone from a reputed brand.